EDITORIAL FEATURES 
There's lots to explore at Car Show Safari News, including our editorial section of reviews, commentary, personal experience stories, and more! At the CarShowSafari.com Editorial News Page, we cover everything from top tips on how to host a successful car show to thought-provoking editorial news commentary on modern ridesharing apps. Here, you'll find our recurring blogs and columns, including So You Want to Have a Car Show, dedicated to making every automotive event the very best it can be and the Car Mudgeon series, which gets frank and funny about topics that affect every auto enthusiast. 
The Editorial Page helps to set Safari News apart from other listing sites and automotive news outlets. Not only do we share the news as it takes place, but we work to give it context and meaning, and to provide the resources and information enthusiasts and the hobby deserve! Our team of expert writers are first and foremost car lovers, and we look forward to sharing their informed, unique, and sometimes unexpected thoughts and opinion with our readers!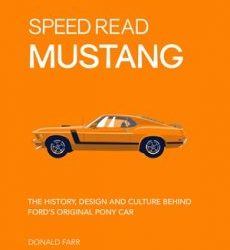 It says something when a book about the history of the Mustang holds my attention. Mustang, by Donald Farr, part of the Speed Read Collection at Motorbooks, did.
read more

CONTACT US | TERMS AND CONDITIONS
© 2020 CarShowSafari.com All Rights Reserved.
The contents and images on this site may not be reproduced, distributed or otherwise used,
except with the prior written permission.