From Cars to Planes and Back Again, Part I
Part I of 5
At a number of car shows during the past few years Honda has been touting both their latest cars as well as the HondaJet, their entry into the very light business jet market. It's a very advanced design that looks good and claims excellent performance. Once in full production, it will be interesting to observe their level of success and impact in the aviation industry in comparison to their history in the automotive field.
Figure 1 – The history of airplanes made by car companies dates to the early 20th century
While associated with automotive companies these aircraft are or were made by divisions that
were separate from the land vehicle sides of their respective organizations
It may not be well-known but there is more history of automobile manufacturers who have also produced aircraft, of which Honda is the most recent example. Saab made commercials some years ago that attempted to portray their cars as built to similar quality and relative performance standards as the military jets that they also produced. Mitsubishi was the opposite in taking an almost invisible approach in the 1980s in marketing their MU-2 business aircraft with their line of vehicles.
In the U.S., Ford had a division in the 1920s-early 1930s that made the famous Tri-Motor airliner along with the short-lived "Flivver", an attempt to capitalize on the familiar nickname of the Model T in order to tout its affordability as an affordable aircraft. And General Motors' involvement in aviation dates to 1919 when it purchased Dayton Wright Airplane Company, a major aircraft and engine builder during World War I, later owning major interests in airlines and aviation manufacturers (such as Fokker) that continued until after World War II.
The previously cited examples are notable in that they involve divisions of car companies who were separate from the automotive sides of their organizations. However, here in the U.S. several manufacturers have assembled complete aircraft using the same facilities, processes, and even labor that produced their land vehicles. This essay and subsequent installments will review these companies who became aircraft manufacturers in response to requests to help satisfy the military's demands for various planes during peak wartime periods.
Eastern Aircraft Division of General Motors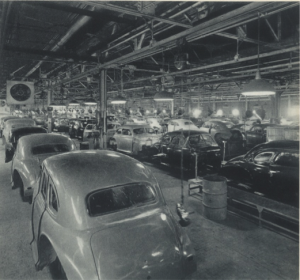 Buicks, Pontiacs, and Oldsmobiles were often assembled on the same line
Figure 1: Linden, NJ (left) and Tarrytown, NY (right) production lines before World War II
Prior to World War II, this entity was originally five separate General Motors (GM) facilities on the East Coast of the U.S. Four manufactured parts and components and a fifth plant completed final assembly of vehicles. Most of these facilities were relatively new and all incorporated the latest technology of the time. As a result, they turned out impressive numbers of products prior to the country's entry into World War II which are illustrated in the following table.
Table 1 – In the prewar period GM's East Coast facilities had already established a legacy of efficiency
Processes developed over the past 30 years provided a solid foundation for manufacturing excellence
| | | |
| --- | --- | --- |
| Facility | Products | Prewar Manufacturing |
| GM Assembly Plant, Linden, NJ | Opened May 27, 1937 as a final assembly plant for Buicks, Pontiacs, and Oldsmobiles | 343,000 autos (at one time completing one car per minute) |
| Trenton-Ternstedt Division, West Trenton, NJ | Opened November 16, 1938 to make door handles, window cranks, trim moldings, and other interior parts | 750,000 items per day |
| Delco-Remy, Bloomfield, NJ | Purchased from American LaFrance on August 23, 1935 to make car batteries | 4,000 per day |
| Fisher Body Division, Tarrytown, NY | Incorporated into GM in 1926 to make Chevrolet automobile bodies | 576 per day |
| Fisher Body Division, Baltimore, MD | Opened January 1935 to make Chevrolet automobile bodies | 475 per day |
After the U.S. declared war with Japan just after the attack on Pearl Harbor, Germany and Italy supported their Axis Powers partner by declaring war with the U.S. on December 11, 1941. On that same date the government mandated shutdown of automobile production in order to concentrate on manufacturing defense material in support of the war effort. The result was that these GM facilities were almost immediately forced out of the automotive business, although the Bloomfield Delco-Remy facility continued car battery production into May of 1942.
Facing the prospect of empty plants and thousands of idle personnel management of the facilities had marginal success in submitting proposals to manufacture defense products. They then stepped up efforts to meet directly with government and military officials to solicit business. While exploring a lead to do subcontracting on the Army's P-47 Thunderbolt fighter plane, a GM representative had a chance meeting with Navy personnel seeking a second source to produce the new Grumman TBF-1 "Avenger" torpedo bomber. This is because Grumman was working on even newer designs and could not readily expand to produce the quantity of planes that the Navy needed to fight in the Pacific. The opportunity to build a whole plane instead of subcontracting was too good to pass up, so GM accepted. Very quickly the Navy asked GM to also build Grumman's latest fighter, the F4F"Wildcat", as it was the only existing plane they had at the time that stood a chance against what appeared to be superior Japanese machines.
 
 

Figure 2 – Period views of an EAD-produced Wildcat fighter and Avenger torpedo bomber

The second production FM-2 Wildcat is shown undergoing flight testing in late 1943 and a new TBM-3E Avenger is in flight in 1945 (Source: US Naval Historical Center)
With GM's agreement to make both planes the Navy called for delivery of the first fighters and bombers by the fall of 1942, meaning that GM was being asked to convert from making autos to aircraft in less than half the time it normally took to develop a new car model. This aggressive schedule required extensive infrastructure to support timely production of the two aircraft. Fortunately GM's East Coast facilities were located in close proximity to each other and to Grumman's plant on Long Island, thus facilitating material and knowledge sharing in order to quickly initiate production. Further, to help ensure efficiency the five facilities were organized into a single entity on January 21, 1942 that would essentially be a new company called Eastern Aircraft Division of General Motors (EAD).
Leveraging their experience in mass production, EAD's facilities were charged with the following responsibilities in order to successfully achieve the unit's production targets:
Linden – Assembly of Grumman F4F Wildcat fighters designated FM-1 and a later improved FM-2 model

West Trenton – Assembly of Grumman TBF Avenger torpedo bombers designated TBM-1, -1C, -3, and -3E to denote different models

Bloomfield – Manufacture of cables, wires, tubes, and electrical hydraulic assemblies for Wildcats and Avengers produced at Linden and West Trenton respectively

Tarrytown – Wings and front section for Avenger aircraft assembled at West Trenton

Baltimore – Rear fuselage for Avenger aircraft assembled at West Trenton
All of the plants faced procedural and workforce transformations as well as physical ones. Extensive plant structure remodeling, tooling modifications, establishing a supplier network, retraining current employees and hiring new ones were some of the tasks that had to be done. Airfields at Linden and Trenton were built to provide flight testing facilities and pickup points for new aircraft. These were expected challenges. What EAD did not expect was the lack of standardization inherent in the aircraft industry and with Grumman in particular. In general aircraft manufacturers felt that the complexity of the planes, small numbers of aircraft produced, and continually changing specifications (such as from changing mission requirements or field experience) were not conducive to developing the formalized drawings and processes required for mass production.
Each aircraft was essentially hand-built with little documentation to easily replicate the design on a mass scale. This was an issue that other auto manufacturers also encountered and which EAD came up with a novel solution. Essentially, EAD's engineers at Linden and West Trenton used a process called lofting that aircraft manufacturers had adopted from shipbuilders, in which they laid out full-scale outlines of the aircraft and painstakingly filled the outlines with exact size drawings of the production parts. As a result purchasing and tooling standards were properly documented to facilitate mass production.
Wildcat production line, Linden

Avenger production line, West Trenton

Figure 3 – EAD facilities shown in the process of delivering record numbers of aircraft

EAD's production freed Grumman to concentrate on its F6F "Hellcat" and other designs
Despite these and other start-up challenges EAD delivered its first FM-1 Wildcat on September 1, 1942 and its first Avenger on November 12, 1942. By the end of 1942 EAD delivered 3 Avengers and 23 Wildcats, thereby meeting its first-year production goal for the former and exceeding by 9 its goal for the latter aircraft. Production of the FM-1 continued, even when the Linden plant was subsequently tasked to produce an upgraded version designated FM-2, which was a smaller, lighter, faster-climbing version of the plane designed for use on smaller aircraft carriers. EAD's history states that the change to the new Wildcat was "fully as great as changing from one year's model to the next in automotive manufacture-except that in this case the plant could not shut down to retool."
Because of the Navy's demands, production had to be seamless in the transition from one model to the next, thus no gaps were allowed. Just as the Linden plant had intermingled Buicks, Oldsmobiles, and Pontiacs on its prewar assembly line, it also simultaneously built FM-1s and FM-2s until the former were phased out and production shifted completely to the new model.
The West Trenton plant had other issues to deal with in assembling an aircraft of the size and complexity of the Avenger, a three-man torpedo bomber and one of the largest single-engine planes used in the war. It featured a built-in bomb bay, motorized gun turret, and folding wings, all of which were specialized items that were deemed to be best constructed as modules. Concurrent with this thinking was the decision that manufacture of these items could not be done in one facility. This is the reason that Baltimore, Bloomfield, and Tarrytown were tasked to supply components to West Trenton for final assembly into a complete aircraft. As a result of the efficiencies of this teaming arrangement West Trenton delivered its 1,000th Avenger to the Navy two weeks before Christmas 1943, and in January 1944 assumed sole responsibility for the bomber's production from Grumman.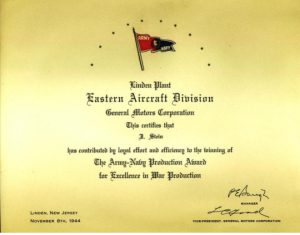 Figure 4 – Only 4% of companies making war materiel received Army-Navy "E" Awards
This is an example of a certificate issued to each Linden plant employee upon winning the award
EAD continued production of the Avenger and Wildcat to the end of the war. It earned several coveted Army-Navy "E" Awards resulting in part from the Navy rating its product quality as "the equal of the best in the industry." The Navy's satisfaction was further confirmed in 1945 when Linden was chosen to build the latest Grumman fighter, the F8F "Bearcat" (designated as FM-3), but before production began the war ended and the contract was cancelled.
Using the principles and techniques of mass production EAD's record of success validated an auto industry adage that states "the only thing we can't make is something we can't think about". The table below clearly shows that in the end EAD exceeded Grumman's production of Wildcats and Avengers by a wide margin, in the process delivering almost three-quarters of the nearly 18,000 of these planes made during the war. These numbers established EAD at the time as the producer of the largest number of naval aircraft in the world.
Table 2 – Total Wildcat and Avenger production numbers clearly show EAD as the leader
During the war EAD produced the largest number of naval aircraft in the world
| | | |
| --- | --- | --- |
| | Eastern Aircraft Division (EAD | Grumman Aircraft Corp |
| Wildcat |  5,837 | 2,580 |
| Avenger |  7,546 | 2,008 |
| TOTALS | 13,383 | 4,588 |
With the end of hostilities in September 1945 the companies comprising EAD quickly returned to their previous roles upon the cancellation of most of their defense work by the government. A brief synopsis of their individual postwar histories is presented in the following paragraphs.
Linden: Resumed production of Buick, Oldsmobile, and Pontiac models in 1946 until 1993 when a transition to production of the Chevrolet S-10, GMC Sonoma, Chevrolet Blazer, and GMC Jimmy models was completed. Starting in 2002 production gradually wound down until a white 2005 Blazer became the last vehicle to roll off the line on April 20, 2005. After GM and the City of Linden settled several tax issues the site was sold in February 2008 to Duke Realty, which demolished most of the plant structures in August 2008 and redeveloped the facility as an industrial and retail project called Legacy Commerce Center.
West Trenton: Reconverted back to making hardware for GM automobiles and in 1946 was re-designated as Fisher Body-Ternstedt Division. In 1961 the plant made manufacturing history again when Unimate, the first industrial robot used in the United States, was installed and successfully operated for over ten years. After undergoing several attempts to remain competitive the plant was closed on June 12, 1998 and completely demolished on March 23, 2001. In February 2014 Lennar Corporation proposed to build a mix of commercial space and residential units to create a transportation hub and "destination area" on the former plant's site.
Bloomfield: After consolidating operations with a later Delco-Remy facility in New Brunswick, NJ this plant was sold in May 1960 to General Plastics Corporation, a manufacturer of high-temperature coatings for industrial and electrical equipment. This is the only factory that was part of EAD that is still standing as General Plastics occupies the structure to the present day. Interestingly, the site also retains ties to its industrial heritage in that General Plastics counts automotive and aerospace companies as major customers for its products.
Tarrytown: This facility was part of a site originally opened by the Stanley Steam Car Company in 1896 and was integrated into General Motors in 1926. The last vehicles produced here were the Chevrolet Lumina APV, Pontiac TranSport, and Oldsmobile Silhouette minivans. GM closed the plant in July 1996 when production of minivans was moved to Doraville Assembly, GA, and the site was razed in 2000 (ironically, Doraville was also closed on September 26, 2008). GM is in the last stages of a long-term environmental clean-up effort and redevelopment projects are continuing to be explored.
Baltimore: After making several product lines including Monte Carlos and El Caminos production transitioned to GMC Astro and Safari vans in 1984. While successful for a number of years production at the Baltimore plant started winding down from 2000 in conjunction with the decreasing popularity of its minivans. On May 14, 2005 the last vans rolled off the line and the facility was closed. GM then sold the site to developer Duke Realty who demolished the facility and is building an industrial park there called the Chesapeake Commerce Center. 
For more information on GM's contributions during World War II EAD published its own book in 1944 entitled A History of Eastern Aircraft Division. It was given to all employees as a token of the company's gratitude for their efforts and was the primary source of much of the material presented in this article.