The humorist Jean Shepherd, best known for the movie A Christmas Story and who had a popular and long-running late-night radio show on WOR in New York City decades ago, once said, "Nostalgia is a disease."  I suffer from that disease.
Let me explain.
Each January, the annual "AutoMania" indoor swap meet takes place in the Agricultural Hall at the Allentown, Pennsylvania, Fairgrounds.  The event is run by Carlisle Events, the same organization that conducts the warm-weather shows in Carlisle, PA, and which lists all its events right here on CarShowSafari.com.
AutoMania has been taking place for more than 30 years, and since the Allentown Fairgrounds is a whopping five miles from the new home to which my wife and I moved last October, I decided to attend this year.  I visited the swap meet on its second day.
There, among the vendors I met Paul Weisel, offering vintage oval-track racing memorabilia on behalf of the Eastern Auto Racing Historical Society.  Paul also has been a contributing writer for CarShowSafari.com, penning our 2015 commemoration of the tragedies that darkened the racing year of 1955.
Further down the aisles, I met a vendor with a sign indicating that he had two Corvairs for sale, both in nearby New Jersey, both 1964 models, one convertible, and one coupe.  Although I have a strong interest in all things Corvair, neither of these cars was large enough to sleep in, something my wife would insist upon should I bring either of them home.  I took the vendor's contact information to share with fellow members of the Corvair owners' clubs to which I belong, and moved on.
A bit later I met another vendor who was offering something quite different from a Corvair: A 1958 Edsel, in excellent unrestored condition.  I have a certain appreciation for the Edsel.  I was not quite six years old when the car was introduced, and as part of the introduction the dealers were offering an incentive: Come test-drive the new Edsel and receive a scale model of the car.  My father took the test drive, and I got the scale model.  (Dad, very much a GM guy, did not buy an Edsel.)
The Edsel scale model was probably the first such promotional model I ever had, although subsequently, I acquired many more, most of which I own to this day.  Among them are Pontiac, Studebaker, Buick, and yes, Corvair promos.  And while I have no idea what eventually became of it, I have long remembered that Edsel model, a model which did succeed in creating a lasting and generally favorable impression of the unpopular and unsuccessful Edsel in the mind of six-year-old me.
So when I saw the '58 Edsel at AutoMania, in the same color as my model from all those years earlier, well, I just had to inquire.  There was no price posted, but the seller was affable and friendly and quoted what I considered to be a fair price.  I told him I'd think about it.
Twenty minutes later I returned to his booth, haggled with him for a few minutes, received a modest discount from his asking price, and bought the car.  Here's a photo: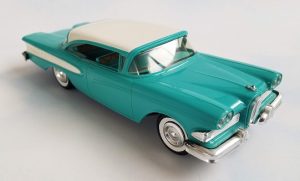 Yes, it's that same 1958 promotional model, complete with the friction motor to propel it, and in such condition as to suggest that it was never used as a child's toy.  Better yet, when I turned it over, there on the bottom was an advertisement that I had totally forgotten, but the memory of which came rushing back immediately:
In the Medium Price Field,
THE ONE THAT'S REALLY NEW
IS THE LOWEST PRICED TOO!
1958 EDSEL.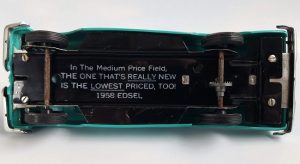 The last time I rode in an Edsel was that first time, in the Fall of 1957.  I don't expect to be riding in one ever again.  But the nostalgic power of the scale model was too much to resist.  My 1958 Edsel now resides in a display case in my home office, a pleasant reminder of an Autumn evening with my father nearly 65 years ago.