Car Show Bucket List: The Grand National Roadster Show
By Tomm Scalera.
Let's start with the premise that I attend a lot of car shows. From local club car shows, cruise nights, cars & coffees, to big international shows, mega national events and Concours d'Elegance, I go to a lot of car shows. Most are great, some are so-so, but there are a few that are true bucket-listers.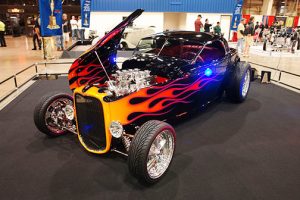 On that list is one show in particular that I look forward to each year. One that has everything I love in a car show. To me, the Grand National Roadster Show is car show nirvana. What makes this show so great?
Let's start with quantity. The GNRS has over 500 cars on display inside 7 buildings, and adds an additional 400-800 cars on Saturday and Sunday. Yes, that's 1300 cars to drool over. Better make sure your camera is fully charged, and you're wearing comfortable shoes.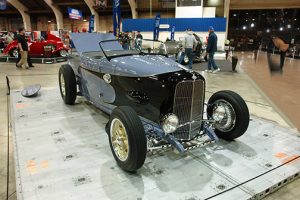 Variety: The GNRS has a huge range of cars from beaters and original-condition barn finds, to meticulously detailed rods and custom works of art. A million-dollar car parked next to a rusted relic. The GNRS has it all.
Quality: Nowhere on earth will you find higher quality builds than here. This is the big kahuna. After all, their main prize is the "America's Most Beautiful Roadster" award and that is no exaggeration. This is perfection on wheels.
Venue: The Grand National Roadster Show just celebrated its 71st year, and is the longest running indoor car show in the world. Taking place at the Fairplex in Pomona, California in late January, it is the perfect venue for this amazing event. The grounds are sprawling but walkable. The seven buildings are designed to be easily navigated and create separate spaces to focus on unique themes. One building is just for automotive artists, another is dedicated to vintage drag racers. Another focuses on amateur-built customs, and another on professional builds. The centerpiece is Building 4, which houses the contenders for the big "America's Most Beautiful Roadster" award. This is the center of the universe for hot rods, displaying them like fine art with drama and style. This is the Lourve of automotive rolling art.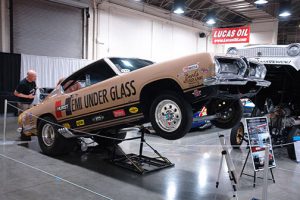 Between the buildings are tree-lined lanes perfect for displaying cars of every variety. Surrounding the buildings are shaded lawns and sprawling parking lots that get filled to capacity. From individuals to families to car clubs, all are accepted and appreciated here.
No show would be complete without vendors and the GNRS has them in spades. From custom parts to hot rod clothing, sculpture to pinstriping, it's all here. Every conceivable auto-related item that can be imagined, can be found. Huge aftermarket manufacturers' booths of every size and category line the buildings and lanes. And of course, the custom hot rod shops are showing off their latest builds. With enough cash, you too could own an "America's Most Beautiful Roadster" prize winner.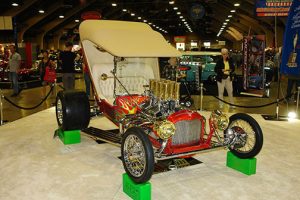 And then there's the food! There's a lot of food. Of course most of it will give you an instant heart attack, not just when you eat it, but when you pay for it! I ordered a bacon cheeseburger with bacon-cheese fries (here you can get bacon and cheese on pretty much everything) and a coke and it cost only $33 for this rare gourmet fare. (the defibrillator cost extra). Your healthy choices would be to skip the bacon and cheese and go straight for the fried pickles. At least it's a vegetable, kinda. Even the bottled water is $4.50 (can you imagine going back in time and telling someone from 1950 that you paid $4.50 for a bottle of water? They'd still be laughing) Probably best to bring a bag lunch (bacon optional) and your own water.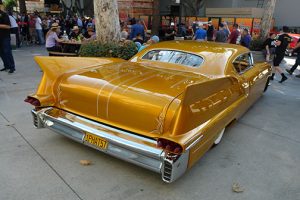 Anyway, if you get bored seeing gorgeous cars, meeting great people, buying great stuff, and digesting bacon, you can also visit the NHRA Motorsports Museum located right on the premises. A story unto itself, the NHRA Museum is really excellent, with lots to see and learn! All of this makes the Grand National Roadster Show a top five favorite car show ever. A definite bucket-lister not to be missed by any true car enthusiast… or bacon lover.
The 72nd annual Grand National Roadster Show will be held January 29 – 31, 2021 at the Fairplex in Pomona, California.