Race Cars, Classic Cars, and a Solar Power Scam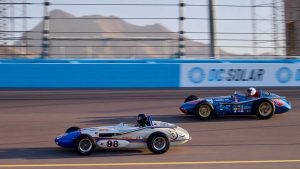 When we visited Phoenix Raceway for the Classic Racing Times' Vintage Desert Classic in 2017, the name DC Solar was displayed prominently throughout the facility and was attached to the massive renovations then taking place at the speedway. Solar power is so hot right now, anyway.
Those renovations are now complete, but DC Solar is finished, too.  In December 2018, the FBI raided the California offices of DC Solar and the home of company owners Jeff and Paulette Carpoff, and aside from the usual seizure of computers, files, and corporate books, the agents found $1.7 million in cash!  The FBI suspected the Carpoffs of running DC Solar in the fashion of a Ponzi scheme with solar power at the core.
Aside from its sponsorship at Phoenix Raceway, DC Solar was a prominent sponsor elsewhere in NASCAR, notably on the cars of Chip Ganassi Racing.  Ganassi's No. 42 Xfinity Series car carried DC Solar as its primary sponsor, and the company also partially sponsored the No. 42 Cup Series car.  Not long after the FBI raid, DC Solar filed for bankruptcy, and all of DC Solar's racing sponsorships ended abruptly.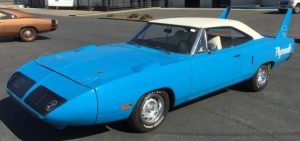 Ganassi, a highly successful team owner across several series including Indycar, folded his Xfinity team as a result. Ganassi is but one creditor in the bankruptcy proceedings, and the size of his claim and those of others are impressive.  According to the bankruptcy filing, Chip Ganassi Racing is owed $4,310,000; International Speedway Corporation, just recently merged with NASCAR, is owed $1,025,000; Richmond International Raceway, Kansas Speedway, Talladega Superspeedway, and Phoenix Raceway are each owed $750,000.
These are just racing-related highlights.  Other creditors include Exide Technologies, which is owed $2,031,653.68, and US Tower Corporation, which is owed $2,059,979.11.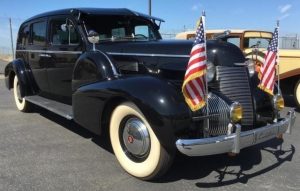 The Ponzi scheme allegations are not quite the classic "money from new investors being used to pay off old investors."  Rather, it is alleged that the Carpoffs utilized a complicated corporate structure that concealed the lack of third-party leases in a business model purported to be built on third party leases of mobile solar generators.  The process created the appearance that the mobile solar generators were generating lease revenue when they were not, luring investors to the firm.  The FBI has estimated the scope of the scheme to be some $800-plus million.
Mobile solar generators are power generating units using solar panels and batteries, typically built on trailers, which are leased to third-party companies for emergency power and lighting needs.  DC Solar did indeed offer such units for lease, but allegedly leased far fewer of them than company documents represented.
According to an affidavit, FBI special agent Christopher Phillips stated that "The use of investor money to lull investors into believing the transaction is legitimate and profit-making is evidence of a Ponzi-type investment fraud scheme."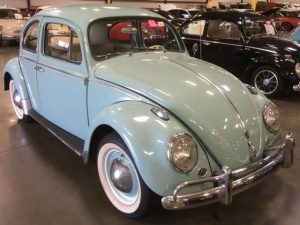 Additional allegations include that the Carpoffs were funding their own lavish lifestyle, including ownership of Martinez Clippers baseball team and the acquisition of nearly 150 high-value collector cars.  The bulk of the cars were scheduled to be auctioned by the Apple Auctioneering Company on behalf of the U.S. Marshals Service on October 26.  Online bidding opened earlier this month.
A press release issued by the U.S. Marshals Office of Public Affairs quoted Chief Deputy U.S. Marshal Lasha Boyden with the Sacramento office of the U.S. Marshals as saying "It is rare for the U.S. Marshals to hold an auction of such a stunning collection of vehicles.  We've got classic 1960s Ford Mustangs, 1990s Humvees, a 1960 Austin-Healey, and even a 1978 Pontiac Trans Am that was owned by Burt Reynolds as a memento of the car he drove in the movie 'Smokey and the Bandit.'"
Other cars in the auction include multiple examples of the winged Plymouth Superbird and, in a slightly ironic twist, a vintage police car.
Phoenix Raceway, in the meantime, has acquired new sponsorship from Ingenuity Sun Media and has re-branded itself as ISM Raceway.
Raceway photo courtesy Christine Reed; auction photos courtesy Apple Auctioneering Company.