From Cars to Planes and Back Again, Part Five
From Cars to Planes and Back Again, Part Five
The prior installments of this series about car companies that have also produced aircraft looked at divisions of GM and Ford. This latest article explores Nash-Kelvinator, the corporate entity that was the result of the merger of the venerable Nash automotive company and the appliance maker Kelvinator and which later became American Motors. Nash-Kelvinator's involvement in aviation was solely devoted to production of equipment for WW II.
In contrast to the other companies that were previously presented Nash-Kelvinator is different in two major ways: 1) it produced rotary-wing machines (helicopters) and 2) the production facilities for the helicopters were not purpose-built for aircraft production or converted automotive manufacturing plants. Built under license from Sikorsky by Nash-Kelvinator, the model R-6 helicopter was introduced very late in the war. Despite its late entry, the R-6 was used successfully in medical evacuation missions, rescues, and other assignments that military helicopters routinely perform today. As a result, it was a pioneer in the use of helicopters for military applications and helped to form the basis for their use in later conflicts in Korea, Viet Nam, and into the current day.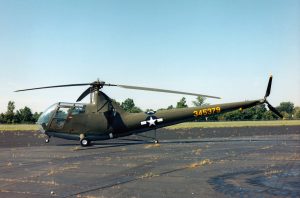 An R-6A helicopter as built by Nash-Kelvinator was an upgrade of Sikorsky's R-4 model
This example is on display at the National Museum of the Air Force at Wright-Patterson AFB in Dayton, OH
Pre-War History: The story of Nash cars began when Thomas Jeffery, a 17-year-old British inventor, came to the US in 1862. After settling in Chicago, he worked on a number of different products before creating a new bicycle called the Rambler. It featured a more robust frame in comparison to its contemporaries and quickly became the second best-selling bicycle in the country. In 1897 Jeffery created his first Rambler automobile in a Kenosha, WI factory that he purchased from a former bike company rival. Just like his bicycles Jeffery's Rambler cars quickly gained a solid reputation for value and reliability. In 1902, the plant's first year of full production, Rambler was the second largest automaker in the US.
After Jeffery died in 1910 his son took over the company and in 1916 he sold it to Charles Nash, previously one of the founders of Buick Motor Company and who had recently resigned from his position as President of General Motors. Nash then changed the name from the Thomas Jeffery Company to Nash Motors. He also brought in former GM engineer Nils Wahlberg as Director of Engineering, and under his leadership the company began a legacy of developing innovative new cars. For example, in 1928 a new Nash 400 series included a six-cylinder engine with two spark plugs per cylinder to improve combustion efficiency, gas mileage, and power. Marketed as "Twin Ignition", the dual-plug configuration is used on the current generation of Hemi engines.
In 1937 Charles Nash decided to retire. The man he picked to succeed him was George Mason, who was then president of Detroit-based Kelvinator, a producer of high-end electric appliances since 1914. After declining the offer several times, Mason accepted on the condition that Nash would acquire Kelvinator. Emerging as Nash-Kelvinator in 1937, the company continued to be an automotive innovator with the introduction of features such as flow-through ventilation and developing the first American mass-produced unibody car in 1941. Its lighter weight and streamlining delivered gas mileage of up to 30 mpg. With tweaks to the interior and exterior production continued until 1948 (with a production break due to WW II).
Illustrations of the respective main products of Nash and Kelvinator at the time of their 1937 merger
The Nash Ambassador Eight Sedan and this Kelvinator refrigerator model were leaders in their respective markets
Nash-Kelvinator Joins the War Effort: Like many companies of the time, Nash-Kelvinator became a defense contractor as the government continued belated preparations for war. Its contributions started in March 1941 when the Office of Production Management requested that the company build propellers for military aircraft under license from Hamilton Standard (now part of United Technologies). Over the course of the conflict two facilities in Lansing, MI would complete 158,134 prop assemblies and another 85,656 spare blades, producing the second highest number of props of any US company in WW II. The props were both three- and four-blade configurations that were installed on aircraft that included the Vought F4U Corsair and Douglas A-26 Invader. Later in 1941 Nash-Kelvinator began making parts for Pratt & Whitney's aircraft engine plant in Hartford, CT (now also a division of United Technologies). With the US fully engaged in combat after Pearl Harbor Nash-Kelvinator was contracted to build complete R-2800 engines under license from Pratt & Whitney in February 1942. The engine's small size and rated 2000-2400 horsepower made it a very popular powerplant for WW II combat aircraft. Nash-Kelvinator's Kenosha, WI factory produced 17,012 of these engines specifically for the F4U Corsair (R-2800-8), Grumman F6F Hellcat (R-2800-10), and the Northrop P-61 Black Widow night fighter (R-2800-65). Other groups within the company produced bomb fuses (650,000), rocket motors (204,000), M3 6x30 binoculars and cases (200,000), and 1-ton two-wheel cargo trailers (44,628).
Aircraft propellers and Pratt & Whitney engines were major products made by Nash-Kelvinator in WW II
The company assembled different propellers and models of the R-2800 engine for the aircraft shown here
Relationship to Sikorsky: At the beginning of WW II the Navy recognized that the vast distances between islands in the Pacific and the lack of land bases would pose a challenge for using aircraft in combat and transport operations. Aircraft carriers were the obvious solution to overcoming the challenge of getting combat aircraft to places where they were needed. Flying boats, with their abilities to land on water, were the logical choice for air transportation as they did not need runways and associated land plane facilities. One of the planes considered for this role was a Sikorsky four-engine flying boat that had the range, speed, and payload to satisfy the Navy's requirements. However, Sikorsky was tied with the Vought Company whose F4U Corsair was being prepared for combat, and the Navy did not want to siphon resources from that effort.
Thus the Navy sought a company to build the transport under license from Sikorsky, with Nash-Kelvinator ending up as the chosen builder. On February 3, 1942 the Navy placed an order for 112 of the planes with Nash-Kelvinator and formally signed the contract on August 18th. The new aircraft had an experimental designation of XJRK-1 and was to carry 37 passengers. Artist's renditions of the plane in period advertisements resemble Sikorsky's JR2S (civilian VS-44) that had been in production since 1937. Plans were for wing assemblies to be made in Nash-Kelvinator's Grand Rapids, MI plant and the hull in its Kenosha, WI factory. These components would then be shipped to a factory adjacent to Lake Pontchartrain near New Orleans, LA for final assembly. These production facilities were well towards being completed when changing military requirements caused the need for this particular type of aircraft to decrease to the point that the project was dropped on November 21, 1942.
In making the XJRK-1 cancellation announcement Admiral E. M. Pace Jr., Director of the Navy's Materials Division, praised the speed at which Nash-Kelvinator was preparing to produce the proposed aircraft. He added that the advanced state of the New Orleans facility would allow the Navy to assign the site to another large aircraft manufacturer. This may have eventually been Consolidated Aircraft (now General Dynamics), whose PBY "Catalina" was a flying boat that was used by the Navy during and after the war in a variety of roles. In May 1943 Consolidated began production of PBYs from a facility in New Orleans, so it therefore seems likely that a period from late November to May would be adequate to modify an existing facility for this purpose. In addition, Sikorsky appears to have enjoyed a good working relationship with Nash-Kelvinator as they prepared to build the XJRK-1, and this state of affairs may have contributed to the decision to subsequently license helicopter production to the company.
VS-44A Specifications

Length:           79 feet, 3 inches

Wingspan:       124 feet

Height:           27 feet, 7 ¼ inches

Gross Weight:  57,500 lbs.

Engines:         4 P&W R-1830-S1C3-G, 1200 hp each

Cruise Speed:  160 mph

Range:            3800 miles
Proposed Navy transport in a 1942 ad bears a strong resemblance to Vought-Sikorsky's VS-44 flying boat
Although Nash-Kelvinator's contract to build the plane the company established a relationship with Sikorsky that may have contributed to its eventual helicopter contract (Photo source: Sikorsky Archives)
Helicopter Production: Vought-Sikorsky was a very busy company in 1943, charged with producing F4U Corsairs for the Navy and Marines and which were desperately needed in the Pacific area. Having produced the first working American helicopters, it was also engaged in manufacturing its R-4 and R-5 models. Its new R-6 was based on the R-4 but offered significant improvements such as a metal fuselage, larger engine, and a planetary gear main gear box. It was also desired in large quantities by the Army Air Force. As a result, Sikorsky was hard-pressed to meet this last commitment, but possibly due to Sikorsky and Nash-Kelvinator's prior collaboration on the flying boat Nash-Kelvinator was selected to build the new R-6 model.
On August 28, 1943, the government and Nash-Kelvinator formalized a contract for it to build 900 R-6 helicopters under license from Sikorsky, with the government supplying the engines. Fuselage and parts production was to occur in Nash-Kelvinator's Grand Rapids, MI plant (one of the original subcontractors on the flying boat program) with final assembly occurring at another Nash-Kelvinator plant on Plymouth Road near Detroit. Interestingly, unlike other automobile manufacturers who converted auto plants to aircraft production these two facilities were not previously car assembly lines. Instead, Grand Rapids was a legacy Kelvinator plant that in its pre-war period was the largest refrigerator maker in the world, while the Plymouth Road facility was also a legacy Kelvinator plant that became the Nash-Kelvinator company's headquarters.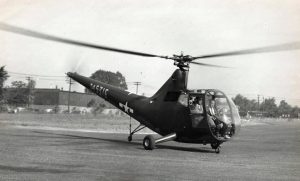 1st YR-6A pre-production article built by Nash-Kelvinator at the start of flight testing
On September 15, 1944 testing commenced on a 4.5 acre airfield that was located at the rear of Nash-Kelvinator's Plymouth Road facility (source: Sikorsky Archives)
In June 1943 Nash-Kelvinator sent a team of twenty engineers to Sikorsky in Connecticut to learn about helicopter manufacturing and prepare the requisite drawings to enable mass production of the rotorcraft. Sikorsky had completed six experimental models of the R-6, one of which made the type's first flight on October 15, 1943. Other program milestones include the establishment of a testing airfield on 4.5 acres behind the Plymouth Road facility in August 1943, completion of a full-scale mahogany model at the end of 1943, initial testing of its first production model in mid-September 1944, and acceptance of its first production article by the Army Air Force on October 23, 1944. This long pre-production period was primarily the result of Sikorsky making approximately 20,000 design changes from the original configuration which slowed the development of production drawings and associated documentation.
After the official end of war with Germany in May 1945 full production of the R-6s continued in order to supply units who would use them in missions supporting the expected invasion of Japan. The plant in Grand Rapids continued to make parts that were shipped to Detroit for final assembly of the helicopters. On May 26th in that year three R-6 helicopters manufactured by Nash-Kelvinator were flown to the local airport in Grand Rapids to provide orientations for various plant personnel and to demonstrate their flying capabilities to the public at large.
Sikorsky/Nash-Kelvinator R-6 Specifications
Length Overall (including rotors):   48 feet, 9 inches
Engine:              1 each Franklin O-405-9, 235 hp
Height Overall (including rotors):   11 feet, 7 inches
Rotor Diameter: 38 feet, 0 inches
Cabin Width:                              3 feet, 8 inches
Cruising Speed:   90 mph
Gross Weight (Rescue):                2,620 lbs.
Max Range:        400 miles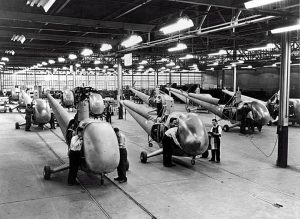 R-6 final inspection area at the Plymouth Road assembly plant in December 1944
219 helicopters were built before the contract was cancelled on August 16, 1945 (source: Sikorsky Archives)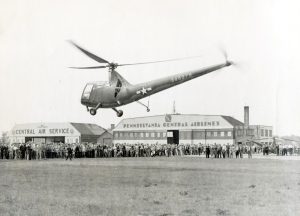 An R-6A helicopter demonstrates its capabilities at Kent County Airport, Grand Rapids, MI, May 26, 1945
This is the same helicopter that is on display at the National Museum of the Air Force at Wright-Patterson AFB in Dayton, OH (source: Grand Rapids Magazine, June 2010)
Several Army Air Force units took R-6As into combat areas before the war ended officially in September 1945. In the fall and winter of 1944, 6 Liberty ships modified as floating repair depots deployed to the Pacific as Aircraft Repair Units (Floating), abbreviated as ARU (F). Each of these Army Air Forces vessels accommodated two helicopters (initially R-4s, but replaced later in some instances by R-6s), which were intended to ferry small components from ship to shore to support aircraft operating from forward island bases that had not yet established an integral maintenance depot. In addition to this role, the helicopters were called upon to perform other missions on an ad hoc basis. Among the more notable accomplishments was the rescue of approximately 70 wounded soldiers from the highlands of central Luzon in the Philippine Islands during late June 1945 by helicopters of the 5th and 6th ARU (F). The 8th Emergency Rescue Squadron (ERS), based at Kunming, China, made an earlier contribution to medevac operations. Barely 24 hours after its arrival in China 8th ERS helicopters rescued three crewmen from a crashed C-46 transport in the Yuan Chiang Valley, nearly 100 miles from Kunming, on April 28, 1945. These examples show that the helicopters were used in ways that are now standard operating procedures or missions for helicopters used by the world's armed forces today.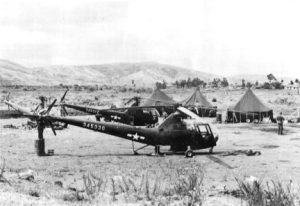 YR-6A helicopters of 8th Emergency Rescue Squadron at Kunming, China, 1945
Helicopters from this unit completed a rescue mission 24 hours after arriving on station
(source: "The Hoverfly in the CBI", http://cbi-theater-3.home.comcast.net)
After Japan's official surrender date in September was in place, Nash-Kelvinator's contract was cancelled after 219 helicopters were completed, including 26 YR-6As assembled for testing and 193 production R-6As. This compares well to the 199 of all types that Sikorsky completed. Subsequently other R-6 operators included the US Navy (36), Britain's Royal Navy (40), and the US Coast Guard (27, obtained from the US Navy's inventory). Newer helicopters soon emerged that caused the R-6s to be withdrawn from active service rather quickly, as the last US model was discarded by 1949 and the last Royal Navy example was retired and scrapped in 1951.
Postwar Company History: The Nash assembly line restarted in October 1945, using essentially the features and configurations of the 1942 models with only cosmetic changes. However, with the impact of rationing during the war still fresh George Mason felt that Nash should focus on smaller cars. Thus work was begun on what would be the 1950 Nash Rambler, the first postwar compact American car. Simultaneously, he started work on an even smaller car. In what eventually became the Metropolitan, the Nash contracted with Austin of England to produce the car to Nash's design, using its 1200cc (1.2 liter) four-cylinder engine in 1954.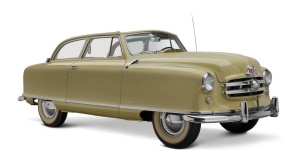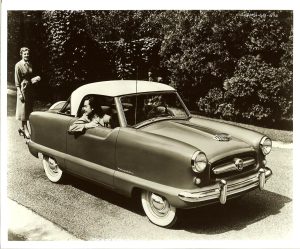 The 1950 Rambler (left) and the first production Metropolitan in 1954 (right)
The Rambler was the first postwar American compact while the even smaller Metropolitan was made to Nash's specs by Austin on the UK (source: "History of Metropolitans", http://chuckstoyland.com/ metro/history/index.html)
Strategically, Mason also foresaw that the smaller companies in the postwar auto industry would face serious disadvantages in trying to compete against the Big 3 companies GM, Chrysler, and Ford. His solution was for the smaller companies to combine in phases into one company to share resources. In phase one Packard and Studebaker would merge to pursue the upscale market while Nash and Hudson would cover the entry-level and mid-range markets. After successfully integrating their respective organizations the companies would commence phase two where they would merge again to form a company that would be the new number three or at least rival it in size. In January 1954 the plan began with Nash's acquisition of Hudson Motor Car Company as a friendly merger with the resulting entity named American Motors Corporation (AMC). Nash then concentrated on its smaller Rambler line while Hudson focused on its full-size products. All production would be concentrated at Nash's Kenosha factory as a cost-savings measure.
Unfortunately George Mason died soon after the 1954 merger. Mason's successor was George Romney, father of former Massachusetts Gov. Mitt Romney (and presidential candidate), who pinned the future of the company on an expanded Rambler line. He therefore began the process of phasing out the Nash and Hudson nameplates by the end of the 1957 model year, which officially occurred with the cessation of Nash and Hudson production on June 25, 1957. This left Rambler and the Metropolitan as the only models sold by AMC from 1958 to 1962, when the Metropolitans were discontinued and Rambler continued to 1965. After George Romney left to run for governor of Michigan in 1962 Roy Abernethy assumed the leadership of the company. Under his rein the Rambler name began to phase out in 1965 and was discontinued after 1969. In 1970, American Motors acquired Kaiser Jeep and its Toledo, OH-based manufacturing facilities. In the early 1980s, AMC entered into a partnership with Renault which was looking for a re-entrée into the American market in the 1980s. After a series of design and cash flow issues Renault pulled out and AMC was acquired by Chrysler Corporation in 1987, becoming the Jeep-Eagle division. With that change the last AMC vehicle, an Eagle Wagon, rolled off the assembly line on December 14, 1987, and the Kenosha was closed later in 1988.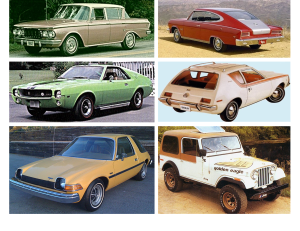 A selection of other American Motors (AMC) distinctive automobiles
Starting from top left and working left to right, the 1962 Rambler Ambassador, 1967 Marlin,
1969 AMX, 1971 Gremlin, 1975 Pacer, and 1978 Jeep CJ-7
Fate of the Helicopter Production Facilities: The Kelvinator plant in Grand Rapids, where parts for the R-6 were made, returned to appliance manufacturing after the war. It continued in this role until 1968, when the entire facility was sold to White Consolidated Industries. Under White Consolidated's ownership the plant produced its last refrigerator, its most familiar product, in 1977, but it continued to turn out other appliances under brand names such as Kenmore, Whirlpool, and Frigidaire. Subsequently the Swedish company Electrolux AB acquired White Consolidated Industries in 1986. The next year Electrolux closed the Grand Rapids plant after moving all appliance production to other facilities in Ohio and Tennessee. Finally, a management company bought the site in 1988 and leased portions of it to other businesses. Unfortunately, a fire in 1996 caused extensive damage to a major portion of the four-story factory building, eventually leading to its demolition.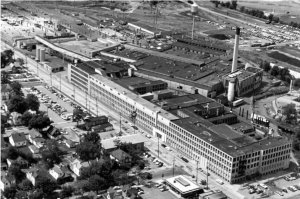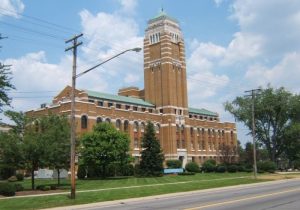 Kelvinator's Grand Rapids factory and the ornate former Nash-Kelvinator and AMC headquarters
The Kelvinator plant supplied parts and components to a factory behind the ex-headquarters where R-6 helicopters were assembled during WW II (Photo sources: The Early Days of Aviation in Grand Rapids, allpar.com)
As for the Plymouth Road facility, it was built in 1927 for appliance maker Kelvinator and after the 1937 merger was the headquarters for Nash-Kelvinator and later AMC along with the latter's design and engineering staffs. In 1968 AMC sold off Kelvinator and moved its headquarters to the 26-story American Center in Southfield, Michigan in 1975. The facility was retained as AMC's engineering headquarters until Chrysler's purchase of AMC in 1987. Chrysler then kept the Plymouth Road complex as its Jeep and truck engineering offices where development of various Jeeps (excluding the Patriot/Compass) and the Dodge Ram and Durango were centered. In June 2009 all of the personnel assigned to this location were relocated to the Chrysler Technology Center in the aftermath of Chrysler's spring 2009 bankruptcy. With an empty and unneeded 1.4 million-square-foot, 54-acre complex on its hands the company that was charged with helping Chrysler to rid itself of such properties sold the site for $2.3 million. It subsequently ended up in the ownership of a man convicted in 2004 of running a stolen car stripping operation and whose company owed $930,000 in taxes on the property as of April 2013. After it was also determined that the facility was being systematically stripped and demolished it was seized by the city of Detroit for non-payment of taxes and remains in this state as of April 2014.
The following sources contain more information about Nash Motors, American Motors, Nash-Kelvinator's involvement in military aviation parts manufacturing, and R-6 helicopter production, some of which were used as references for this article:
Beld, Gordon G., The Early Days of Aviation In Grand Rapids, The History Press, 2012
Hyde, Charles K, Storied Independent Automakers: Nash, Hudson, and American Motors, Wayne State University Press, 2009
Sikorsky Product History, "S-49/R-6A/HOS-1/Hoverfly Mk II Helicopter", Sikorsky Archives, http://www.sikorskyarchives.com/S-49.php, accessed May 5, 2014
Strohl, Daniel, "AMC's Plymouth Road headquarters future in doubt", Hemmings, May 6th, 2013, http://blog.hemmings.com/index.php/2013/05/06/amcs-plymouth-road-headquarters-future-in-doubt/ , retrieved April 22, 2014
US Air Force Fact Sheet, "Sikorsky R-6A Hoverfly II", National Museum of the Air Force, Wright-Patterson AFB, OH, accessed 4/21/2014