How Strange Has the 2020 Racing Season Been?
There is no question that the year 2020 will live in infamy because of the tragic COVID-19 global pandemic. Within the world of auto racing, the year will stand out also for being, um, strange.
Most of the strangeness is the result of the pandemic, of course. In March, well-planned schedules, from the small local tracks to the superpeedways, were scrapped, replaced, revised. Racing organizers had to create and implement new policies and procedures before getting cars back on the track. New state, local, and CDC guidelines had to be taken into account. Attendance limitations and mask-wearing would become de rigeur at the track.
The Indy 500 and the Andrettis
The Indianapolis 500 was postponed, and when it did take place it did so without fans and during August, not May. The world's "largest one-day sporting event" became, in 2020, the world's largest sporting event played before empty seats.
Third-generation Indycar driver Marco Andretti won the pole at Indianapolis, something that no one saw coming. But reverting to form, Andretti, a talented and likeable guy but typically not in contention for victory, fell back through the field in the race, an unfortunate piece of normalcy for the year.
Speaking of Andretti, in January, before anyone had heard the term COVID-19, John Andretti succumbed to cancer at the age of 56. The son of Mario's twin brother Aldo and cousin to Marco, John Andretti had been a winner in Indycars, NASCAR Cup cars and more. He was an exceptionally popular figure on and off the track, and his passing was a heartbreaking beginning to what was to become a gloomy year.
Coping with the pandemic, NASCAR instituted midweek races, and both IndyCar and NASCAR doubled-down on doubleheader events. At the local level, some facilities ran truncated schedules while others did not race at all. Some facilities admitted fans in limited numbers, some did not.
Virtual Racing and Unintended Consequences
Even before cars got back onto the track, iRacing burst into the mainstream with streaming and televised virtual races for both IndyCar and NASCAR. But that led to even more strangeness. In NASCAR, Kyle Larson, one of the Cup Series' rising young stars, inexplicably uttered a racial slur during a virtual race broadcast. The repercussions were swift and unprecedented. Larson lost his sponsors, was fired by his Ganassi team, and was suspended by NASCAR.
Although Larson, to his credit, owned up to his indiscretion and issued an apology that rang true, he was left with little choice but to return to his dirt-track roots. Doing so, he then went on a phenomenal tear. As of this writing, in 82 starts in midgets, sprints, USAC Silver Crown, dirt late models and even a Northeast-style dirt modified, Larson claimed an astounding 42 victories, a winning percentage that would be the envy of any sports figure.
Near year's end Larson earned his reinstatement from NASCAR, was signed by the Hendrick team, and sponsors are being sought for the 2021 season.
Social Issues at the Track
Still more unprecedented events occurred during the year. In the wake of the death of George Floyd at the hands of the police in Minneapolis in May, social inequality issues became both front page news and a topic heretofore largely absent from the racing scene. Acknowledging societal pressures, NASCAR banned the Confederate flag from its tracks after long turning a blind eye to its presence.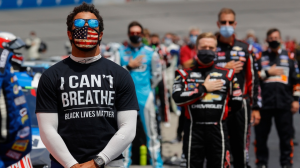 Also in NASCAR, Darrell "Bubba" Wallace broke precedent by carrying the message of Black Lives Matter on his Petty Enterprises car. Wallace is the only Black driver in NASCAR currently. Shortly afterward, NASCAR had to deal with what was initially suspected to be a hate crime directed toward Wallace in the garages at the Talladega Superspeedway in Alabama, where a rope fashioned into a noose was found.
As it turned out following an investigation that included the FBI, that rope was just a stupid prank not aimed at Wallace nor anyone else specifically. But it and the other events surrounding Wallace exposed simultaneously both a lingering stench of racism at NASCAR events and a new acceptance of more inclusive attitudes. There is progress, but there is quite a way yet to go.
Meanwhile, the NTT Indycar Series ended it's 2020 season on the temporary circuit in St. Petersburg, Florida, originally intended to be the first race of the year but postponed by the pandemic. In yet another strange development in a strange year, Scott Dixon led the championship points all season long but watched his lead dwindle in the closing weeks. Normally, Dixon starts off slowly and gains strength as the season progresses. This year, the opposite was true.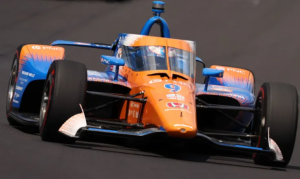 It made for a nice contest, though, as Josef Newgarden mounted a strong late-season challenge and almost nipped Dixon for the title, coming up only slightly short.
The Indycar Series had some additional strangeness in the form of the Aeroscreen, a newly mandated enclosure to the cockpits of the historically open-cockpit cars. A blend of Formula One's "Halo" and the ballistic enclosures now seen on Top Fuel dragsters, the Aeroscreen quickly proved it's worth in driver protection and won over many of the traditionalists who feared it would "ruin" the appearance of the cars. We stand by our first impressions of the appearance as we wrote earlier this year.
NASCAR's season also featured strangeness including the aforementioned weekday races (necessitated by scheduling around the pandemic) and a four-day-long October race in Texas (begun on a Sunday but not finished until Wednesday thanks to persistent rain delays).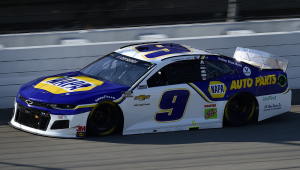 At the end of the championship stretch, however, things seemed somewhat normal as fire sirens sounded in Dawsonville, Georgia, for a championship won by hometown driver Chase Elliott. Those sirens last blasted a salute to a hometown champion in 1988, for Elliott's father, Bill Elliott.
By the way, if you like numerology or coincidences or simply consider it to be strange, both Scott Dixon and Chase Elliott drove to their championships in cars bearing the number 9.
Around the country, short tracks were hindered to a greater or lesser degree by varying State directives. Tracks that were permitted to open were given that permission well after their traditional opening dates, resulting in truncated seasons. Some were permitted to operate with limited spectator counts or with no spectators at all. The "no spectator" mandate caused some tracks to throw in the towel, some to further trim their calendar, and some to proceed under the restricted capacity. In some areas, tracks were simply barred from opening at all, while others paid only lip service to capacity restrictions and admitted anyone who bought a ticket.
It's mid-November as we write, and the racing season for 2020 is now over, as is a Presidential race the results of which will without question affect how the country moves forward against the challenge of the pandemic. What does it mean for racing in 2021? We have no crystal ball, but we certainly hope that the pandemic can be wrestled to the mat and that racing – and most of day-to-day life – can shake off the strangeness that has been 2020.
Bubba Wallace photo courtesy Chris Graythen/Getty Images North America/Getty Images