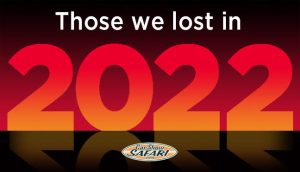 Today we honor those who greatly influenced the automotive industry that we lost in 2022.
Kevin Kalkhoven, winning car owner for the 2013 Indianapolis 500 and a key figure in the CART/Champ Car series in the early 2000s. A venture capitalist of considerable wealth, Kalkhoven helped keep the Champ Car series alive during the "Indycar split," and was also a co- owner of Cosworth, which built and supplied the engines used in the Champ Car series.
John Flathmann aka Johnny Mann, a racing driver whose championship included the 1951 and 1952 titles at New York City's short-lived Dexter Park Speedway, and who later earned two championships in the Northeastern Midget Association series. Mann, having raced through the dangerous pre-roll-cage era in open-cockpit cars, survived to age 95.
Vince Granatelli, who was a leading mechanic for the Indianapolis 500 efforts of his father, the flamboyant Andy Granatelli, and who later became a race-winning Indy Car team owner.
MaryEllen Dohrs, one of the first female industrial designers hired by General Motors. Hired in 1950 after graduating from Pratt Institute, she designed interiors of GM show cars and specialty cars for VIPs from 1950-1953. Following her work at GM, Dohrs went on to work for Sundberg Ferar working on accounts like IBM and Packard. She was asked to help and create the interior design of the 1955 Packard Caribbean.
Kevin Olson, a seriously-successful racer in the United States Auto Club and a never-serious personality who entertained fans nationwide. On the track, Olson won the USAC National Midget championship in 1982 and 1987, the prestigious Turkey Night Grand Prix in 1983, a marathon 500-lap feature at the Indianapolis Speedrome in 1988, and the Hut 100 in 1996 (televised live on ESPN). Off the track, "KO," as he was known, claimed to operate a light bulb repair business and other fanciful endeavors.
Bill Robinson, a Detroit-based automotive designer who worked on Packards in the 1950s and Chryslers in the 1980s, and who later educated a generation of automotive stylists who are shaping today's vehicles. After high school he took a job illustrating advertising brochures in 1948 before landing his first automotive design job at Kaiser-Frazer. Robinson went on to pen the 1954 Plymouth Belmont concept car and contributed heavily to the 1957 Plymouths, most notably the Fury. After retiring from Chrysler he taught transportation design at Detroit's Center for Creative Studies.
Roger Rager, a sprint car ace best known for leading the 1980 Indianapolis 500 in a car powered by an engine the block of which came from a school bus in a junkyard. At a time when Cosworth racing engines ruled the Speedway, Rager qualified 10th and led two laps of the race before being collected by another driver's spin. Named Rookie of the Year by USAC, Rager competed in 14 Indy Car races over six seasons before returning to sprint car racing
Stan Mott, an illustrator best known for his cartoons depicting eccentric vehicles, most notably the "Cyclops II," and whose work appeared in Road & Track and elsewhere. Mott did more than just draw fanciful cars, trucks, trains and boats, be also built, drove and sailed them. In the 1960s he secured his own eccentric cred by quitting his job to make a round-the-world trip by go-kart, the result of a simple bet that got him a spot in the Guinness Book of Records.
Danny Ongais, the fast and versatile driver with a long career in Indy cars, Formula 1, sports cars and drag racing. Nicknamed "On the Gas" and "The Flying' Hawaiian," Ongais made 11 starts in the Indianapolis 500 between 1977 and 1996, earning a front-row starting position in 1978 and notching a career-best finish of fourth in 1979.
Norma Lee "Dusty" Brandel, who began her motorsports journalism career in 1955 covering various Southern California sports car races, and who later became one of the first women allowed in the Indianapolis Motor Speedway press room. Eventually she became the president and executive director of the 400-plus member American Auto Racing Writers & Broadcasters Association (AARWBA), and in 2018 was honored at the NASCAR Hall of Fame induction ceremony in Charlotte, North Carolina as the recipient of the Squier-Hall Award.
Tim Considine, best known to the general public for his acting career as a young man, including the TV shows My Three Sons and Spin & Marty, and a role credited as "Soldier Who Gets Slapped" by George C. Scott in the 1970 film, Patton. But Considine pursued a second career as a motorsports journalist and author, whose books American Grand Prix Racing and Twice Around the Clock: Yanks at Le Mans are held in high regard.
Vic Elford, a racing driver with victories on the international stage, including the Targa Florio, the Sebring 12 Hours, the Nurburgring 1,000, and the Daytona 24 Hours. Elford also raced in SCCA Trans-Am competition, Formula One, The Daytona 500, and the Monte Carlo and Paris- Dakar rallies. Elford's Porsche High-Performance Driving Handbook remains a definitive treatise.
Joe Huffaker, a California Bay Area hot-rodder who founded Huffaker Engineering and who, as a builder of Trans-Am and IMSA GTU race cars, saw his cars win countless races and more than a dozen series championships. Huffaker also ventured into Indy cars, with a best Indy 500 finish of eighth with Bobby Unser in 1966.
Conrad Janis, as an actor known for multiple roles including that of Mindy's father on the 1978- 82 TV show Mork & Mindy with Robin Williams, but who raced a Jaguar in SCCA competition in the 1950s and who was among 21 road racing drivers invited to race their sports cars with NASCAR at the Linden, New Jersey, Airport in 1954.
Reine Wisell, who raced as Emerson Fittipaldi's teammate at Lotus in Formula One in the early 1970s, and who won the 1975 European GT Championship with co-driver Hartwig Bartram. More recently Wisell was a driver instructor whose clients included current Indycar driver Felix Rosenqvist.
Lee Brayton, an IndyCar driver in the years 1972-1975 but who never qualified for the Indy 500. After retiring as a driver, Brayton developed Buick's IndyCar engines, which were fast but fragile. Brayton's son, Scott, captured the pole position for the 1996 Indy 500 before perishing in a practice accident.
Tony Brooks, a six-time Formula One winning driver in the years 1958 and 1959. Brooks retired after finishing third, behind Innes Ireland and Dan Gurney, in the 1961 US Grand Prix at Watkins Glen in 1961.
Dave Brownell, the first editor at Old Cars, and who went on to editorial positions at Cars & Parts, Hemmings Motor News, Special Interest Autos, Vintage Auto Almanac, and who was a contributor to Sports Car Market.
Dave McClelland, for more than three decades the broadcast voice of the NHRA. As a high school student he attended his first drag race and was hooked, and by 1959 made his race-announcing debut. By the time of his retirement he had amassed countless accolades for his work at the track, on the radio, and on television.
Eldon Rasmussen, a Canadian-born driver in the USAC Indy Car series, including the 1975, 1977, and 1979 Indianapolis 500s. Rasmussen made 23 IndyCar series starts overall during the years 1971-1979 seasons.
Dr. Frederick Simeone, founder of the Simeone Foundation Automotive Museum in Philadelphia and recognized as a giant in the preservation of significant racing cars. Born in Philadelphia, Dr. Simeone inherited his late father's passion for historically important old cars and it became a lifelong pursuit, even while he built an impeccable reputation as a neurosurgeon. Following his retirement from medicine, he opened the museum, moving his personal collection to where it could be shared with everyone.
O. Bruton Smith, the influential founder and executive chairman of Speedway Motorsports, was both a visionary and an old-school promoter who did everything big. Smith was inducted into the NASCAR Hall of Fame in 2016.
Maryann Keller, who became the first female auto industry analyst when hired by Kidder Peabody in 1972 and who went on to forge a reputation for straight talk and accurate insight. In addition to her regular industry columns, Keller was the author of two books, Rude Awakening: The Rise, Fall and Struggle to Recover at General Motors and Collision: GM, Toyota, and Volkswagen and the Race to Own the 21st Century.
Robert Lichty, known to everyone as Bob, whose boyhood dream was to design cars, or to work for a car magazine. Eventually he worked for Hemmings and Old Cars Weekly, then Kruse Auctions and Carlisle Productions, followed by the Blackhawk Collection, the Imperial Palace, and the Canton Classic Car Museum. Late in his career he founded Motorcar Portfolio LLC and Classic Motorcar Auctions.
Tony Dow, an actor and producer best known for his role in the '50s and '60s sitcom Leave it to Beaver, but very much a car guy and regular presence at Southern California car shows. In recent years Dow tracked down and re-acquired the first car he bought new, a Chevrolet Corvair purchased with monies earned in Leave it to Beaver.
Buddy Arrington, who raced in NASCAR for a quarter-century, 1963 through 1988, amassing the second-highest number of races without a victory, trailing only J.D. McDuffie. His best career finish was a second-place run at Talladega in 1979. Consistently popular with both fans and competitors, Arrington was a Chrysler Corporation loyalist, racing Chrysler and Dodge products for the entirety of his career.
Kerry Freeman, Editor-in chief at the Chilton Book Company, the publisher known to virtually every car person. Freeman joined Chilton in 1970, and after his Chilton career worked in the automotive emissions field.
Chris Ritter, Director of the AACA Library, a relatively young man whose life was cut short due to an accident while golfing with his father.
Burt Bouwkamp, a Chrysler Corporation engineer who shared responsibility for much of the Chrysler letter car success in racing, and who, being promoted to chief engineer at Dodge, planned and developed the 1966 and subsequent Dodge Chargers. Later projects included development of the Omni/Horizon models which, while less exciting, were vital to Chrysler.
Joe Jennings, who, while enjoying a 40-year career with the Federal Deposit Insurance Corporation, was an avid fan of auto racing who combined that with a passion for photography and race reporting. He was a member of the Auto Racing Writers and Broadcasters Association, the National Motors Press Association, and the Eastern Motorsports Press Association. He won awards for writing and photography from all three organizations.
Coy Gibbs, the vice chairman of NASCAR's Joe Gibbs Racing. The son of Joe Gibbs, the former NFL coach who started Joe Gibbs Racing in 1991, Coy Gibbs also served as an assistant coach for the Washington NFL team from 2004 to 2007 under his father. He played linebacker at Stanford from 1991 to 1994, and as a driver he ran in the NASCAR Truck Series in 2001 and in the Xfinity Series in 2003. His son, Ty, won the NASCAR Xfinity Series championship the night before his father's passing. Coy Gibbs was 49 years old, and in a sad irony, his older brother, J.D., passed away in 2019 also at age 49.
Patrick Tambay, a two-time race winner in Formula 1, capturing the 1982 German and 1983 San Marino Grands Prix with Ferrari. Tambay had joined Ferrari in 1982 after his friend Gilles Villeneuve was killed in a racing crash. A Frenchman, Tambay also won North American Can-Am championships in 1977 and 1980 while racing for Carl Haas. Tambay was 73 and had been suffering from Parkinson's disease.
Andy Hallbery, a former editor of the UK-based Autosport and the US-based Racer magazines. He became Autosport's youngest ever editor at age 19 in 1992, later relocating to Southern California to take on the Racer job. Hallbery later returned to England to pursue a freelance career.