The Very Real Consequences of Virtual Racing
Writing for the newsletter of the Eastern Motorsports Press Association last month, we included the following personal opinion – which we now think has been proven false:
"Virtual racing doesn't interest me.  Racing – actual racing – is a challenge of man and machine, a challenge that has very real consequences.  Without the element of death-defying bravery and skill, it is, to paraphrase Hemingway, only a game."
What has proven this opinion to be false is the very real consequences experienced by two top-tier NASCAR drivers in recent weeks.  First, Darrell "Bubba" Wallace, Jr., an accomplished and personable driver for Richard Petty Motorsports, bailed out of the eNASCAR Pro Invitational Series virtual race at a virtual Bristol Motor Speedway mid-race.  Not long afterward, fellow NASCAR Cup Series driver Kyle Larson, considered by most to be an up-and-coming star, inexplicably used a racist slur while competing in an iRacing event.
Both felt real-world consequences for their actions.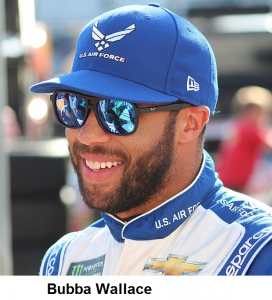 Wallace, driving a virtual version of Petty's iconic #43, collided with the car of Clint Bowyer, and Bowyer then sideswiped Wallace to put him into the fence.  A virtual fence, but an aggravating turn of events nonetheless.  Bowyer, sitting at the controls of his game system, laughed off the incident while throwing a few barbs at Wallace, and admitting that the second hit was "payback."
Wallace was having none of it, and, frustrated by it all, quit the e-race on the spot.  Not a fan of virtual racing in the first place, Wallace was surprised by the criticism he received for doing what gamers call "rage quit."  On Twitter he noted wryly, "I ruined so many people's day by quitting a video game."
Well, as it turned out one of the people's day ruined was his own.  In short order, one of Wallace's racing sponsors, Blue-Emu, sacked him.  Via Twitter also, the sponsor wrote "GTK where you stand.  Bye-bye Bubba. We're interested in drivers, not quitters."
In this instance we were sympathetic to Wallace – it IS only a game, a game in which crashes have no greater effect on life than does a boulder falling on Wile E. Coyote.  But the real portion of the virtual world is that the behavior of a racing driver reflects on that driver's sponsors.  Blue Emu, we are sure, would have been happier if Wallace had hit the reset button and kept his sponsor in the race.
At least Wallace kept it within the bounds of societal propriety.  The same cannot be said for Larson, who, while trying to confirm online communication with his race spotter, said  "You can't hear me?" and unfathomably then added the racially-charged and entirely unacceptable n-word.
Reaction was instantaneous.  "Kyle, you're talking to everyone, bud," someone said, and within hours sponsors associated with Larson were cutting ties.  McDonald's, Credit One Bank, and Chevrolet among others dropped him.  The day after the incident, Larson's team, Chip Ganassi Racing, suspended him without pay, and NASCAR suspended him indefinitely.
But there was another shoe to drop.  One day later, Chip Ganassi Racing fired Larson outright.  A statement issued by the Ganassi organization mirrored the sentiments expressed by the sponsors:
"After much consideration, Chip Ganassi Racing has determined that it will end its relationship with driver Kyle Larson.  As we said before, the comments that Kyle made were both offensive and unacceptable especially given the values of our organization."
Larson was in the final year of his contract with the team and was widely considered to be a prized prospect for 2021.  He very well may have had his choice of NASCAR teams to join.  But as we write his future in NASCAR is uncertain at best.  The lifting of the NASCAR suspension is dependent on Larson completing sensitivity training, and Larson himself released a video apology that rings sincere.  But will that be enough for a team to hire him and for sponsors to back him?
It has been noted in the coverage of Larson's indiscretion that his racial heritage is mixed: His mother is a Japanese American and his grandparents were among those sent to an internment camp during World War II.  But we are discounting the relevance of this.  Anyone can be capable of being insensitive and tone-deaf (which is about the nicest thing we can say about Larson's word choice).
Similarly, it has been noted that Bubba Wallace is the only African-American currently racing in NASCAR's top series.  But there is zero racial relevance to Wallace's episode.
Also reported has been the fact that both drivers came to NASCAR via the sanctioning body's Drive for Diversity program.  But here again, so what?
Anyway, where only a short while ago we argued that virtual racing lacked danger and consequences, Bubba Wallace and Kyle Larson have demonstrated in vivid fashion that virtual racing can, in fact, have real-life repercussions.  It is likely that the real-world impacts of simulated racing are not yet near an end – like the COVID-19 virus that has thrown virtual racing into the spotlight.