The 2022 New York International Auto Show
The New York International Auto Show dates back to 1900, when it first took place at the original Madison Square Garden, and in a city that is notoriously not car-friendly the annual exhibition of automobiles continues to thrive in Manhattan's newly-expanded Jacob K. Javits Convention Center.
The show opened on April 15 this year and the two press days that precede the ten-day show have long been a must-do for members of the CarShowSafari.com team.  This year was no different.
What IS different is that the show itself was cancelled for both 2020 and 2021, thanks to the COVID-19 pandemic.  Se we have been looking forward to getting back.  The press days, during which the show is not open to the public, can nonetheless be crowded affairs because New York City is the world's media capital.  And there's always plenty to see.
EVs IN THE SPOTLIGHT
This year, the show organizers are putting the brightest spotlight on electric vehicles. Two-thirds of the Javits Center's lower level has been made into an EV test track, where show attendees have the opportunity to ride in a variety of electric vehicles including new models from Chevrolet, Kia, Volkswagen, Nissan, Volvo, and EV start-ups INDIEV from California and VinFast from Vietnam.
Note, these are test RIDES, not drives.  Professional drivers are demonstrating the vehicles' attributes.
In addition to the green-themed indoor multi-brand EV test track, Ford and Hyundai are incorporating EV test tracks into their own displays on the main show floor, offering rides in electrics from those brands.
Still more floor space is dedicated to plug-in electric vehicles, charging solutions, even 3-wheeled and 2-wheeled electric vehicles.  (Living, as your writer does, in a small community with remotely-located mailboxes, the motorcycle and bicycle electrics are of particular interest.)
INDIEV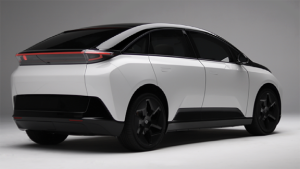 At the show on April 13, INDIEV highlighted the INDI ONE, the company's first all-electric model, said to be available for delivery to customers in the second quarter of 2023.  Among the very non-traditional points of automotive hype is the statement that the INDI ONE will be the first vehicle with a Vehicle Integrated Computer "capable of high-end gaming and much more."
More positively, it was said that for every reservation for an INDI ONE, a portion of proceeds will be donated to Global Green, dedicated to advancing sustainable and resilient communities. INDIEV says that Global Green's Honorary Board Emeritus includes such folks as John Paul Dejoria, Leonardo DiCaprio, Dr. Jane Goodall, Norman Lear, Edward Norton, Yoko Ono, Robert Redford, and Ted Turner.
As for driving, the INDI ONE will ride on an adjustable air-ride suspension with all-wheel drive, and will offer with several battery options.  These options run from a 75KW battery in the base model, capable of a 230-mile range, to a 95KW battery in the premium model, capable of a 300-mile range and producing 470 horsepower and 730 NM of torque. Top speed for the premium model is projected to be 130 miles per hour with a 0-60 mph time of just 4.2 seconds.
INDIEV claims that the INDI ONE will start at $45,000, with a premium model priced at $69,000.
VINFAST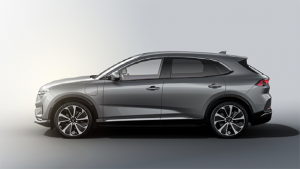 VinFast took the stage during the press preview to share updates of its VF 8 and VF 9 all-electric SUVs.  VinFast announced the two new vehicles earlier this year, with a stated goal of offering leading technology with a premium experience at an attainable price point.
We missed the opportunity to take a VinFast ride on the multi-brand EV Test Track, but the cars are good-looking in a cookie-cutter SUV way.
VinFast currently sells three vehicles in its home country of Vietnam and plans to launch five new all-electric vehicles for sale in North America, Europe and the Asia-Pacific region this year. VinFast is part of the VinGroup global conglomerate headquartered in Hanoi, Vietnam, with the vehicle production facility located in Hai Phong, Vietnam. VinFast has established a beachhead in Los Angeles as well as in Canada, France and Germany.
At the show on April 13, VinFast revealed its battery subscription policy in the US market, intended to separate the price of the battery from the acquisition value of the automobile, VinFast plans to take on all the risks related to the vehicle's battery and ensures a reasonable price for its products, while providing customers with peace of mind about the battery's quality during use. VinFast also committed to providing a lifetime battery warranty covering all maintenance and repair costs, and will replace the battery for free when charging capacity dips below 70%.
The battery subscription policy is considered by VinFast to be a key solution for making the transition to electric vehicles easier.
CHRYSLER
Chrysler, whose lackluster NYIAS display we covered back in 2017, stepped up its game this year and joined the electric theme by unveiling the "Graphite" variation of its all-electric Airflow Concept.  The Chrysler Airflow Concept first made it debut at the 2022 Consumer Electronics Show in Las Vegas, but for the New York show Chrysler has given the concept a re-imagined look with a black exterior and copper interior. The color, dubbed "Galaxy Black," provides a vivid contrast to the "Arctic White" exterior shown on the Airflow Concept at CES.
Chrysler has said that the brand will launch its first fully-electric vehicle by 2025 and offer an all-electric vehicle lineup by 2028.  The times, they are indeed a-changing.
KIA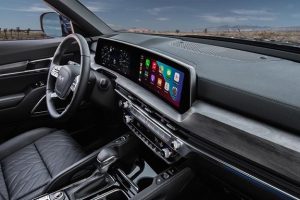 Kia hewed to the eco-sustainability line and used the NYIAS to debut the latest Niro CUV, designed, Kia said, "from the ground up to meet and exceed the expectations of eco-minded consumers." The 2023 Niro will launch in the US later this year with three electrified powertrains: hybrid electric, plug-in hybrid, and all-electric.
The new car incorporates exterior and interior styling cues from the HabaNiro concept and is larger in every dimension, The hybrid electric model is promising up to 53 MPG.  The all-electric model is promising a 253-mile range and the ability to recharge 10-80% in under 45 minutes.
Kia also used the show to reveal its updated Telluride, its three-row eight-passenger SUV.  Mildly refreshed in appearance, the 2023 Telluride touts upgraded convenience technology and an expanded list of driver's assistance features. A 12.3-inch panoramic display with navigation now dominates the instrument panel.
SUBARU
Subaru has brought back its popular "Subaru Loves Pets" exhibit, featuring adoptable pets from local pet organizations. The exhibit, which first appeared in 2018, invites visitors to play and interact with adoptable pets with the goal of uniting these pets with loving homes and donating to local animal welfare organizations.
It should be noted that the "Subaru Loves Pets" exhibit will be active during specific show hours, not all show hours.
If one watches Subaru's advertising one knows that Subaru's association with nature and wildlife is nothing new; its Indiana manufacturing facility is distinctive because it is the only US automobile factory to be designated a backyard wildlife habitat by the National Wildlife Federation.
FORD
But it's not all electrons and furry friends at the NYIAS.  Among the displays is Ford's 2022 Ford Bronco Raptor, billed as "the most powerful street-legal Bronco ever, and the world's first Ultra4 Racing-inspired SUV." The Bronco Raptor is designed to be capable of highway-speed desert-dune conquering and Baja rock-crawling, and while certainly most of them will venture off pavement only infrequently, it is clear that the "Bronco outdoor brand of Built Wild™ SUVs" is not being marketed to the tree-huggers.
The only hint of eco-friendliness in the Bronco Raptor is that the engine shares the Ford EcoBoost® engine family name.  This particular EcoBoost® is a 3.0-liter twin-turbo expected to offer more than 400 horsepower.  The Bronco Raptor has a HOSS 4.0 race-ready suspension system, a fully boxed steel frame, and standard 37-inch all-terrain tires.  A new Tow/Haul mode enables a tow rating of 4,500 pounds, a 1,000-pound icrease over the base model. Trail Control, Trail Turn Assist and Trail One-Pedal Driving are also included.
Staying with a high-performance theme, Ford is presenting the first public appearance of its new 2022 Ford GT Holman Moody Heritage Edition. Featuring Holman Moody Gold exterior paint, contemporary touches of exposed carbon fiber, and Heritage Red and Oxford White accents, first customer deliveries of the limited-production car are to begin this spring.  The exhibit is a tribute to the debut of the original Ford GT40 prototype at the 1964 New York Auto Show, and the limited-production car is being displayed alongside the podium-placing Holman Moody Ford GT40 MK II, chassis No. P/1016.
TOYOTA
Also straying from the EV theme is Toyota's rally-inspired GR Corolla, a very un-Corolla-ish turbocharged 300-hp all-wheel-drive 5-door. "Infused," Toyota says, "with the DNA of Toyota Gazoo Racing," the GR Corolla's powerplant is a 1.6-liter affair paired with a 6-speed manual transmission. The car's AWD system automatically distributes power from 50/50 up to 30/70 front/rear and offers Normal, Sport and Track Modes.
While there have been some mildly performance-skewed Corolla's in the past, the GR Corolla is very much a different animal.  A GR Corolla Circuit Edition even adds details such as a forged carbon-fiber roof.
HYUNDAI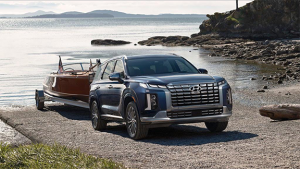 Hyundai presented a "global debut" of its redesigned 2023 Palisade on April 13.  Primarily a styling update, the large SUV features a wider cascading grille framed by vertically-connected LED composite lights, and new, multi-spoke alloy wheels Like many automakers, Hyundai live-streamed the reveal on its website and YouTube.
ALFA-ROMEO
A pushover for iconic names and Italian design, we were drawn to the Alfa Romeo Tonale, making its North American debut at NYIAS.  Consistent with recent Alfa styling, the Tonale is nonetheless part of the evolution taking place at Alfa Romeo, where, as elsewhere a new era of electrification and connectivity lies ahead.  Alfas's first C-SUV, the Tonale offers two all-new powertrains, which include a plug-in hybrid with over 30 miles of pure electric range and 272 horsepower.
Our ability to visit the show this year was limited so we are not able to report on everything.  But for the $17 daily admission cost ($7 for for children) during the show's ten-day run there is quite a bit more to see.  The 2022 New York International Auto Show runs through April 24.