When Ryan Blaney won the NASCAR Cup race at Talladega on Monday, October 14, he became our new favorite driver.
Because he won? No. Because he's handsome and well-spoken? Nope. Because of his Dent Wizard sponsor? Naah. Because he drives a Ford Mustang? No. Because he is part of Team Penske? Still no.
Why, then?
Because of his immediate post-race behavior.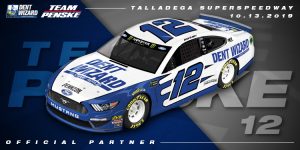 NASCAR, for decades now, has directed race winners to a "victory lane" stage where confetti is dropped, beverages are sprayed, hats are interchanged, and drivers say things like "the Bubba's Port-O-John Barbeque Drive-In Schlitz Beer DeSoto was running real good today," and "I've gotta thank the boys back in the shop."
And for far too long these insightful words have come after the drivers have performed smoke-spewing "burnouts" on the track.
Blaney, on the other hand, exuded class. He took a victory lap and then turned his car around in what everyone assumed was the prelude to another juvenile burnout. He then drove up to the wall by the finish line and collected the checkered flag, which everyone still assumed he would wave while performing a noisy and smoky display.
But instead, he drove the car to the center of the track, parked, got out, and shared the joy of winning with the fans in the grandstands just a few yards away. He exulted and he smiled and he waved. They cheered and then they cheered more. The television cameraman and interviewer caught up to him there, and right there on the racing surface, instead of on a stage somewhere behind the pits, Blaney addressed his remarks more to the grandstand crowd than to the TV audience. The fans ate it up, and the TV interviewer was wise enough to go with it.
Blaney then beckoned to a young boy in the grandstand and offered the checkered flag to that boy, passing it through the fence.
It was all sooo much better than another stupid burnout and another cookie-cutter victory lane ceremony.
For quite some time we have been cynically referring to the paying spectators at major races as being the "studio audience," since the needs of the television broadcasters seem to trump all other considerations. From starting times that play havoc with fans' ability to get home at a decent hour to pit roads that remain closed under caution until a commercial break can be completed, the fans who buy tickets deserve better.
Blaney gave them what they deserve.
And that's just after the race ended. In the race itself, Blaney put on a show, from spinning out of the race lead while trying to execute his first pit stop to muscling his way past Ryan Newman in the last 100 yards of the race for a stand-em-on-their-feet finish.
In our long role as a racing reporter, we've practiced the policy of not having favorites.  But for right now, we'll set that policy aside to tip our hat to Ryan Blaney for a great drive and an even greater acknowledgment of the fans.
Photo courtesy of Dent Wizard