We watched Al Unser, Jr., in his Indy 500 debut.  We watched him win his first, and his second Indy 500s.  We watched him give a thumbs up to Emerson Fittipaldi when they crashed while battling for Indianapolis victory.  We heard him as he said, "You just don't know what Indy means."  We met him.  We interviewed him.  We coordinated a fan meet-and-greet in which he participated.  We were aware of his troubles with alcohol.  But we like him.  He's a likable guy.
Or is he?
In Al Unser, Jr., A Checkered Past, the highly successful racer shines a bright light on his dark side, a side far more disturbing than the phrase "troubles with alcohol" would suggest.  The book chronicles his rise through the ranks in racing, from childhood go-karts through teenage dirt-track sprint cars to Indy Cars to Indy Car Champion, and his fall back down to rock bottom, to near-destitution and near-suicide.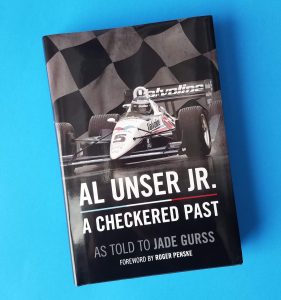 Most troubling, though, is that as one reads one learns that the fall did not follow the rise. The self-destructive behavior was there from the start.  Even as the second-generation racer, son of four-time Indy 500 winner Al Unser, Sr., and nephew of three-time 500 champ Bobby Unser, was winning races and championships and public acclaim, he was increasingly abusing alcohol and drugs.
In public, Unser was a fan favorite, with a hard-charging style on the track and an aw-shucks demeanor that the fans and the media adored.  But his private life, never ideal, was crumbling.  And while conscious that his problems were placing his family, his career, and even the lives of others at risk, Unser rationalized it all as only a true addict can.
His issues were known within the tight-knit Indycar community.  Persons ranging from journalist Robin Miller to car owner Roger Penske tried to steer Unser off the path he was on.  But his wife, herself a drug addict, was of no help, and Unser rejected the help and advice offered by friends and colleagues.  His racing opportunities began to dwindle.  His private troubles grew.  There were incidents of domestic violence.  There were DUI arrests.  There was a messy and painful divorce.  Visits to rehab facilities were fruitless.
Eventually, there was financial ruin for a guy who used to command a seven-figure salary.  The downward spiral led eventually to near-poverty, deep depression, and thoughts of suicide so severe that more than once he held the gun in his hand.
When we interviewed Unser ahead of a public appearance in 2019, he appeared to have found a good place.  He was working for an Indycar team as a driver consultant, living in Indianapolis, and spending time with his mother regularly.  He was under a doctor's care and he was attending church.  But, as it turned out, he had not fully committed to sobriety.  Two months after our interview he was pulled over for driving while intoxicated.  Very intoxicated.
That incident may be the one that causes Al Unser, Jr., to right his ship.  Since that arrest, he has further committed himself to his faith.  He has found new personal opportunities both inside and outside of racing.  The book, a very public confessional, is part of his efforts to make his personal life as successful as was his racing life.
With two Indy 500 victories and 34 overall Indycar wins, Al Unser, Jr., rightly occupies a prominent position among racing's greats.  If you read this book, you will rightly question whether his personal life negates his public accomplishments.  The book ends on an optimistic note, and for Al's sake – remember, we like the guy – we hope that there truly is a positive outcome.
Al Unser, Jr., A Checkered Past, as told to Jade Gurss, is published by Octane Press.