Zimmerman Automobile Driving Museum event space
Rent the Museum For Private Events!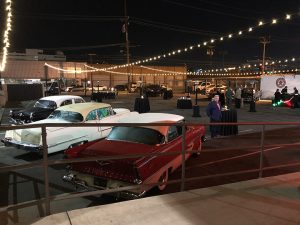 Centrally located in the South Bay beach community of El Segundo, California, the Zimmerman Automobile Driving Museum offers a unique venue for private parties and corporate events. Conveniently located 5 minutes south of LAX, right off the 405 and 105 Freeways.
The 610 Lairport space has a vintage feel surrounded by our primary automobile collection. We offer several different venues inside and outside our facility for diverse events.  Choose from our Packard Ballroom, which can seat 250 people for a special event, or our museum floor, available for parties of 300 or more.  The 1950's themed Ice Cream Parlor is perfect for smaller groups of 40 or less as well as children's birthday parties.  An executive conference room in our library is available for private or corporate meetings with 25 people or less.
Weddings, Private Corporate Events, bar/bat mitzvahs, retirement parties, birthdays, anniversaries, fundraisers, corporate holiday parties and more!
3200′ Sq. Ft. Ballroom
• Access to an 8 foot square stage with large dance floor
• Guest photo opportunity in vintage cars
• Customizable marquee with retro yellow flashing sign
• Climate controlled temperature system

25 ROUND TABLES  •  8 COCKTAIL TABLES •  14 BANQUET TABLES •  250 BANQUET CHAIRS