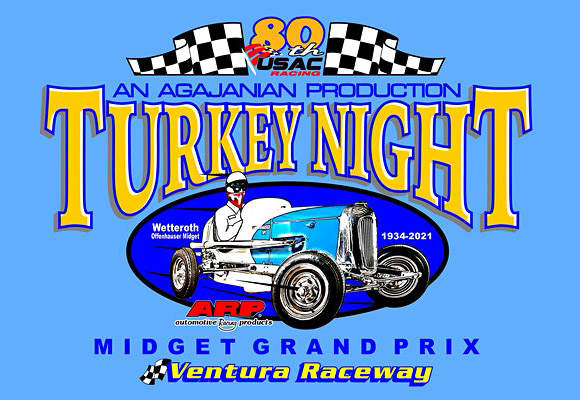 Ventura Raceway Turkey Night Grand Prix



— TICKET SWEEPSTAKES —
>>> The 80th Annual Turkey Night Grand Prix, held at Ventura Raceway on November 27, 2021, is one of the most talked about events in the USAC Midget racing industry. Held at Ventura Raceway, the best little dirt track in America, which just happens to be right on the beach, this venue is spectacular for the prestigious 98 lap main event.
You do not want to miss this! NASCAR drivers, such as Christopher Bell (2017 & 2018 winner), Kyle Larson (2016 & 2019 winner) will compete, with most of the USAC top drivers in the nation.
AND NOW YOU CAN ENTER TO WIN 2 FREE PASSES TO THIS EXCITING EVENT!
A $90 VALUE!
••••••••
All you have to do to enter, is become a member on CarShowSafari.com!
It's totally free! No purchase necessary!
Just click HERE to join as a member and be sure to put VR21 after your username. That's it!
And if you are already a member of CarShowSafari.com, simple email us HERE with the code VR21 and you will automatically be entered to win!
••••••••
For terms & conditions and bunch of legal mumbo jumbo, click HERE.
Automobile Driving Museum
ENTER TO WIN 2 FREE PASSES
to the 80th Annual Turkey Night Grand Prix,
the most talked about event in the USAC Midget racing industry.
Held in beautiful Ventura, Ca.
November 27th, 2021
Gates open 3:00pm, Racing starts 5:30pm
VENTURA RACEWAY:
Ventura Fairgrounds
10 West Harbor Blvd
Ventura, CA. 93001
CONTACT US | TERMS AND CONDITIONS
© 2016 CarShowSafari.com All Rights Reserved.
The contents and images on this site may not be reproduced, distributed or otherwise used,
except with the prior written permission.