Welcome to the Murphy Auto Museum!
Located at 1930 Eastman Ave, Oxnard, CA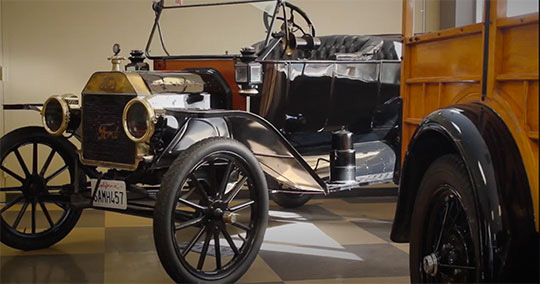 ABOUT THE MURPHY AUTO MUSEUM:
The Murphy Auto Museum, located in Oxnard, California, is a collection of beautiful vintage automobiles and Americana. Our cars rotate continuously so you always will see something new and you'll never know who you are going to meet. Visit us at our new location 1930 Eastman Ave, Oxnard, CA.
MUSCLES & MOJO MORNING CAR SHOW
The Murphy Auto Museum, in conjunction with Fireball Tim, is pleased to bring you Muscles and Mojo! Bring your vintage or classic car to the Murphy Auto Museum on the third Sunday of the month. Free coffee, free Hot Wheels. The museum is now open during the event. For up-to-the-minute information, click HERE!
AUTOMOTIVE ART GALLERY – Fireball Gallery at the Murphy
The FIREBALL GALLERY is a Nostalgic Automotive Art Gallery at the Murphy Auto Museum. Art Exhibits will feature focused work of the best in Automotive Pop Culture and Design around the world. To submit your work, email askfireball@fireballtim.com.
Fireball Tim is a friend of ours and is the creator of the "Fireball Malibu Vlog", an Automotive Beachlife VLOG series with over 800 episodes. Check it out and subscribe.
MUSEUM ADMISSION, HOURS AND DIRECTIONS:
Open Saturday and Sunday year round
10:00 a.m.–4:00 p.m.
ADMISSION:
Adults $10
Children (12 and under) FREE
Active Military with ID or in uniform: FREE
Annual Membership: $40
Open by appointment during the week for group tours
Street address: 1930 Eastman Avenue, Oxnard, CA 93030
Phone (805) 4787-4333
Email: info@murphyautomuseum.org
FOR MORE INFORMATION AND TO SUBSCRIBE TO
THE MURPHY AUTO MUSEUM EMAIL LIST, VISIT:
www.murphyautomuseum.org
Automobile Driving Museum

CONTACT US | TERMS AND CONDITIONS
© 2020 CarShowSafari.com All Rights Reserved.
The contents and images on this site may not be reproduced, distributed or otherwise used,
except with the prior written permission.