The Race of Gentlemen Phenomenon
WILDWOOD, NJ – The Race of Gentlemen, colloquially referred to as TROG, triumphed for another year as vintage hot rod owners, racers and spectators gathered on the beach to witness a classic car event unlike anything else. The weather was forgiving, the crowd enthusiastic and the general atmosphere one that will not only survive in this new age of the classic car hobby but, ultimately come to dominate it in the next few years. The Race of Gentlemen is, undoubtedly, the future classic car enthusiasts will welcome with open arms.
We've spoken in the past about why that might be. Part of the continued success of this event, and it is continued success, despite hurricanes, shutdowns and high tides, is due to the nature of hot rods. Hot rod enthusiasts aren't remembering the good ol' days. They are younger, more tattooed, more hipster, and they are seeking out a time period that did not belong to them in the past, reveling in rust and in spit-shine and making this renaissance of vintage racing on the beach more akin to a festival or convention than a car show.
Which brings us to the main reason TROG will both remain a success and set a precedent for other enthusiasts and show producers in the future. If you want to stick around, if you want to make it in these changing times of the classic car hobby, you'll have to do what The Race of Gentlemen has done–you'll have to become interactive.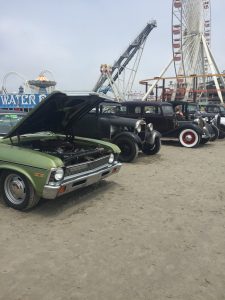 Times are changing for the classic car hobby. Energy and passion and enthusiasm seems to wane at the average event. There are more chairs in the front of cars, more common classics than ever before, and we are fighting the tide of a hobby that has become inaccessible to the youth, a demographic long responsible for breathing new life into shows and events. But classic cars are expensive and millennials are burdened with college debt, working in cities that have become too expensive to live in, and pushing off major decisions like starting a family or having children. Restoring classic cars to showroom condition is not a priority nor, even, a possibility for much of the younger guard.
But there are still ways to bring that new energy to the hobby, still ways to attract younger audiences that are still dreaming of owning classic cars. The car show hobby isn't doomed, not by any stretch, it simply needs to shift with the times, in order to stay relevant when so much fights for our energy, money, and attention.
The Race of Gentlemen shows us exactly what to do.
For so long, the car show has been stationary. Park the cars, admire them, photograph them. But that's no longer enough, not to keep us interested or bring in new enthusiasts from across all generations. No, it's time to rev our engines and add something interactive, something entertaining, something on the move. And that will make all the difference.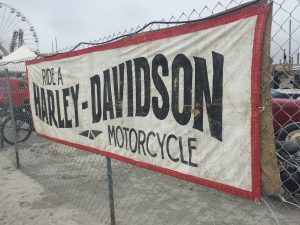 That's not to say that car show producers should start racing hot rods down the beach. The Race of Gentlemen has resources and money many show promoters do not. But the idea remains all the same. Give the show goers something to live stream on their social platforms, give the attendees actions shows. Cruises. Rallies. Racing. Why are these separate from the show itself? The houses of car shows and motorsport have long been at odds, and yet, marrying them together, even in a Frankensteinian hybrid, will breathe life into the stale car show. Life that will continue on for generations to come.
The Race of Gentlemen isn't the only event that strives towards this interactivity. Dead Man's Curve hosts a dragster revving competition, so bring your headphones. The Bridgehampton Road Rally tours the town and returns for awards and display. Integrating these new activities doesn't have to be overly complicated. It doesn't have to mean renting out half the Jersey shore. There are unique and accessible options that will make every car show more lively, more interesting and more well-attended.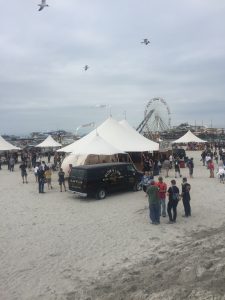 But beyond the interactivity, or if zoning or sound regulations make it challenging to integrate these new ideas, there's another lesson we can take away from The Race of Gentlemen. Make it festive. The Race of Gentlemen isn't a car show–it's an event. The signs and tents are timely to the era of cars. The drinks and music match the theme. It's like stepping into a Disney theme park if Disney had taken a shine to Bonneville after the war. There's a sense of escape, of walking through the gate to the event and finding yourself in another time and place. 
The Race of Gentlemen is always a spectacular event. Even with an early tide cutting the racing short, the show was full of unique cars, period attire, and great vibes. It sets a standard for a truly wonderful car show in the modern day and offers insight into how to make the next show better and the next. There is little question that the car show hobby must evolve to survive in this new age of car enthusiasts and motorsport lovers. If we can all take a lesson out of the book of The Race of Gentlemen, the hobby won't just survive, it will barrel into the new age with manic enthusiasm, new energy, and a permanence car shows haven't seen in a good long time. I, for one, look forward to watching it happen.