The Green Light for Green Tech
NEW YORK CITY – The New York City International Auto Show has long been the stage for dramatic releases, automotive innovation and exciting foreshadowing for an industry consistently trying to outdo itself. This year, however, was more 1968 than 1965, more 1959 than 1953, the in-between years we will look back upon as when things were actually happening, rather than when world automakers were saying they did.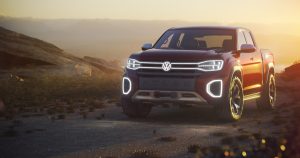 Yes, there were some major announcements. The Volkswagen pickup truck, the Atlas Tanoak concept, was a bold statement against the backdrop of Volkswagen's emissions embarrassment, but it drew attention and interest from media and public alike. Kia unveiled their K900, a sleek sedan with rear end styling more than just inspired by Mercedes designs. Self-driving technology was out in full-force but subdued announcement, as stories of auto-driving gone-wrong continue to hit the news circuit.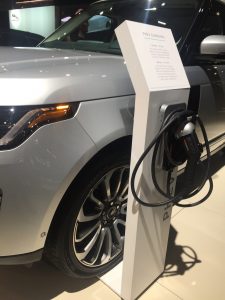 Still, this year's event was less about what we can do! and more about what the automotive industry is already doing. When they look back at the 2018 New York City International Auto Show, they will point out two major trends. This was the year sedans went out of style and green technology officially came into it.
Unfortunately for Kia, the K900 is coming out at a time when most major automakers are moving away from the sedan and toward the small and mid-sized crossover vehicles. Consider the just-announced Lincoln Aviator, one of two new utility vehicles Lincoln is planning to bring to market over the next two years, even as sales for their flagship sedan, the Lincoln Continental, wane. Such is the rule and not the exception, as the sedan market continues to lag in the United States.
But if movement toward crossovers and mid-sized utility vehicles was ubiquitous, so was the green wave. And, unlike years past, it was not the token effort of automakers hoping to buy time until the United States government lifted emissions regulation. In fact, the pomp and circumstance regarding green technology in all forms – hybrid and electric, was relatively low-key. Instead, we simply saw alternative energy cars from every single automaker without much fuss.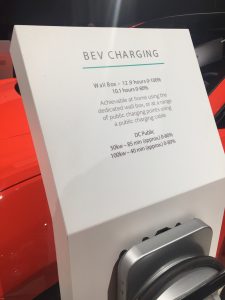 And that's a clear indication that this movement toward a greener industry is here to stay. The recent news that emissions and fuel economy standard regulations will be relaxed in the near future, dismantling Obama era efforts to demand over 50 mpg by 2025, may have actually come too late. We are now seeing efforts from the bottom, middle and top of the line, with models from Porsche, Mini, Land Rover, and BMW. Realistic charging stations stood sentinel at nearly every automaker's kiosk and often at more than a single model.
Yes, the government is attempting to deregulate the industry, but from the showing at the Jacob Javits Center this year, the tides of change are already in motion. Regardless of lifestyle or budget, there's an alternative energy machine for you – though likely not a sedan version. When the industry stops making noise about something is when that trend has really stuck.   
And it has. Nearly ten years ago, there was a small rubber track in the basement offering drivers the chance to try out an electric car experience. Back then, and for many years after, it was a novelty, a point of interest, a note upon which to sell cars and appease government regulation. Now, despite government regulation, those green cars, in their unique, vast and myriad forms, have simply become a way of life. This 2018 automotive year, with few truly standout announcements or dramas, may just become one of those eras where the auto industry actually got something done.  

Images by Ruby Scalera and selected from the VW Media Room.