Simone Museum Honors a Racing Legend
By Walter Elliott
An estimated 110 people learned about Tazio Nuvolari and got a close look at four of the pre-World War II cars he drove or replicas thereof at the Simone Foundation Automotive Museum in Philadelphia on Monday, September 28, 2019.
Visitors, for about four hours, got to inspect and watch demonstration runs of a 1926 Bugatti Type 35, 1929 Alfa Romeo 6C 1750 SS, 1933 Alfa Romeo 8c 2300 Monza and 1934 MG K3 Magnette which "The Marvel of Mantua" wheeled personally or similar to what he raced.
As museum founder Dr. Frederick A. Simone and curator Kevin Kelly described the cars and ran them on the museum's back lot, they retold the exploits of Nuvolari (1892-1953).
The former motorcycle racer won 72 major races from 1931 until September 3, 1939 – the eve of World War II. That victory count, often in underpowered cars, includes 24 pre-FIA Grands Prix, a GP European Championship, the 1933 24 Hours of LeMans, two Targa Florios, two Mille Miglias, two RAC Tourist Trophies and five Coppa Cianos.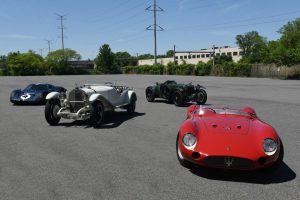 The above count includes the October 12, 1936, revival of the Vanderbilt Cup Races on Roosevelt (NY) Raceway's road course for GP and AAA Indy cars. The so-called inventor of the four-wheel-drift won the inaugural edition in the Scuderia Ferrari Alfa Romeo 12C-36 but dropped out of the following year's run on July 5, due to a broken connecting rod.
The tally does not include Nuvolari winning a "night before" New York short track oval speedway feature against Californian Bob Swanson.  Nuvolari's attempt to qualify for the 1938 Indianapolis 500 ended with his Miller-Offy gearbox breaking in practice after his original supercharged Alfa Romeo was withdrawn.
 "Tazio Nuvolari is becoming a forgotten legend," said retired surgeon Simone. "He can become forgotten in another generation."
Both Simone and Kelly have been turning their twice-monthly Demo Days, held since their 2008 grand opening, from spotlighting car marques to personalities.
Those who stayed after the demonstration's 2:00 PM end saw Kelly drive the cars back to their museum display places. The quartet are among over 60 racing and showroom-quality cars ranging from a 1907 Renault Vanderbilt roadster to a 2002 NASCAR "Dyno Mule."
"I hope that there will be a few more people," said Kelly before closing the Eastwick neighborhood museum for the night, "who now know about Tazio Nuvolari."
Photo courtsey of the Simeone Foudation Automotive Museum.