Ray Brown, Racing Pioneer, is a Hall of Famer
The late Ray Brown, a pioneering driver of Modified stock cars in the 1950s and later a standout open-cockpit Midget racer, will be honored as a 2019 inductee into the Northeast Dirt Modified Hall of Fame. Driver inductions and special award ceremonies are scheduled for Thursday, July 25, at the Northeast Dirt Modified Museum and Hall of Fame, located on the grounds of Weedsport Speedway in Weedsport, NY, less than 25 miles west of Syracuse.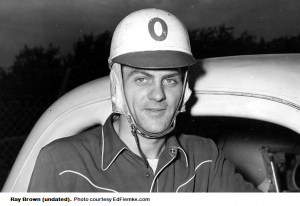 Returning to his home near White Plains, NY, following his service in World War II, Brown started out racing stock cars — junkyard-refugee jalopies that required manhandling and mechanical ingenuity to make them fast.
Ray Brown had both those attributes, as a driver and as a mechanic, and achieved success early on. Doug Post, whose father Harold worked with Ray at the local Sears, Roebuck & Co. auto center in the post-war 1940s, can recall it all. After Post's dad died in 1950, Brown took young Doug on the road with the race team, so he had a singular front-row vantage point for all of those victory-lane celebrations.
And there were many: At long-gone New York tracks like Empire Raceway in Menands; Freeport, Long Island; Rhinebeck, Peekskill, Arlington and others. Candlelight Stadium in Connecticut. Nazareth Raceway in Pennsylvania. Morristown, New Jersey, and particularly the Old Bridge Stadium in NJ, where Brown aced the track's inaugural race in 1953, was crowned the track's first champion and won 15 events in a scant two years.
In New England, Ray was the 1950 champion at Riverside Park, in Agawam, Massachusetts, and had success with Harvey Tattersall's United Stock Car Racing Club. When the American Racing Drivers Club, known for sanctioning Midget racing, instituted a stock car class in 1953, Ray Brown took the title.
But it was at the Orange County Fair Speedway in nearby Middletown that Brown cemented his lasting legacy.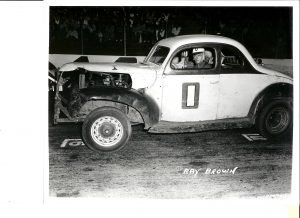 From July 4, 1951 to August 1, 1959 — a span of only nine years — Brown recorded 43 Modified victories on the Middletown hard clay, claimed three Mod championship titles in 1952, '53 and '57, and finished runner-up in points in two other seasons. Sixty years later, Ray remains solidly in sixth place on Orange County's all-time Modified win list.
"He owned the place," was Doug Post's remark about Brown's mastery of Middletown.
There was no question that Brown liked the big tracks. In 1958, he won Orange County's Langhorne qualifier and headed to Pennsylvania for the mile speedway's notorious National Open for Sportsman Modifieds. Although he'd never before seen the treacherous track, Ray went out and set fast time at Langhorne, seizing the pole, and was leading the big event when a fan belt disengaged, causing his car to overheat. He still hung on to finish sixth, behind winner and Hall of Fame driver Jim Delaney.
Always a thrill-seeker, Brown wasn't content to settle down in stock cars as his status quo. Following the 1959 season, Ray sold off everything to sign on as a Midget racer with the American Racing Drivers Club.  His first ARDC Midget win came on August 27, 1960 in Danbury, CT, where he led club stars Russ Klar and Len Duncan to the flag. His second Midget win came only a few days later at Vermont's Essex Junction Fair.
Between 1960 and 1967, Brown won 27 Midget features, including seven at Middletown, placing him at 50 victories overall at the track nicknamed the "House of Power."
Echoing Post's earlier comment about Ray's command of OCFS, nationally-known Midget car owner Ken Brenn has a keen recollection of a 1967 ARDC meet.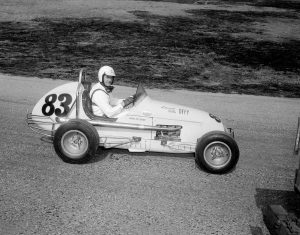 "Because he was so good in the stock cars at Middletown, Ray Brown was almost unbeatable at that track when he ran with ARDC. The only time we ever beat Ray was when we had Jimmy Caruthers, from California, in the car," Brenn recounted. "Ray had us covered but Jimmy kept dogging him and dogging him. He tried everything! Finally pulled it off with a daring last lap pass. Jimmy really worked for that one! Yes, Ray Brown was pretty much untouchable at Middletown."
Brenn, whose race cars were driven by renowned stars ranging from Rodger Ward to Mark Donahue, was and is an astute judge of driving talent.
Among the cars of Brown's ARDC career was the Darrell-Villa #83, one of the top rides throughout its long club history, driven by many of the greats of the era. Brown went toe-to-toe with all of them, winning at Williams Grove and Old Bridge, in addition to his home track. He even took a crack at the USAC Champ Cars.
Brown's final win occurred on June 10, 1967, at Middletown. Later that year, he was involved in a motorcycle accident that seriously mangled one of his legs, and, in that instant, his career was over. Ray's daughter, Carole, remembered the traumatic aftermath. "It broke his heart to have to give up racing," she admitted.
Brown's son, Ray Jr., wondered if perhaps that was the way it was destined to be. "I don't know if he would have liked racing in the '70s and '80s, after the roll cages came in. My dad was all about the danger of the open cockpit," Ray Jr. reasoned. "I think that was the lure for many drivers back then."
Doug Post repeated that premise. "Ray never took any stupid chances. But he liked to live on the edge," he conceded.
After racing, Ray Brown continued to operate his longtime service station in Elmsford, NY, before retiring to Florida. He passed away in 1989, at age 65.
Ray Jr. reflected on his father's place in racing history.
"What is remarkable about my dad's accomplishments is that he did what he did in a very short time span, compared to the drivers listed ahead of him in all-time wins," Brown Jr. observed. "If he had five decades or more of racing like many other well-known drivers, I am sure he would have been at the very top."
Photos courtesy the Northeast Dirt Modified Hall of Fame