Walking to the Car: We Visit the New York International Auto Show
Despite significant automotive history in the area, and despite the existence of organizations such as the Madison Avenue Sports Cars Driving & Chowder Society, New York City is not a "car town" and hasn't been one for a very long time. The roadways are lunar surfaces, the toll roads surrounding the city are more expensive than your first mortgage payment, and at present, the city is in the throes of putting in place "congestion pricing" to both cut down on automobile traffic into Manhattan and fund mass transit.
Yet onto this island flow more than 2.5 million vehicles per day, and, thanks to New York being the advertising capital of the world, each year the New York International Auto Show is staged. The first NYIAS took place in 1900, and this year, over the course of a ten-day run, more than a million people will attend the 2019 show.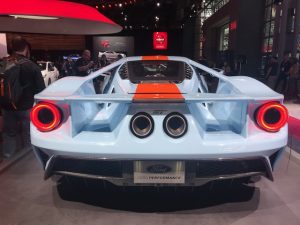 Us included. We take part in the Media Days that precede the show's opening, and like most people, we got there via mass transit.  CarShowSafari.com President Tomm Scalera got there via train, and your author got there via ferry. We may be car enthusiasts, but we know better than to drive into Manhattan on a weekday.
Up front, we have to admit that we were not expecting much. The show remains big and glamorous and splashy, but the auto industry has matured into purveyors of indistinguishable SUVs with a side order of huge pickups. Pre-show press releases touting the unveiling of a new Toyota Highlander or another Lincoln SUV made us yawn. Were we just going through the motions?
Well yes, and no. Announcement of a Nissan 370Z 50th Anniversary Special Edition failed to cause us to break stride as we walked the show floor, although we did pause to admire the privately-owned 1970 Datsun 240Z that was displayed on the lower level of the Javits Center. Similarly, we scarcely took notice of the Kentucky Derby Edition of the RAM Heavy Duty pickup, even though it took considerably longer to walk past.
We totally blew off Toyota's presentation of the new Highlander, a vehicle which, despite genuine improvements and its certainty to maintain the model's strong sales, will not be perceived by consumers to be different in any meaningful way. We didn't even notice Cadillac's new CT5, handsome though it is, because our eyes focused only on the outrageous and magnificent 1959 Eldorado Biarritz convertible perched high above the Cadillac display.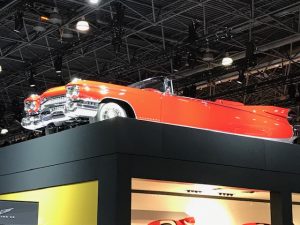 (By the way, "Eldorado Biarritz" is a name. CT5?  Not so much.)
There was no display as bland and uninteresting as that of Chevrolet, unless, of course, you consider the sad state of things at Chrysler.  Chevrolet had no "special editions" or concept cars on hand, just a collection of anonymous-looking small and mid-size SUVs and Silverado pickups. You had to go downstairs to find a Colorado. There was probably a Camaro there but we missed it, so uninspiring was the display.
Downstairs was where you'd find the entirety of Chrysler's pitiful showing. Chrysler has only two vehicles to offer, the Pacifica minivan and the 300 sedan. It is the third consecutive year with no new products from Chrysler and the third consecutive year that Chrysler's display consisted solely of cars parked in an out-of-the-way area of the show, with no staging or theme or visual interest of any kind.
The Pacifica is neck-and-neck with Honda's Odyssey for best minivan honors and sells well. The 300 is still a very good car but it is older than other manufacturers' sedans in the shrinking sedan market. In an automotive market where makers from Kia to Bentley offer SUVs and where sedans are getting scuttled, the lack of new offerings from Chrysler is astonishing.  The "phoning it in" cliche was invented for situations like this.
Chrysler is under the Fiat Chrysler Automobiles umbrella, of course, and the Fiats were adjacent to the Chryslers which were adjacent to the Jeeps which were adjacent to the Ram trucks, all lacking any pizazz in their presentation. Jeep, through, commanded attention as it has in recent years with its "Camp Jeep" off-road ride-along in front of the main exhibit hall parallel to 11th Avenue.
Dodge offered "Stars and Stripes" editions of the Charger and Challenger, although these are not in the red-white-and-blue that you might expect, and these paint-and-trim specials were about as exciting as things got for FCA.
Still, aside from these disappointments there was interesting stuff for us to check out.
At the Volkswagen display, there were three concept cars on hand, the Basecamp, the I.D. Buggy, and the Tarok. The Basecamp is a lifted Atlas SUV fitted with outdoorsy options and hitched to a HIVE EX camping trailer. The Basecamp is a driveable production-based vehicle and not really special, but handsome in the appropriate back-country way. The I.D. Buggy, on the other hand, is a pure concept, a modern interpretation of the classic late-60s dune buggy with strong appeal based on both the "cute" factor and the perception of basic simplicity.
The Tarok is a little more puzzling. It is a unibody pickup that in our view resembles a Subaru Baja that has been doing steroids. This is not a complaint, it is a good-looking concept that in truth splits the difference between the road-ready Basecamp and the pie-in-the-sky I.D. Buggy. It's not in production, but it's not pure concept, either, having recently been approved for production in VW's South American markets.
But we question whether it is right for the U.S., because we see it as being closer to the Baja – never a strong seller – than to the Honda Ridgeline, which itself is a small player in the North American pickup wars. A year ago Volkswagen showed the Tanoak pickup concept which, while still not a "real" pickup, was closer to U.S. tastes.
If VW ever does manage to get a pickup into production – which we doubt since it has been since 2001 that they have been promising a new microbus – we hope that choose a name more meaningful and less of an eye chart than Tanoak or Tarok.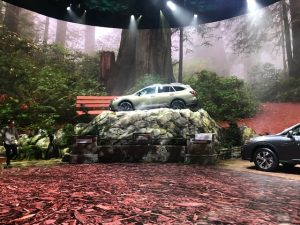 Over at Subaru, the big push was for the new 2020 Outback, but the plain fact is that it looks just like the outgoing model. Here again, that's not a complaint, because the Outback is a handsome car. But the real reason that we hung out at the Subaru display was the Subaru display. Leveraging the brand's partnership with the National Parks Foundation, the Subaru exhibit was meant to evoke entering a National Park. While it in some ways felt more like entering a Cabela's, it was grand and wonderful and by far the best display at the show.
While at the Subaru stand we realized the effectiveness of an evolutionary change that has taken place at the big auto shows. Not that many years ago, women staffing the manufacturers' displays were provocatively-clad eye candy. Over time the women became knowledgeable spokespersons for their brands and gained more professional apparel. But at the Subaru display this year, boardroom dress gave way to Park Ranger uniforms.
Park Ranger uniforms were never meant to be sexy and no attempt to make them sexy was undertaken here.  The men at the Subaru stand also dressed as Park Rangers. But the effect was, well, effective. The women at Subaru were, in our view, more appealing than the cheesecake models ever were.
Also conspicuous by not being conspicuous were the women at Rivian. Rivian, the EV company that had on hand fully-operational examples of both its R1T pickup and R1S SUV, staffed its booth entirely with employees of the company. So whether you spoke to a man or a woman, you were speaking to an engineer, a designer, a person intimately involved with the vehicles and the company, not a "spokesmodel."
The founder and CEO, R.J. Scaringe, was on hand and available for conversation. When was the last time you saw Elon Musk in a trade show booth? The Rivian designer with whom we first spoke was happy to introduce us to others with specific areas of responsibility so that we could get more detailed answers to our questions.
Rivian's story is compelling. An automotive "startup" that dates back a decade, Rivian has been making steady, measured progress toward bringing its vehicles to market. In New York, this progress appears to be close to completion. The company is now targeting a date next year to have both the pickup and SUV in customer hands.
Both vehicles on the show floor are driveable pilot models, nearly production-ready and handsomely styled, although we have some qualms about the headlight design. We discussed with a Rivian staffer the merits of simply rotating the headlights by 90 degrees, but at the same time, we concede that the existing vertical orientation is a memorable signature design element.
We approached the Genesis display just as the Genesis Mint concept was being introduced. This concept goes against the all-trucks-and-SUVs mindset of today, being an electric car for the city that is stylish and sporty and small. Green in color, of course, the Mint can be described as "cute" and it can be considered as a bit of a pivot for Genesis, whose previous concepts have tended toward large luxury cars intended to quash any perception of cheap cars from parent company Hyundai.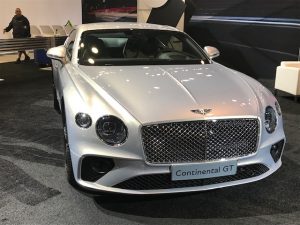 The Mint was presented as a luxury small EV, and as a two-seater, it strikes us as both sensible for urban users and unlikely for production. If it shows up at the dealers, bet on at least a vestigial rear seat.
Offsetting the Mint was Hyundai Venue, a perfectly innocuous small and gasoline-powered SUV set to appear in showrooms later this year. Considered to be an "entry-level" vehicle, the Venue will sit below the Kona in Hyundai's multi-SUV lineup and will not be offered with all-wheel drive. Front-drive only.
Distinctively, the Venue's taillight assemblies incorporate strips of light above the main lamp that utilize lenticular lenses.  Lenticular lenses are those that make an image appear to move as your viewing angle shifts, and "lenticular" is a favorite word of CarShowSafari.com President Tomm Scalera. To the best of our knowledge, this is the first automotive use of lenticular lenses.
It's a nice little car. Now if only we could get past the sheer unattractiveness of Hyundai's stylized "H" logo…
Stepping over to the Alfa Romeo display, we saw two cars under plain black covers, slated for an unveiling later in the day.  These proved to be the special edition 2019 Quadrifoglio NRING models for North America, which will be limited to just 110 total examples between the Giulia sedan and the Stelvio SUV. The NRING moniker is meant to evoke Nürburgring, of course, and the two Alfas are strikingly good-looking vehicles to begin with. But Alfa Romeo, unlike virtually every other automaker today, remains plagued with questions about reliability, questions which clearly impact the sales of their head-turning cars.
And then there was the Karlmann King, the strikingly ugly and preposterously large SUV for which the marketing tagline is "World's Most Expensive SUV." What do you get for your over-two-million-dollar purchase price? A Ford F-550 with a nightmarish mishmash atop it.  With "most expensive" as the sole merit being promoted at the Karlmann King booth, I asked one of the booth attendants, who claimed to be one of the designers of the vehicle, what was its intended purpose? "Ego boosting" was her reply.
My ego was boosted by walking away.
My ego was quickly deflated, however, when I tried my hand at the race track driving simulators presented by Hyundai. I had no intention of doing so until I noticed that the track on which one would drive was Lime Rock Park, and specifically the classic original track configuration, a track on which I have countless real-world laps. Suffice it to say that real-world laps in a vintage air-cooled rear-engine car do not translate well to simulated laps in a new front-drive car.
We did not have a chance to check out every car at the show. We missed, for example, the latest Porsche 911 variation and the laughably named Kia HabaNiro. We also missed every BMW and Volvo, because neither manufacturer chose to be there this year.  But the show was better than our low expectations going in. Even when the market appears to be saturated with pickups and SUVs, and even when EVs seem to be getting more attention and investment than what we think may prove to be warranted in the long run, even when a storied name like Chrysler is relegated to a back-corner afterthought, there were enough interesting and distinctive cars to make the New York International Auto Show still worth the trip.