CarShowSafari.com wants to be your single source for information about "Every Car Event – Everywhere."
To car enthusiasts, cars are a way of life. They love the sight of shining chrome, the sound of a performance engine, the smell of handcrafted leather and wood. Car enthusiasts love the history and evolution of the automobile. They feel the warm glow of nostalgia when seeing cars from their past. They understand the automobile's social significance and impact on society. They appreciate the technological advancements in performance, speed and aerodynamics. And they marvel at the sheer beauty of a well-designed classic.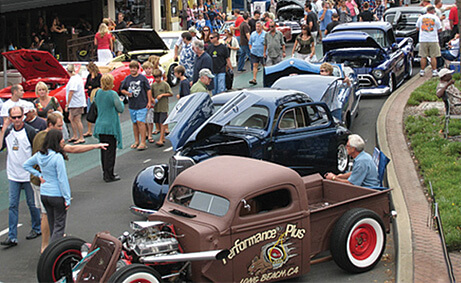 This enthusiasm is not reserved for vintage cars alone. There is a whole new breed of modern performance cars on the market today spawning a new generation of car enthusiasts who modify, race and show these "modern classics" right next to their vintage counterparts at events across the country. From modern muscle cars such as the Mustang and Camaro, to highly-modified Asian and European "tuners," to exotics like Porsche, Ferrari, and Lamborghini, today's car events prove that it doesn't need to be old to be a classic.
The dictionary defines Safari as: "an adventurous expedition for hunting or exploration." The term Car Show can describe any event where car enthusiasts come together to enjoy their shared passion, which can also include motorcycles, boats and airplanes. No matter what the event, as long as it involves an engine with wheels, wings, or water, it can be found at CarShowSafari.com.