Mario Andretti Came to Town and They Threw a Parade
With May 30 being the 50th anniversary of Mario Andretti's victory at the Indianapolis 500, it makes perfect sense to talk about July 12.
It was by fortuitous coincidence that Mario's family, when moving to the United States from Italy when he was a child, settled in a town that happened to have a race track.  Mario certainly would have gone racing no matter where he lived, but discovering that there was a race track in the family's adopted hometown of Nazareth, Pennsylvania, only fueled Mario's racing desire even more.
After starting out in a Hudson sedan shared with his brother, Aldo, Mario rose quickly from the half-mile dirt track at Nazareth to the Midgets and Sprint cars and into the Indy cars.  In those days the National Championship of which the Indy 500 is a part still raced on dirt tracks.  One of those dirt tracks, an oddly-shaped 1.1-mile oval, also was in Nazareth, adjacent to the half-mile track on which Mario got his start.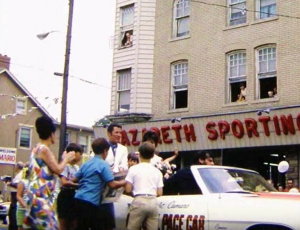 With a Championship Trail race scheduled for the big Nazareth track on July 12, 1969, the town of Nazareth decided to honor its hometown hero at the same time.  A weeklong celebration was arranged, culminating in a splashy downtown parade prior to the running of the Nazareth 100.
Nazareth's population at the time was just 6,000, but the town is part of a larger region encompassing Easton, Bethlehem, and Allentown, generally referred to as the Lehigh Valley and then housing a population some ten times greater than that of Nazareth alone.  So the parade in celebration of Mario's Indy 500 win was no small affair.
There were marching bands and color guards, antique cars and local dignitaries, Mummers, lavish floats that would not have looked out of place in the Rose parade, even a hovercraft, and Art Arfons' Green Monster land-speed car.  The #2 Champ Car that Mario would drive later that day was in the parade.  Andy Granatelli, the STP impresario, and owner of both Mario's Indy-winning Brawner Hawk and the dirt-track Kuzma Offy, rode in a 1969 Camaro pace car.  Another pace car carried Mario, with wife Dee Ann and sons Jeff and Michael at his side.
Mario was resplendent in a white double-breasted sport jacket and blue shirt, while Dee Ann carried a large floral arrangement that helped conceal that she was fully nine months pregnant with the couple's third child.
Of course Mario's win at Indy that May was a professional and personal high water mark to that point, but July 12 turned out to be a day even more fondly remembered by Andretti.  There was the parade, of course, conferring on the then-29-year-old racer the admiration and respect of his friends and neighbors.  Then there was the race, the Nazareth 100, which Mario won decisively, leading 78 of the 89 laps.
And then there was Barbra Dee. Just moments before Mario captured the checkered flag in the Nazareth 100, Dee Ann's water broke and she went into labor. Despite stopping off at home to clean up following the race, Mario made it to the hospital in time for the Andrettis to welcome their daughter, Barbra Dee, born in the wee hours of Sunday morning.
The story goes that while using a ten-cent payphone to give the news to his mother-in-law, Mario got 75 cents from the coin return.  All in all, a very memorable day.
The Nazareth parade may have been the first in which Mario was the honoree, but it was not the last.  He has been in countless parades since, including New York City's Columbus Day Parade in 2004, whereas the parade's Grand Marshal he was in a Lamborghini Murciélago Spyder instead of a Camaro.  Yet some 50 years later, July 12, 1969, holds a special place in the heart of Mario Andretti.
Photo courtesy of the Classic Racing Times