Well, here we are in, deep in the doldrums of winter. For quite a few of us around the U.S., this is hibernation season, a time to wait it out until the sun and warmth returns. For obvious reasons, most collector cars in colder climates spend the winter in a protected environment. While the cars are hiding out, we're left with very little to do compared to when fairer conditions prevail. I feel the collective pain of all my fellow cold-climate car fans in hibernation, and I'm here to say that all is not lost.
One of the ways I keep myself entertained this time of year is through classic car and sports car dealerships. It's a great way to tempt yourself towards highly irresponsible decision-making, and see some really great cars for free. I'm lucky enough to live in Chicago, where exotic and classic car dealerships are relatively numerous. However, I've found some very interesting classic car dealers in unexpected places as well. Chances are there are some undiscovered showroom gems waiting for a new owner to track them down within an hour or two of wherever you happen to be.
Let me start off by providing some hope to those of you that live way out in the middle of nowhere. I went to school in northern New York in Potsdam, very close to the Canadian border. If there weren't multiple colleges in Potsdam, there would be little more than cows, pastures, and cow poop. A little outside of town, there was a classic car dealership that sold some surprisingly nice toys. This Oldsmobile 442 convertible was relaxing outside on a March afternoon. The showroom was full of customs, hot rods, and muscle cars, and provided a nice break from the soul-sucking Arctic winters up north.
Closer to my hometown of Scotia, NY was a classic car dealer with more of a European focus. It was the type of showroom where a classic Alfa-Romeo might be rubbing elbows with a Fox-body Saleen Mustang. The staff was extremely welcoming, and always happy to chat about any of the unusual cars they may have in stock. Every so often, they would open the doors to their storage area. I stumbled on this crisp Lotus Esprit one summer afternoon, one of the great British sports cars of all time. Another example of how even the smaller towns are likely to have their own hidden automotive oasis.
For obvious reasons, I try to make it out to the major exotic car dealerships near me as often as I can. While visiting my good friend and fellow safari tracker Chris Coffin, we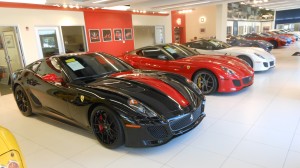 typically make the rounds to the numerous dealerships in the Boston area. The Ferrari/Maserati location there is a must-see. This trio of 599 GTO's was greeting customers at the door a couple of years ago. Just 125 of these were sent off to the American market, and they are a striking car to say the least. Mechanically, they are not too far removed from the track-only 599XX, and they are capable of spanking an Enzo around most race tracks.
Running into a 599 GTO is a pretty rare event, but it was one-upped by a collection of Ferrari halo cars that was being sold as a bundle. An F40, F50, and an Enzo, each with less than 300 miles on the clock, was up for grabs at just over $6 million for the set. Personally, I think there is a level of insanity associated with buying cars like these and letting them just sit in your garage. But hey, one man's sports car is another man's retirement fund.
I'd be neglecting one of my favorite events I've seen if I did not mention the Greenwich Concours here. While that show is worthy of at least a couple articles in and of itself, it has brought me to some pretty incredible classic car dealerships. Carriage House Motorcars in Greenwich carries a range of vintage sports cars, and this is maybe the most beautiful example I've seen there.
It's an Aston Martin DB2/4 with a Bertone body. Incredibly rare and incredibly valuable, you're unlikely to see cars like this out and about once they're in the hands of a dedicated collector. This car was in the company of several other classic Astons, the original Maserati Ghibli, the Pininfarina-designed "Rondine" Corvette, and several classic Ferraris.
Boston also has a great classic car dealership in the same vein. Copley Motorcars is a stop I make as often as I can. It's a small dealership, but what they lack in square footage is made up for in sheer amazing content. The very first time I visited, this Ferrari 250 GT Berlinetta Tour de France was the centerpiece of the showroom. This car was in better-than-new condition, and is one of 77 built to this specification. These guys saw quite a bit of success in GT-class racing, and I'm sure they remain a phenomenal driver's car.
After a recent move to Chicago, I've been discovering more and more of what this area has to offer for car nuts like myself. It has definitely not disappointed, to say the very least. Just like living in the Northeast, we have to be creative here to avoid boredom during the winter. I've checked out a couple great shops in the area. We'll start with a place right in the heart of the financial district that offers the latest in Bugatti, Bentley, Rolls-Royce, and Lamborghini.
Bentley may not be known for making anything close to a lightweight sports car, but that is exactly what the Continental  GT3-R aims to do. Maybe not lightweight in the sense of what Lotus does, but at least compared to the rest of their lineup. These are essentially a road-legal variant of the Continental GT's that see service in endurance racing. Replacing the bigger W-12 engine is a tweaked V-8 pumping out just over 570 horsepower. It's still a porker compared to other lightened track toys, but performance promises to be a big improvement over a standard Continental GT. Just 300 are to be built, with this one currently in the showroom at Gold Coast Bentley.
The real crown jewel out here is a place called Lake Forest Sportscars. Located in a suburb north of the city, this place carries the latest from Aston-Martin, Ferrari, McLaren, Lotus, and (gasp!) Koenigsegg. You're sure to see some incredibly rare cars any time you pop in. It's hard to pick out highlights, but these 2 monsters really stand out. We'll start with an old familiar name (Ferrari)
in an old familiar color (red), but in a decidedly unconventional shape.
This is the Ferrari Sergio. Based on the 458 Italia, it is a commemorative coachbuilt modern classic named after the great Sergio Pininfarina, who of course had an extremely successful and long-lived partnership with Ferrari doing design work. The mechanicals are not really too different from a standard 458, but that body is entirely new. Distinctive looks come with a price though, and these rare cars came new with a price tag barely under $4 million. Once a car like this leaves the dealership, you are unlikely to ever see it again, as these coachbuilt specials tend to get tucked into private collections and carefully guarded.
Another one-of-six supercar available was this Koenigsegg CCXR. Despite being in existence for over 20 years as a company, they have barely cracked triple digits in total production numbers at this Swedish boutique builder. There is a reason for that, as all of their offerings have featured some very original and artful engineering. For example, the engine on this CCXR has been optimized to run on E85 or E100 biofuel, and is also couple of running on more traditional high-octane fuel. If you want something capable of running with Bugattis, but is a little more unusual, this could be the car for you.
What really made this place stand out for me is their open door policy on the service bays. This may sound like a minor thing, but typically this is the only place to see amazing customer cars getting delivered or serviced. For example, the day I was in they had a pair of McLaren P1's getting some servicing completed.
These cars are capable of face-distorting performance, thanks to a hybrid drive train totaling 900 horses of output. Less than 130 of these made it to America. It's pretty interesting to see what it takes to keep a car like this running, and the mechanics were extremely friendly. A combination of beautiful, rare cars and an enthusiastic, friendly staff will definitely keep me coming back for more.
For one last stop, we'll take a look at a small, mom-and-pop style operation that specializes in British sports cars. Step into the showroom of Northshore Sportscars, and you will quickly forget you're in Chicago. The place feels very much like a long-running British shop, with memorabilia everywhere. Names like Lotus, Morgan, MG, and the like dominate.
This pair of Morgan race cars were the big highlights for me. The car in front was built in 1996, and ran with factory support from Morgan. It played a huge part in the development of the Aero 8, and is in fact the very first Aero 8 chassis to be constructed. To this day it continues to see track use at historic racing events. The Dewalt-sponsored black and yellow car in the background ran in the most famous endurance race on the planet, the 24 Hours of Le Mans. Back in 2002, the car was forced to retire without completing the race. Given the fact that Morgan has such limited participation in modern racing, it's very rare to see a couple of cars like this together.
So fear not, car people, there is always a way to get through the winter doldrums. And if that cabin fever is getting to you and the only cure is to vicariously live through others, check out my blog (fromcruise-instoconcours.tumblr.com) for tons of great pictures and car show news! And of course, Car Show Safari is here to keep our calendars filled with future car show dates. Hang in there everybody, the spring thaw is right around the corner! 

Photos by Chris Barner