GENERATOR AUTOMOTIVE MEDIA
Generator Automotive Media creates award-winning
graphic design and media for the automotive enthusiast market.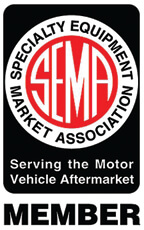 SEMA.org
A love for cars, trucks and SUVs is the motivating force behind the Specialty Equipment Market Association (SEMA). This trade association consists of a diverse group of manufacturers, distributors, retailers, publishing companies, auto restorers, street rod builders, restylers, car clubs, race teams and more
THE BAKERSFIELD CAR CLUB COUNCIL
is a nonprofit organization with
affiliate car and truck clubs and
groups in Central California.
BCCC invites clubs of all makes,
models, types and venues of cars,
trucks and specialty vehicles.

CONTACT US | TERMS AND CONDITIONS
© 2020 CarShowSafari.com All Rights Reserved.
The contents and images on this site may not be reproduced, distributed or otherwise used,
except with the prior written permission.