Il Mondo Secondo Gianni Agnelli
This Week in Motorhead History
On March 12, 1921, Gianni Agnelli was born in Turin, Italy. He was named for his grandfather who, in 1899, founded Fabbrica Italiana Automobili Torino, the company we know today as FIAT. He was the son of a princess and an industrialist and grandson to an American woman.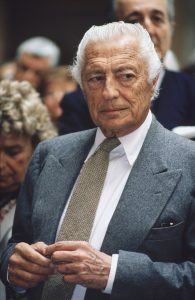 It was an auspicious name for Gianni and for the world, who would learn to love the little Italian car that could thanks to his hard work, international style and business savvy. He became president of the FIAT company in 1966 and began opening factories and forging alliances left and right, in far-flung places for compact Italian cars, including the Soviet Union and South America.
His style hardly stopped at vehicles, however successful he was at running the company–and he was successful–helping FIAT to meet a 1.4 million car production run in 1970, the highest the country had seen up to the point. But he became a figure of legend in his own right in those years, wearing styles that stood out even among the fashion-conscious Italian socialites, waging under and above-ground political and social battles and openly having dalliances and, after his marriage to Marella Caracciolo di Castagneto, a noblewoman, and fashion designer, in 1953, affairs with some of the biggest names of the time. Rumors about film stars like Anita Ekberg and First Lady Jackie Kennedy abound with great substantiation.
Gianni Agnelli was, in short, everything we could ever want from an Italian automotive designer. He was the owner of an Italian football club and actively engaged in public scandal, but was also considered the most important and influential man in the Italian economy, earning him the nickname "King of Italy."
And through it all, FIAT became its lasting legacy under Gianni Agnelli the second. FIAT would, over the years, come to be involved with, if not outright control, other companies, including Lancia, Ferrari, Alfa Romeo, and Maserati. With its purchase of the Chrysler Group, back in 2014, it also controls born and bred American marques including Jeep, Dodge, and RAM, surely a coup Gianni would have been proud of, had he not passed in 2003 at the age of 81.
The FIAT legacy stretches the world over. The year before Agnelli passed away, FIAT was producing more than a million cars at six major plants internationally. Though FIAT was, from the start, a successful company, it is the work that Agnelli did in the 1960s and after that led to a lasting company, one that would survive after wars, socialist uprisings, oil shortages, international discord, and cultural evolutions.
Gianni Agnelli is not what most would call a scrupulous character. His dealings in both business and love have an air of scandal and danger about them that are hard to overlook and no one can say that doing work with known dictators is strong stuff for the CV. If anything, he was a shining example of his time, dressed to perfection, of royal lineage, publically scandalous and privately underhanded and very good at his job.
With the chance to repeat history, there are many things about Agenlli's past that could stand to be examined, but with only the gift of hindsight and a love of the FIAT name, we can simply sit back and acknowledge that he had his influence on the times and that the world and the automotive industry would be a vastly different place without him.