Happy Birthday, Janet Guthrie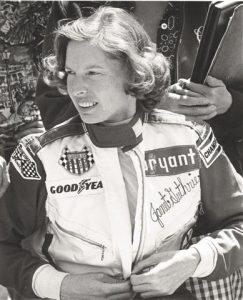 I could write a biography.
Born in Iowa on March 7, 1938, Janet Guthrie moved to Florida at age three, in telling foreshadow. She studied physics at The University of Michigan, graduating in 1960. Guthrie applied for the First Scientist-Astronaut program in 1964, surviving the first elimination round, but her passions for adventure, speed and adrenaline were taking her in a different direction. The purchase of several racing Jaguars led to hill climbs and field trials, and then competition in the SCCA. By the early 1970s, she had forgone a traditional career in physics to focus on racing full-time, including several victories in The 12 Hours of Sebring.
I could write a biography.
I could say that Janet Guthrie, in 1976 broke a boundary, becoming the first woman to ever race in the NASCAR Winston Cup superspeedway stock car race. I could say that the following year, she became the first female racer both to qualify and compete in the Indy 500, as well as the first woman and Top Rookie at The Daytona 500.
I could tell you that her driving suit and helmet are at The Smithsonian Institute, or that she became one of the first athletes in The Women's Hall of Fame. I could list a hundred races, speeches and boundaries forever changed by her influence.
But I won't do that. I won't tally her accomplishments like a grocery list, honoring her checkpoint by checkpoint as a celebration of her many years. That's not what this is about.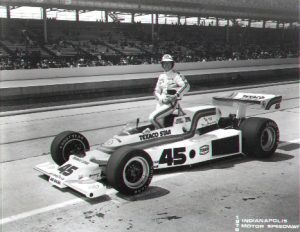 Instead, I'll tell you that Janet Guthrie gave a young car girl like me hope. She told me that you can be a female astronaut in the 1960s. You can study physics and engineering. You can pick up racing because you like the speed, the push, the drive to make a car faster, better than it has ever been before. Janet Guthrie won those racers, and won over the world. She broke finish lines and barriers, promising so many young women that they could do whatever they wanted, if they pushed hard enough, if they spoke loud enough, if they were at the right place, at the right time, and they were ready.
I've been a car girl my whole life. And though more than four decades have passed since Janet Guthrie became that first female racer, there remains a dearth of car girl role models. It is an industry that remains imbalanced, a world where very few racers, mechanics or owners look like me.
But she does. She stands as a beacon to all the young girls who want to race cars and love cars and break barriers for the next forty years to come. She says, forget about the times, forget about the rules. If you love something, go after it, no matter what.
When I was in college, my parents attended a book signing event for her recent release, Janet Guthrie: A Life at Full Throttle. They told her that I was studying journalism to go into the automotive field, and they thanked her for me. On a piece of notebook paper, which I have since mounted and carried from city to city with me throughout the years, she wrote:
To Ruby –
Women have a great history in auto racing, dating back to at least 1898 –
Go get 'em!
Janet Guthrie
Thanks to her, and the amazing women who came both before and after, this young, star-eyed car girl actually believes there's room in the car world for her. Because of Janet Guthrie, a trail-blazer, barrier breaker, and so, so much more, I get a chance.
Thank you, Ms. Guthrie. Happy Birthday. 

Images selected from www.janetguthrie.com.