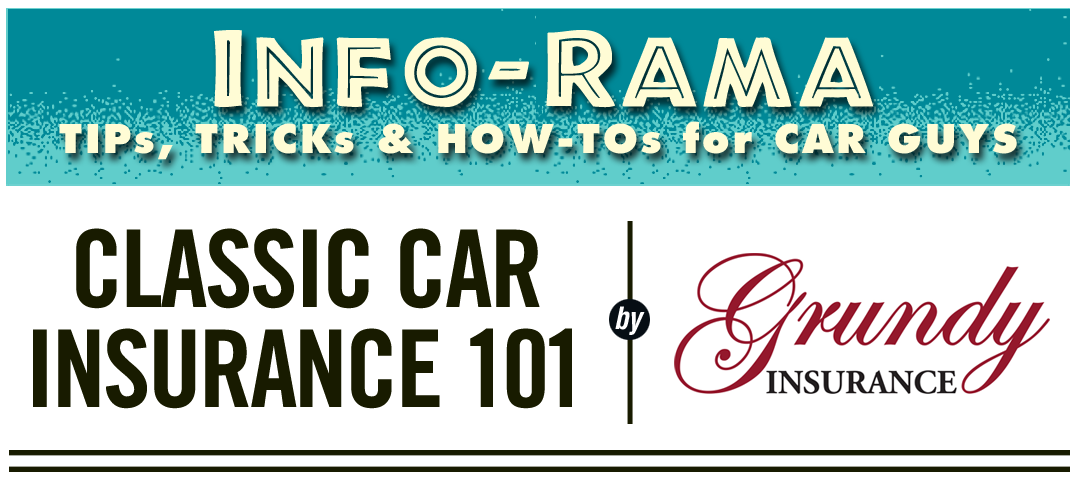 Lesson 1: Do You Have the Right Insurance?
Agreed Value, Actual Cash Value and Stated Amount Insurance…
For the car collector, it is important to understand the differences between classic auto insurance and everyday driver auto insurance. Distinguishing between Agreed Value, Actual Cash Value, and Stated Amount can be somewhat confusing. The concept of Agreed Value insurance started in 1947, when James A. Grundy, Sr. began selling Agreed Value policies to clients to safely protect the restoration costs and appreciating value of their collector cars. In recent years, many collector car insurance companies have followed his example by offering Agreed Value policies. Even high-end insurers of modern exotic and specialty vehicles have begun offering the Agreed Value or Agreed Amount coverage forms. The reasons for this are really very simple and benefit both the policyholder and the insurance company.
AGREED VALUE policies set at the time the policy is issued the amount that a policyholder will receive and an insurance company will pay in the event of total loss or theft of a vehicle. Obtaining an Agreed Value policy on your collector car is a fairly simple process. The applicant submits an application, indicating the value that they would like to have insured. Both the vehicle and value are then reviewed by the insurance company's underwriters, who are knowledgeable both in insurance and collector cars. When working with a new application, underwriters examine photos and any other supporting documentation the applicants submits; and, the vehicle's value is compared to the agency's guidelines on similar vehicles in similar condition.
Ninety-five percent of applicants requested values are approved and bound on the date their applications are received. Occasionally, an underwriter will request additional information, such as restoration receipts or additional photos to substantiate a requested value. Underwriters will also tell applicants if their requested value is too low or too high. Insurance companies do not like to underinsure or over-insure, and the goal of all parties is to insure your car for its market value and the owners investment. Once this simple process is complete, the Agreed Value policy is issued.
Although the collector car hobby has grown dramatically over the last decade, it is still too small for big insurance companies to invest the money it would cost them to train their personnel (agents, underwriters and adjusters) to understand collector cars and their values so they do not offer Agreed Value. Instead, they may offer Actual Cash Value or Stated Value policies.
ACTUAL CASH VALUE policies do NOT establish the amount in advance a policyholder will receive. It is the most common form of coverage used by the majority of the big automobile insurance companies. This is because big companies primarily insure newer vehicles that are produced in the hundreds of thousands and the value at the time of loss is a depreciated amount determined by make, model, options, age and condition. This involves starting with the Cost New and deducting a certain percentage for each year of vehicle age, plus deductions for observed or expected "wear and tear." In rare cases additions or increases in value are granted to owners of vehicles who can "prove" that their car was maintained better than the expected average.
STATED VALUE does NOT establish the amount a policyholder will receive in advance. The term Stated Value is very misleading because a Stated Value policy is nothing more than an Actual Cash Value policy with an upward limit on how much an insurance company will pay.
As previously mentioned, there are certain instances where an Actual Cash Value policy will pay additions or increases to policyholders who can "prove" their investment. Stated Value was developed 50 years ago (when collectors started investing large sums in great vehicles) by insurance companies to protect them from paying "more than they bargained for." Stated Value is the worst option for any vehicle, because it will depreciate and deduct on the downside, but your settlement is limited to the Stated Value.
Do you have the right coverage?
Grundy Insurance offers car collectors peace of mind, ease and speed of settlement and the ability to know what you will get before a disastrous accident occurs. Grundy only offers customer Agreed Value policies. "When we agree on value in advance, we avoid arguments with adjusters and meet our policyholders' expectations!"
Sponsored by


Contact:  (866) 338-4006 • www.grundy.com • info@grundy.com