Jan 1
1970
Thursday
Start Date
January 1, 1970

Add to Calendar

Get Directions

Print Listing

Back to Listings
The Santa Barbara County Auto Expo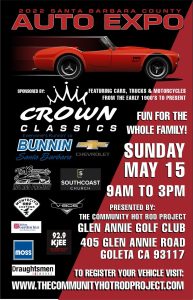 Location:
Glen Annie Golf Club
405 N Glen Annie Rd
Goleta, California 93117
Event Info:
Glen Anne Golf Club 405 Glen Anne Rd. Goleta Ca 9311
Judging Class
Prewar to 1945 Foreign and Domestic
Post War Car Foreign and Domestic 1946 -1954
Rat Rod
Domestic Car or Sedan 1955 -1985
Muscle Car
Modern Muscle
Exotic / SuperCar All Years
Foreign Car or Sedan 1955 -1973
Foreign Car or Sedan 1974 – Present
VW
Import Sport Compact
Drift / Race Car (Foreign or Domestic)
Traditional Lowrider
Domestic Truck1930's -1959 (Street)
Domestic Truck All Years (Off-Road)
Race Truck On or Off-Road
Import Truck All Years (Street)
Import Truck All Years (Off-Road)
Overlanding
Lowrider Truck
Motorcycle -Vintage Pre-1969
Motorcycle – Classic Post 1970-1985
Motorcycle – Café
Motorcycle – Full Race (On or Off-Road)
Motorcycle – Sport
Motorcycle – Cruiser
Motorcycle -Touring
Motorcycle – Bagger
UTV Build
$50 Car/ Truck Reg Fee $25Motorcycle / UTV Reg Fee
We Have Trailer Parking available for those who need it, please let us know in advance if you do, we can accommodate Saturday load-in as well.
Load in time starts 6am Sun morning, show starts at 9am runs until 3pm.
Spectators are free, we have on-site parking as well as off-site overflow parking with free shuttle services running during the event.
To register a vehicle please visit our website: www.thecommunityhotrodproject.com
If you are interested in being a vendor or sponsor of the event and would like more information, please email Kevin@TheCommunityHotRodProject.com
All proceeds from the event benefits the local non-profit: The Community Hot Rod Project Inc.
About Us:
Our Santa Barbara based non-profit organization called The Community Hot Rod Project is an organization that not only offers a free program to teach the youth and young at heart how to build, restore, fabricate classic cars and off-road race vehicles here in Santa Barbara. Our program promotes a positive environment that improves both personal and community etiquette that is seriously missing in our community and world today. We offer community outreach events to help those in need at no charge throughout the year on top of our day-to-day operations.
The Community Hot Rod Project's Mission Statement:
This day and age there is a serious lack of hands-on vocational programs in our community for everyone no matter how young or young at heart you are. Our focus is not only building rolling works of art but, building lifelong friendships as we work together from rendering designs to showstopping builds. No matter what your background is, your family when you take part of The Community Hot Rod Project. Our program offers not only mechanical theory but, skills to promote a positive environment and improve both professional and personal etiquette which is missing in our community and world today. From rust and dust to solid well thought out original designs our job is to inspire. Welcome to our family…..
Admission: Free
Registration Fee: $50 Cars/ Trucks $25 Motorcycles
Event Website: Event Website
Contact Info: Phone: (805) - 280 - 8745
Email: Kevin@TheCommunityHotRodProject.com
| Date | Start Time | End Time |
| --- | --- | --- |
| May 15, 2022 | 9:00am | 3:00pm |
Event Type:
Car Show
Concours
Show & Shine

Event Specialties:
Antiques
Classics
Competition Cars
Customs
Exotics and Sport Cars
Hot Rods & Street Rods
Imports
Mini/Micro Cars
Muscle Cars
Trucks
Tuner Cars
All Vehicles

Event Vehicles:
ATV
Auto
European
Motorcycles
Race Cars
Trucks