Jan 1
1970
Thursday
Start Date
January 1, 1970
End Date
December 27, 2020

Remove from Calendar

Get Directions

Print Listing

Back to Listings
Santa Barbara Cars and Coffee - Every SUNDAY morning - temporarily SUSPENDED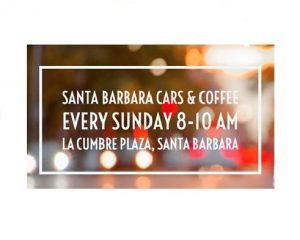 Location:
La Cumbre Plaza (near the Sears & William Sonoma)
3845 State St
Santa Barbara, California 93105
Event Info:
3/13/2020 – Santa Barbara Cars and Coffee Facebook page:

"URGENT UPDATE – With the recent developments with the Covid 19 virus, we're going to suspend Santa Barbara Cars & Coffee for now to make sure we're supporting the community and help stop the spread of this virus. We'll keep the community updated to when we can return back to our fun ways. Stay safe and let's hope things return to normal soon!"
Every SUNDAY morning from 8AM to 11AM (rain or shine) this group meets in our new location at La Cumbre Mall (near the Sears and William Sonoma lot) at the corner of State Street and La Cumbre for a casual get together. Join us! NOTE: occasionally we do change the location. When there is a change, we will post it on Facebook. There are no fees, registrations or obligations. It's just a bunch of car enthusiasts that like to get their cars out and enjoy them.
Owners and enthusiasts of vintage cars, sports cars, muscle cars, hot rods, and other unique motorized vehicles are invited to join us every Sunday morning from 8 to 10am. Make friends, meet friends, swap stories, or just sit back and enjoy the scenery.Visit our Discussion Forum section or our Facebook page for the latest meeting and events information.
FACEBOOK PAGE https://www.facebook.com/sbcarscoffee/
Admission: Free
Event Website: Event Website
Contact Info:
Email: sbcarscoffee@gmail.com
| Date | Start Time | End Time |
| --- | --- | --- |
| December 8, 2019 | 8:00am | 11:00am |
| December 15, 2019 | 8:00am | 11:00am |
| December 22, 2019 | 8:00am | 11:00am |
| December 29, 2019 | 8:00am | 11:00am |
| January 5, 2020 | 8:00am | 11:00am |
| January 12, 2020 | 8:00am | 11:00am |
| January 19, 2020 | 8:00am | 11:00am |
| January 26, 2020 | 8:00am | 11:00am |
| February 2, 2020 | 8:00am | 11:00am |
| February 9, 2020 | 8:00am | 11:00am |
| February 16, 2020 | 8:00am | 11:00am |
| February 23, 2020 | 8:00am | 11:00am |
| March 1, 2020 | 8:00am | 11:00am |
| March 8, 2020 | 8:00am | 11:00am |
| March 15, 2020 | 8:00am | 11:00am |
| March 22, 2020 | 8:00am | 11:00am |
| March 29, 2020 | 8:00am | 11:00am |
| April 5, 2020 | 8:00am | 11:00am |
| April 12, 2020 | 8:00am | 11:00am |
| April 19, 2020 | 8:00am | 11:00am |
| April 26, 2020 | 8:00am | 11:00am |
| May 3, 2020 | 8:00am | 11:00am |
| May 10, 2020 | 8:00am | 11:00am |
| May 17, 2020 | 8:00am | 11:00am |
| May 24, 2020 | 8:00am | 11:00am |
| May 31, 2020 | 8:00am | 11:00am |
| June 7, 2020 | 8:00am | 11:00am |
| June 14, 2020 | 8:00am | 11:00am |
| June 21, 2020 | 8:00am | 11:00am |
| June 28, 2020 | 8:00am | 11:00am |
| July 5, 2020 | 8:00am | 11:00am |
| July 12, 2020 | 8:00am | 11:00am |
| July 19, 2020 | 8:00am | 11:00am |
| July 26, 2020 | 8:00am | 11:00am |
| August 2, 2020 | 8:00am | 11:00am |
| August 9, 2020 | 8:00am | 11:00am |
| August 16, 2020 | 8:00am | 11:00am |
| August 23, 2020 | 8:00am | 11:00am |
| August 30, 2020 | 8:00am | 11:00am |
| September 6, 2020 | 8:00am | 11:00am |
| September 13, 2020 | 8:00am | 11:00am |
| September 20, 2020 | 8:00am | 11:00am |
| September 27, 2020 | 8:00am | 11:00am |
| October 4, 2020 | 8:00am | 11:00am |
| October 11, 2020 | 8:00am | 11:00am |
| October 18, 2020 | 8:00am | 11:00am |
| October 25, 2020 | 8:00am | 11:00am |
| November 1, 2020 | 8:00am | 11:00am |
| November 8, 2020 | 8:00am | 11:00am |
| November 15, 2020 | 8:00am | 11:00am |
| November 22, 2020 | 8:00am | 11:00am |
| November 29, 2020 | 8:00am | 11:00am |
| December 6, 2020 | 8:00am | 11:00am |
| December 13, 2020 | 8:00am | 11:00am |
| December 20, 2020 | 8:00am | 11:00am |
| December 27, 2020 | 8:00am | 11:00am |
Event Specialties:
All Vehicles
Antiques
Classics
Competition Cars
Customs
Exotics and Sport Cars
Hot Rods & Street Rods
Imports
Mini/Micro Cars
Muscle Cars
Trucks
Tuner Cars

Event Vehicles:
Auto
Trucks