Dec 3
2023
Sunday
Start Date
December 3, 2023
End Date
December 3, 2023

Add to Calendar

Get Directions

Print Listing

Back to Listings
★★★★ MOTOR 4 TOYS CHARITY CAR SHOW & TOY DRIVE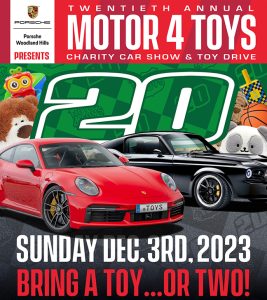 Location:
Pierce College
6201 Winnetka Ave
Woodland Hills, California 91371
Event Info:
>>> Please rally your friends, family and associates to participate. We need your support to help children all over California more than ever before! If you cannot attend, but you wish to support the event, you can also make a donation below.
Please note we are updating our website and more information will be forthcoming but you can make a donation below. Please save the date and support this event. Please tell your friends. As always Motor4Toys operates at 100% charity and all efforts are donated.
We appreciate all of your support all of these years and we thank you!
Supercar Sunday is a weekly event, held every Sunday,  whereby auto enthusiasts gather to share their amazing vehicles and camaraderie.  Supercar Sunday was founded and organized by Dustin Troyan. Many of us know Dustin from the Motor4toys Charitable Foundation (www.motor4toys.com) and from the Drivenworld.com website and monthly magazine.
Supercar Sunday is an event that brings every type of person and vehicle together to share the passion of the automobile and motorsports. You will often find the world's rarest and most expensive cars parked right next to a rusty old 68 Camaro. Supercar Sunday is a wonderful community event where celebrities and fabricators walk around and bench race with us "normal guys", kick tires and take pictures with fellow enthusiasts. It is often the case that tourists from all over the world visit SCS and are blown away with variety and vast numbers of vehicles and people attending.
RULES:
No Car Dealers
No Revving
No Peeling Out
No Racing
No Saving Spots
Do Not Be Uncool!
 LOCATION:
Pierce College
6201 Winnetka Ave, Woodland Hills, CA 91371
PLEASE USE THE VICTORY BLVD and MASON ST. entrances for Supercar Sunday.
The physical address takes you to the far side of the campus.  We are in the main lot off of Victory Blvd.  Lot 7.
Pierce College is a Pet Free Campus.  Please leave your pets at home.  Thank you.
Admission: Free with unwrapped toy
Registration Fee: Free with unwrapped toy
Event Website: Event Website
Contact Info:
Email: Dustin@connectedmediagroup.com
| Date | Start Time | End Time |
| --- | --- | --- |
| December 3, 2023 | 7:00am | 12:00pm |
Event Type:
Car Show
Model/Toy Show

Event Specialties:
All Vehicles