European History in Nashville, Tennessee
Sometimes, it takes an outsider to make you explore your own backyard. At least, that's the excuse I'm giving myself for only having just visited the Lane Motor Museum, less than five miles away from my home here in Nashville, where I have now lived for more than a year. 
I have definitely been sleeping on this museum.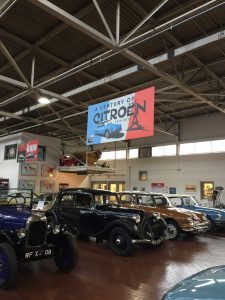 I love car museums. Not only have I personally worked for one for years, but I find that they often embrace microcosms of automotive culture, celebrate the weird and wonderful of car history, and spotlight unique vehicles that are far harder to come by at car shows and racing events. The Lane Motor Museum does all of that and more. 
In a converted warehouse in Nashville, Tennessee, the Lane Motor Museum sets the stage for some of the most unusual foreign vehicles ever produced–and it doesn't stop with cars. 
From Poland to Germany to France, the museum is home to vehicles that even the most enthusiastic automotive fan probably hasn't heard of, let alone seen in person. Perhaps you'll fall for vehicles in the Tatra collection, ghosts of more familiar designs obvious in Volkswagen-inspired headlights and hoods. The room speaks to cars designed, created, and produced during some of the world's most chaotic times, periods of war, fascism, and an emerging global trade economy.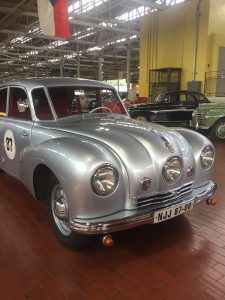 French cars from the sleek to the bulbous do the same. Marvel at French performance vehicles with three front bucket seats, or peak into the cavernous Citroen cargo truck. From propellers to fins, the jaunt is a lesson in world history, design, and finding a thousand ways that do no work.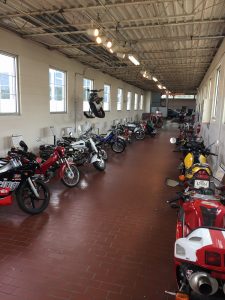 But this museum celebrates the cars left behind from history. Along the far wall, an army of microcars puts their best tires forward, often tires far smaller than those found on the scooters and motorbikes one room over. One-offs, custom cars, replicas, and recreations abound. Patina and modern redesigns rule in equal measure. 
Many of these cars are not pretty. They are not fast. They are certainly not efficient, safe, or advanced when it comes to modern technology. But, like the Citroen 2CV, declared one of history's most important cars, they prove that making a statement can come in many forms. Making a statement can be redefining the midsize sedan. It can be dominating small European city streets. It can be creating a fully electric vehicle in the 1980s or a 25-pound scooter that folds into a small suitcase. 
It makes sense, then, that this unique museum would have vintage airplanes hanging from the ceiling and carpeted canoes displayed on the wall. Visit the exhibit on the history of bicycles or head around to the back of the building for an upward glance at the 1959 LARC-LX, one of the largest amphibious vehicles ever produced by the American military, staggeringly tall with 9' tires and a body to match.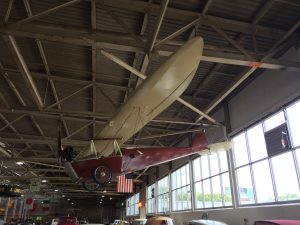 From vintage FIAT 500s to modern FIAT 500s, from the earliest BMW sedans to advertisements of the first available production Prius, the Lane Motor Museum draws criss-crossing lines between all elements of the industry, from design to alternative energy, from building materials to influential automakers. At this museum, you can peak into a replica Dymaxion and turn around to explore ski-crafts from the 1960s with both more horsepower and higher top speeds than many road-driving cars of the time. 
The Lane Motor Museum isn't enormous by any stretch, but it is packed. The walls are covered in art and advertising and in-depth descriptions of the vehicles provide history and context worth sticking around to read.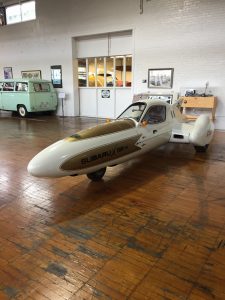 But, at the end of the day, what makes this museum particularly special is the acknowledgement of just how connected the transportation industry truly is. Unlike the Peel Trident, nothing in the car, bike, motorcycle, plane, or boat worlds happens in a bubble. From common design ideas (or straight up plagiarism) to the embracing of alternative energy well before the modern day, this massive, overwhelming, rollercoaster of an industry has proven to be much smaller than it seems. 
Because of that, even the weirdest, smallest, ugliest, and slowest vehicles are not only important to automotive history, but worth celebrating in their own right. 
And the Lane Motor Museum gets the job done.