Andre's Guide to Monterey Car Week

The Pebble Beach Concours d'Elegance and Monterey Car Week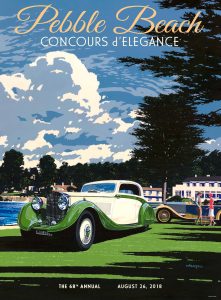 2018 Pebble Beach Concours d'Elegance program cover
In the automotive world, terms with French origins are not as prevalent as in other fields, notably aviation, where fuselage, empennage, aileron, and others have been in common use since the birth of that industry. However, it is probably safe to say that the term Concours d'Elegance is universally recognized by anyone with an interest in the collector car segment of the automotive industry as a "contest of elegance" per its literal translation from French. Though such contests originated as competitions among wealthy aristocrats in 17th century Paris who developed and exhibited ornate horse-drawn carriages in the city's parks, the competition retains the flavor of its original intent in transitioning from the conveyances of its beginnings into stylish mechanized vehicles that are the epitome of personal ground transportation.
Today, there are many Concours d'Elegance held around the world as celebrations of automotive excellence. Among the most-recognized and respected of these is the Pebble Beach Concours d'Elegance. While the Pebble Beach Concours d'Elegance, often referred to as just Pebble Beach, is one of the top vintage and classic car shows of the year, over the years additional events have been added prior to the Concours so that it is actually the culmination of a series of automotive showcases occurring annually in August amidst the stunning scenery on the Monterey Peninsula.
The following pages contain a one-stop guide to the history and events that constitute what has come to be known as Monterey Car Week, identifying the period leading up to its climactic event, the Pebble Beach Concours d'Elegance.
Illustration of the transition of Concours from carriages to automobiles: at left is a seven-window Dress Coach used on the occasion of the wedding of Napoleon III to Eugenie de Montijo on January 29, 1853, at right a 1937 Delage D8 Letourneur et Marchand Aerodynamic Coupé at Pebble Beach Concours d'Elegance 2009
Fun Facts About The Pebble Beach Concours d'Elegance
The Pebble Beach Concours d'Elegance, the first event of its type in North America, was held in November 1950 as an afterthought to a road race. Sterling Edwards of San Francisco was a member of the area's Sports Car Club of America chapter and inheritor of his family's steel-cable manufacturing company. With his interests in racing and the potential opportunity to publicize a new car of his own design and manufacture, he pitched the idea of hosting the first post-World War II road races on the West Coast to the Del Monte Properties Company, now Pebble Beach Company, through his friend and company president John B. "Jack" Morse. Morse saw this idea as another way to draw potential customers in order to fulfill his desire to sell vacant property lots and attract tourists to the Pebble Beach Lodge and its incredible 18-hole golf course. Morse was also a former Yale classmate of Sam and Cowles "Miles" Collier, two wealthy brothers who were significant contributors to the postwar revival of road racing on the East Coast. Once the decision was made to host races at Pebble Beach in 1950, the Concours was added to provide a social gathering for racers and attendees and to add a bit of style to the event.
The winner of the first Pebble Beach Concours d'Elegance was a last-minute addition to the show field. The same Sterling Edwards who originated the idea of a road race at Pebble Beach wanted to race and sell his Edwards R-26, a sports car that he designed as both a daily driver and racer. He had already entered the car in the Pebble Beach race and on a whim entered it in the Concours for the publicity. Amazingly, the R-26 ended up winning Best of Show over 30 other cars, mostly late model sports cars, since there was little if any focus on vintage and classic cars as we know them today until the mid-1950s. However, in the racing events Edwards and his R-26 did not fare as well, finishing 14th in the feature race. In consolation, because he won his class race, he was awarded the first Del Monte Trophy. As a postscript, RM Auctions sold his R-26 car from that race (one of eight that he built) in rough condition for $143,750 in 2011.
The last Pebble Beach Road Race occurred in 1956. The initial 1.8-mile circuit expanded to 2.1 miles in the following years that was laid out on city streets through the pine forest, with other parts of the course overlooking the Pacific Ocean. It became an instant hit, initially drawing 10,000 spectators in its first year and growing to 25,000 in its remaining years. Drivers such as Phil Hill (5-time winner) and Carroll Shelby (1956 winner) enjoyed the challenge of its sharp turns and tree-lined roadways. Despite these conditions, there were no serious accidents until 1956, when the fatal crash of hot rod legend Ernie McAfee in a Ferrari 121 LM owned by Union Oil heir William Doheny spelled the end of the road circuit. Early in the next year arrangements were completed to develop a permanent track on land obtained from the nearby Fort Ord army base. As a result, in 1957 this facility opened as the Laguna Seca circuit.
In comparison to Pebble Beach, the oldest running Concours dates from September 1929. The Concorso d'Eleganza Villa d'Este is held annually near the Villa d'Este hotel in Cernobbio, on Lake Como in Italy. The longest continually-running event is the Hillsborough Concours d'Elegance in California and which has been held every year since 1956, although like every other event it was not held in 2020 due to the pandemic. Ignoring a disruption that was beyond its control, Hillsborough can still claim this record, as both Villa d'Este and Pebble Beach have skipped years since 1956 for other reasons.
Arguably the most famous of the many Monterey area golf courses, Pebble Beach Golf Links is closed on one day every year — for the Concours d'Elegance. In its role as the host of the Concours, the 200 or so of the world's finest collector cars competing in the event line the first and 18th fairways, as well as the 17th hole at the practice putting green. Undoubtedly, only a prestigious event like the Pebble Beach Concours d'Elegance could close down such an iconic destination, since for many years it has been ranked by industry publications and experts as the number one public course in the country. As a result, reservations for tee times can run months in advance despite the $595 fee (not including fees for carts, caddies, bags, etc.).
Only one pre-World War I vehicle has ever won Best of Show at Pebble Beach. A 1913 Rolls-Royce Silver Ghost London to Edinburgh Tourer owned by a Milton Walker took the top prize in 1962.
Bugatti has garnered more Best of Show awards at Pebble Beach than any other marque. Its nine wins span from 1956 to 2003.
The highest number of Pebble Beach Best of Show awards to one owner is six. Jack Boison Nethercutt, cofounder of Merle Norman Cosmetics (annual sales $100M in 2018), won in 1958, 1959, 1969, 1970, 1980, and 1992.
American cars have had little success at Pebble Beach. This is probably not a surprise to anyone familiar with the history of the event. While Packard cars have won four times (1961, 1975, 1977, and 2013), a Chrysler 1931 CG Imperial LeBaron Dual Cowl Phaeton won in 1979, notching the only award to a Big Three manufacturer.
17-Mile Drive has always been 17 miles. This scenic drive through Pebble Beach is a major component of the Tour d'Elegance, a popular event during Monterey Car Week in which many of the cars in Sunday's Concours are driven on part of this route prior to the show. The road opened in 1881 as a 17-mile tour around the Monterey Peninsula. At the time it started from the Hotel Del Monte (now the Pebble Beach Lodge) and circled the coastline of Pacific Grove, Pebble Beach and Carmel before returning to Monterey. Over the years the route has undergone some changes in layout, but it remains at its original 17-mile length.
Monterey's famous Lone Cypress has been a landmark for centuries. Known as Midway Point on the original 17-Mile Drive, this iconic tree is instantly recognizable through its inclusion in TV coverage of professional golf events on local courses, commercials, and other media. The Lone Cypress has also been the logo for Pebble Beach Resorts (whose Pebble Beach Golf Links is the location for the Concours d'Elegance) since its founding in 1919. Although it has been visited by travelers via 17-Mile Drive for the last 130 years, it is estimated to be at least twice as old.
Best of Show Winners at the Pebble Beach Concours d'Elegance
The table below is a complete list of winners of the ultimate prize at the Pebble Beach Concours d'Elegance since its inception. A quick perusal confirms some of the fun facts presented in the prior section. In addition, given the focus on vintage and classic vehicles after 1954 it is apparent that only two post-World War II cars have been Best of Show winners, respectively in 1968 and 2014.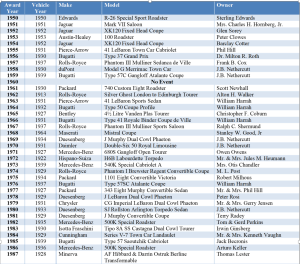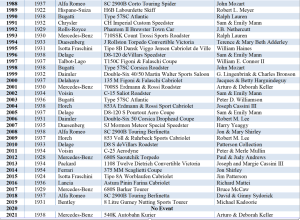 Concours Overview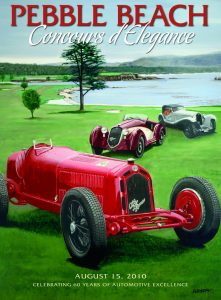 2010 Concours d'Elegance program cover
The Entry Process for the Pebble Beach Concours d'Elegance
Considering the high value of the vast majority of the cars that compete in such an event, and their undoubted very well-heeled owners, it is easy to assume that the payment of a tidy admission fee is the major item that a potential participant would need to take care of to enter the competition. Anyone in the hobby who has attended and/or participated in relatively formal shows has experienced such an occurrence. Unlike your friendly neighborhood Car Show, Cars & Coffee, Cruise Night, or other classic car gathering, it is not just about the money to get into the Pebble Beach Concours d'Elegance. In conjunction with the grandeur and prestige of such an event, or perhaps to emphasize its importance, participants are selected to compete through a formalized and lengthy process.
The whole thing kicks off each November, when entry applications go to many annual participants with a due date at the beginning of January for all completed applications. The Concours Selection Committee reviews the material over several weeks, then meets in late February to determine which cars to invite to the contest.
Most of the applicants are notified of the committee's decision by April. One criterium in their decision that you might think would be key is that as in life experience is an advantage, so it would seem that previously successful applicants would have an edge over first-timers. Once again, the Concours application process does not follow convention. In this case, cars that have not previously been shown at the Pebble Beach Concours d'Elegance or another major Concours are given preference. Additionally, cars are usually screened out by the Concours Selection Committee for a period of ten years unless they have 1) changed ownership, and 2) are freshly restored (or they are an original preservation car).
After acceptance to the Concours, there are more conditions for owners to adhere to. The first is that cars cannot be entered during the month of August at any other event prior to the Concours, with the possible exception for certain cars that are participating in the Rolex Monterey Motorsports Reunion. A second condition is that Concours personnel request that they be informed before a car accepted for the Concours is shown at another venue earlier in the year. The reason? The Pebble Beach Concours d'Elegance has a strong desire to be unique. A car shown in another event may diminish its rarity by just being seen too often, which subsequently may diminish the Concours team's interest in its display at Pebble Beach.
Vehicles Classes For 2022 and Best of Show Criteria
Winners of First, Second, and Third in Class are selected by the Concours' Class Judges based on originality, authenticity, and proper and excellent preservation or restoration. Information concerning each of this year's noted featured classes is in the next section.
Eligibility to win the top award of Best of Show a car must first win its class. Once all of the Class winners are announced and reviewed, a team consisting of the following personnel casts their vote for their choice for Best of Show. The car with the most votes wins the award.
Chief Judge
Chief Honorary Judge
Each Chief Class Judge
Each Honorary Judge team leader
Selected Class Judges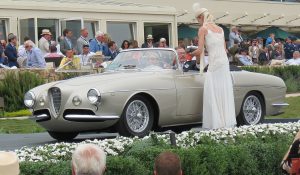 1955 Ghia-Aigle Alfa Romeo 1900CSS receiving class award at the 2013 Pebble Beach Concours d'Elegance. An example of a beautiful car that did not win Best of Show.
2022 Classes
A: Antique
B: McFarlan – Featured Class
C: American Classic
D: Packard
E-1: Lincoln V8 – Featured Class
E-2: Lincoln V12 – Featured Class
E-3: Lincoln Zephyr and Continental through 1962 – Featured Class
F: Unorthodox Propulsion – Featured Class
G: Duesenberg
H: Rolls-Royce Prewar
J-1: European Classic Early Open
J-2: European Classic Late Open
K: Talbot-Lago Grand Sport – Featured Class
L-1: Prewar Preservation
L-2: Postwar Preservation
M-1: Ferrari Grand Touring
M-2: Ferrari Competition
N: Alfa Romeo 8C 2300 – Featured Class
O-1: Postwar Racing
O-2: Postwar Touring Open
O-3: Postwar Touring Closed
P-1: Graber Coachwork Early – Featured Class
P-2: Graber Coachwork Late – Featured Class
R-1: 24 Hours of Le Mans Centennial Early – Featured Class
R-2: 24 Hours of Le Mans Centennial Late – Featured Class
S: Otto Vu – Featured Class
V: 1932 Ford Historic Hot Rods – Featured Class
Featured Classes in 2022
24 Hours of Le Mans 100th Anniversary
Although the first 24 Hours of Le Mans took place on May 26-27 1923, the Concours will host a selection of important Le Mans competitors in the first of a number of celebrations of this historic contest.
1932 Ford Roadster 90th Anniversary
Also known as the "Deuce", this is the legendary car that was at the forefront of the development of hot rods. The show will feature a number of beautifully modified examples as a tribute to the innovative genius of the American hot rod culture.
Alfa Romeo 8C 2300
The Alfa Romeo 8C 2300 is one of the most desired of a series of related tourers of the 1930s. Its family possesses a record of successful racing history, ease of handling, and elegant styling that was the envy of its day. As corroboration of its pedigree, a related 1938 Alfa Romeo 8C 2900B Touring Berlinetta won the first race at Watkins Glen in 1948, and in more recent times the same car won "Best of Show" at Pebble Beach in 2008 followed by a "Best of Show" win in Italy's Concorso d'Eleganza Villa d'Este in 2009.
Graber Coachwork
Hermann Graber of Switzerland started in 1925 as an independent coachbuilder in the village of Wichtrach near Bern. He became renowned for exacting craftsmanship and tasteful styling of convertibles and coupés. Until his passing in 1970 Graber had designed and built over 800 bodies on chassis ranging from Alvis, Aston Martin, Bentley, Bugatti, Duesenberg, Lagonda, Packard, Rolls-Royce to Rover and others. His company exists today as a restorer of German and Italian sports cars along with providing sales, services, and repairs of Ferraris.
Lincoln 100th Anniversary
Although Lincoln celebrates its 100th year as an automaker in 2022, it started out in 1917 building 400-horsepower Liberty V-12 aircraft engines during World War I. With a transition to auto production, it was acquired in 1922 by Ford Motor Company, eventually becoming the luxury car division of the company into the present day.
McFarlan
With a history dating back to horse-drawn conveyances in the mid-1800s the McFarlan Carriage Co. became the McFarlan Motor Car Co. with the introduction of its first automobile in 1910. After further development, they quickly gained a reputation for luxury. With models priced from $2,000 to $10,000 McFarlan autos became known as "the most expensive car made in the US" and "the American Rolls-Royce" during the 1920s. As a result, wealthy sports figures such as boxing champion Jack Dempsey and gangster Al Capone enjoyed the exclusivity of ownership. After going out of business in the late 1920s, a number of sources agree that fewer than two dozen McFarlans are known to exist today.
Otto Vu (Italian for "V-8")
This limited production (118) and thus very rare Fiat automobile was the flagship of its line from 1952 – 1954. It offered a combination of 2-liter V-8 power and racing potential that attracted many of the Italian coachbuilders of the period to incorporating luxurious appointments. The Concours will present examples of this car that was on a vastly different level from what the average Fiat buyer expected during the period.
Talbot-Lago Grand Sport
The T26 Grand Sport (GS) was produced immediately after World War II for either racing or luxury. It traces its lineage directly from Talbot's successful T26 Grand Prix car. Using the T26 Grand Prix's 4.5-liter, inline 6-cylinder engine with aluminum cylinder heads and triple carburetor fuel feed, the GS's top speed of 125 mph made it one of the world's most powerful production cars of the period. The Pebble Beach Concours d'Elegance notes that only 32 cars were produced with 28 surviving today.
Unorthodox Propulsion
This display pays homage to the historic development of vehicles propelled by means other than gasoline engines, and not just steam and electric power as seen in early 20th century automobile designs. The Concours website notes that vehicles utilizing lesser-known propulsion technologies such as coal gas and propellers will be arrayed for viewing. Given the increasing levels of eco-consciousness in our world, perhaps someday one or more of the power sources on display will in some way fuel future vehicles and thus render all gasoline-fueled vehicles as oddities for museums in the future.
Awards and Trophies
As noted in the list below, there are many other awards besides Best of Show given to Pebble Beach participants. Special committees of Honorary Judges select Special Awards and Elegance Awards winners per the stated criteria.
Interestingly, the Concours website notes that most Special Award Trophies are perpetual and are maintained at Pebble Beach. As a result, winners receive a suitable trophy often based on the Pebble Beach Concours Trophy.
Special Awards and Established Dates
Alec Ulmann Trophy (2012)
Awarded to the car that best embodies the combination of excellence in performance and elegance in design.
Ansel Adams Award (1984)
Named for the famous photographer who was a frequent Honorary Judge at Pebble Beach, this award is given to the most desirable touring car in its era.
Art Center College of Design Award (2002)
Awarded to the car that showed the best use of new technology in its era, had groundbreaking style and engineering, and has had the greatest impact on car design today.
Briggs Cunningham Trophy (1978)
Well-known automobile creator and collector Briggs Cunningham donated this trophy to recognize the most exciting open car at the Concours.
Cars At Stanford Award (2013)
The winner of this trophy is determined to be the most technologically advanced automobile of its time on the show field by students and professors from The Center of Automotive Research at Stanford University (CARS).
Classic Car Club of America Trophy (2000)
Awarded to the most significant classic car at the show.
Chairman's Trophy (1983)
This award is for the most deserving car in the show as selected by the Chairman.
Charles A. Chayne Trophy (1978)
Named for a former General Motors Vice President of Engineering and noted supporter of the Pebble Beach Concours d'Elegance, this is another award to the car with the most advanced engineering of its era.
Dean Batchelor Trophy (1977)
In homage to the noted automotive writer and historian, this award to the most significant car associated with Hot Rod heritage was donated by Ford Moro Company.
Elegance in Motion Trophy (1988)
Recognizes the car deemed to be the most elegant participant that successfully completed the Pebble Beach Tour d'Elegance.
Enzo Ferrari Trophy (2005)
As an award to the best Ferrari in the show, the name speaks for itself. The trophy also has its own history in that it was preceded by the Hans Tanner Trophy from 1974 – 1995 and the Luigi Chinetti Trophy from 1996 – 2004.
FIVA Postwar Trophy (1999)
FIVA (Fédération Internationale des Véhicules Anciens) is a worldwide non-profit organization dedicated to the protection, preservation and promotion of historic vehicles that was established 1966. This award is given to the best preserved and regularly driven post-World War II cars as determined by a special Concours committee guided by FIVA regulations.
FIVA Prewar Trophy (1999)
Award has the same history and judging criteria applied to the best preserved and regularly driven pre-World War II cars.
Gran Turismo Trophy (2008)
Awarded to the most significant car balancing both artistic beauty and performance at the highest level and most desired for inclusion in the Gran Turismo game series.
Lincoln Trophy
This award goes to the most significant Lincoln at Pebble Beach.
Lorin Tryon Trophy (1999)
Named for the long-time and dedicated Co-Chairman of the Pebble Beach Concours d'Elegance who was a significant contributor in the successful efforts to attract the most elegant cars to the event. As a result, the award recognizes an automotive enthusiast who has contributed significantly to the Pebble Beach Concours d'Elegance and the car collector world.
Lucius Beebe Trophy (1966)
Given in recognition of the Rolls-Royce considered most in tradition of Lucius Beebe, a show judge in the Concours' early years who contributed greatly to its success, and is also the first perpetual trophy established at the Concours.
Mercedes-Benz Star of Excellence Award (1987)
Donated by Mercedes-Benz and presented to the most significant example of its products in the show field.
Montagu of Beaulieu Trophy (1982)
Donated by noted English vintage car collector and hobby supporter Edward John Barrington Douglas-Scott-Montagu, more familiarly known as Lord Montagu, this award is presented to the most significant car of British origin.
Road & Track Trophy (1989)
Donated by one of the industry's leading publications and awarded to the car that the editors of that magazine would most like to drive.
The French Cup (Mid-1980s)
Awarded to the most significant car of French origin.
The Phil Hill Cup (2005)
In its original incarnation this award was called The Pebble Beach Cup and given to the winner of the Pebble Beach Road Races, which was the marquee event from which stemmed the Pebble Beach Concours d'Elegance. With the end of the road races after 1956 it transitioned to a Concours award for the most significant race car. Since 2005 it takes its name from the celebrated racer who also participated in the Pebble Beach Concours d'Elegance as a two-time winner of Best of Show as well as being a longtime judge.
Tony Hulman Trophy (1993)
Awarded to the most significant open wheel race car by the Indianapolis Motor Speedway Foundation in honor of the man who owned the iconic race track for decades.
Elegance Awards
J.B. & Dorothy Nethercutt Most Elegant Closed Car
This award given to the most elegant closed car in the show is particularly noteworthy as a recognition of excellence in that it is named for the owners who accumulated the highest number of Best of Show awards (6) at Pebble Beach.
Gwenn Graham Most Elegant Convertible
Named for one of the event's founders, this award goes to the most elegant convertible at the Concours.
Jules Heumann Most Elegant Open Car
Annually awarded to the most elegant open car in the show, competing amongst other cars of its type classified by not having side windows.
Strother Macminn Most Elegant Sports Car
This award to the to the most elegant sports car in the show field is named for a respected automotive designer, instructor, and historian who served for years as Chief Honorary Judge at this event.
The Vitesse Elegance Trophy (2012)
"Vitesse" is defined as "the act or quality of acting or moving fast", thus contributing to the understanding of the criteria for this award to the car that best embodies the combination of excellence in performance and elegance in design.
Sanitized for Your Protection: Concours Health and Safety Measures
Because the Pebble Beach Concours d'Elegance is held at Pebble Beach Resorts, all show employees, participants, and guests are subject to the host's policy of following health and safety protocol related to COVID-19 and variants. This protocol is in line with county, state, and federal regulations.
Unless otherwise stated by the show's management, expect the following safety measures to be in effect from Wednesday, August 17 through Sunday, August 21:
Employee Mask Policy: All employees and volunteers will be required to wear masks at all times (indoors and outdoors), unless eating or drinking.
Guest Mask Policy: All participants, guests, judges, and vendors will be required to wear a mask indoors (unless eating or drinking) and strongly encouraged to wear a mask while on the event fields.
Signage and Mask Giveaway: At every event venue and building entrance, we will have signage stating our mask policy and will hand out complementary masks to individuals who do not have one.
Show Field: The Concours Sunday show field will expand to include the 17th hole (in addition to the 18th) to allow for adequate social distancing.
Group Communication: We are working with all corporate hospitality planners to ensure they communicate our mask policies and emphasize to their customers the importance of getting fully vaccinated before traveling.
Sanitization: Sanitizer stations will be placed at multiple locations on the event fields.
For additional information on their entire health & safety protocol here is a link to the appropriate area on the Pebble Beach Concours' website:
https://pebblebeachconcours.net/wp-content/uploads/2021/08/Health-Safety-Protocol-PBC-Pre-Event.pdf
Monterey Car Week Calendar
The number and variety of events leading to the capstone Concours means that there is something for fans of almost every aspect of automotive history to enjoy. The week's events are listed below for quick reference, with details available using Car Show Safari's easy-to-use Events Page. This flagship section of Car Show Safari's site also contains information on other shows around the nation that span the entire spectrum of automotive enthusiast's interests.