Collector Car Showcase on Display
On a single lane road in Oyster Bay, Long Island, in a building easy to miss, is Collector Car Showcase. It is so much more than a car museum, so much more, even, than owner and founder, David Jacobson's vision.
It is a portal through every decade of American history, a living, breathing entity. It transports the patron to a 1920's gas station on the outskirts of Texas, where luxurious Duesenbergs roll up to equally luxurious gas pumps, or to Christmas morning, where one of the pedal cars, now displayed from the ceiling, is waiting for your four year old self beneath the Christmas tree.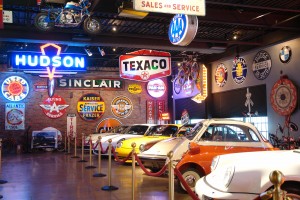 Even those who never lived the years of free standing gas pumps and artistically designed hanging neon signs, can experience them fully in the beautiful front room of Collector Car Showcase. The entrance hangs under a reconstruction classic Shell gas station, and everywhere you turn there is something else to catch the eye.
Before even registering the utterly breathtaking collection of Porsches, all of which are owned by David Jacobson and makes up the current exhibit, 60 Years of Porsche, patrons are met by the sight of thousands of individual pieces of petroliana, everything from neon signs, to Coney Island boardwalk games, to antique motor oil cans. Each piece has a story, and each story is a slice of history.
David Jacobson, 52, founder and owner of Collector Car Showcase, has a story, too. He never intended to make a museum. Instead the whole process began when he was simply looking for a place to house his car collection. When a friend suggested hanging neon and collecting classic car artifacts, the idea for Collector Car Showcase began to grow.
Despite being a car guy his whole life, after growing up with a car guy father, Jacobson fell in love all over again, as he began chasing after unique metal signs, classic gas pumps, and antique pedal cars. He found he deeply enjoyed the thrill of searching for the next great find, even if it wasn't always the most glamorous job."I enjoyed the hunt," he says, of the several year process it took to find all the pieces, "taking trips, going to places, meeting the coolest people in the world. I love that."
But finding each piece of petroliana wasn't the whole job. Eventually, they were going to have to make them all fit, and that included the wiring for each electric sign, and structural support for the heavier hanging pieces. Jacobson began to design the permanent display of his signs and pumps, while allowing plenty of space for the car exhibit being spotlighted to move and change.
text-align:cente                   r
After finally finding the perfect space in Oyster Bay, not far from where Jacobson lives, he set to work with a small team, finalizing blueprints, putting up walls, and trying to make everything fit. But that wasn't enough to keep him busy, and so he and his team also had a television show about the museum's construction filmed and edited through the whole process, from the original finding, to the museum's grand opening, last January. The show goes live on their website on February 18th.
Somehow, through designs, and changes, Jacobson came to a finalized plan, and the physical structure began to take form.
"The biggest challenge was really placement and getting the signs where we wanted them," he says. "And I'll tell you right now, I had these in my house. I had them in my basement. I had them everywhere." It's hard to image the space without them, including the hanging neon signs, which Jacobson says were an afterthought, and can often cost in the tens of thousands of dollars. He refers, specifically, to one of the gems of the collection, a classic Chrysler neon sign, with a unique feature – when turned vertically, half of the sign resembles the Chrysler Building in New York City, with its climbing scallops. That sign alone is worth more than thirty thousand dollars. 
Of course, the collection is largely about the coming together of Jacobson's beloved petroliana, and the cars of the eras. The current exhibit, 60 Years of Porsche, is the fourth to go up at Collector Car Showcase, following American Muscle Cars, The American Hot Rod, and 100 Years of Speed. While the original plan was to turn the museum exhibit over every two months, Jacobson has moved more toward planning and designing the exhibits with extra time to get it right.
"It's not possible, I would lose my mind," Jacobson says, of the first two shows, American Muscle Cars and 100 Years of Speed, which both turned over in just two months. "It was a reality check for me. You have to have a very wide variety of stuff. When people went downstairs and they saw the Corvette and the big block on the Chevelle and the GT350 and the Pantera and the Brickland, it was like I like that." 
While the downstairs level, which serves as both a wide reaching sales room, including Ferraris, Porsches, hot rods, muscle cars, and a bright yellow Pantera, and the variety of the museum, it takes a more discerning eye to spot the truly special cars of the upstairs Porsche exhibit.
All part of Jacobson's private collection, they boast classic models with less than 17,000 miles, two owner classic cars, a Porsche tractor from 1960, and a 1965 21 Window VW Bus, which, along with a gorgeous 1958 BMW Isetta 300, helps maintain the authentic German feel of the exhibit.
"This is our fourth display, and it was a huge success," Jacobson says, and he is certainly the resident Porsche enthusiast to ask. In addition to the display, Collector Car Showcase is working to turn part of the basement into a Porsche restoration shop for their gProgramme Porsches, air cooled Porsches for the vintage performance driven driver. Not modern, it keeps its authenticity of a vintage air cooled Porsche, but with every level of performance raised.
"It's unbelievable," Jacobson says, of driving the gProgramme Porsche currently on display in the museum. "It's the greatest experience I've had behind the wheel of a car. So we build them. I said we have to share this. No one's going to believe this."
In addition to his work with gProgramme, the television show, and everything that goes into running an auto museum, Jacobson and his team are working towards regular car shows, as they clear a lot across the street, as well as hosting public and private events at the museums, through programs such as Gotham Comedy Club in NYC. They have been approached by car owners and car show event hosts alike, to partner on exhibits, shows, and cruises. It seems the only thing keeping Collector Car Showcase from taking on more, is the amount of hours in the day.
"It's a little bit of entertainment stuff, performance stuff, with the show stuff. We are also building and doing events here," Jacobson says. "To me, the future – there's just so much going on, my head's spinning." The museum is certainly not spinning in place. A little more than one year out, and with their TV show release in just a few days, as well as four successful exhibits and multiple celebrity visits, Collector Car Showcase is doing a spot on job of fulfilling the role of the only classic car museum in Long Island.
"We want to be involved in the car community," Jacobson says, of the museum's future. "We want to be involved in auctions. We want to be involved in everything automotive. I just love being plugged into that whole world." They certainly are. And if the automotive hobbyist, classic car guy, or petroliana lover knows a good thing when they see it, they'll be plugged right back into Collector Car Showcase. 

Photos by Tomm Scalera