The Car Enthusiast's Book For Raising a Car Enthusiast
Every car enthusiast knows the importance of passing on the car-loving tradition. We point out vintage cars to the children in our lives, teach the toddlers to pronounce Lam-bor-GEE-knee, and read them every car, truck, and bike-themed book we can get our oil-stained hands on.
For those of us determined to brainwash the next generation into sharing our fanatical love of the automobile, Kevin O'Connell's Abecedarium Automobilium is a can't miss.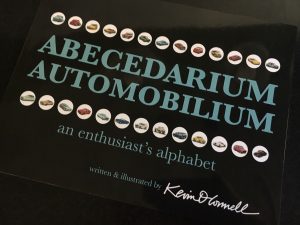 Written and illustrated by O'Connell, Abecedarium Automobilium is a rhyming car-themed alphabet book sure to delight car enthusiasts young and old alike. O'Connell does a remarkable job with the illustrations – capturing angles and lines of long-beloved and not-so-beloved models with accuracy and creativity. A small history at the front of the book tells of O'Connell's decades of experience illustrating cars, but the book truly speaks – or rather, draws – for itself. No model in this book could be mistaken for another, and his skill in illustration is paralleled only by his love for the classic car.
This is particularly clear in O'Connell's choice of which cars to represent. While there are certainly a handful of traditional can't-miss models – like the Volkswagen Beetle, O'Connell goes out of his way to include unique and off the beaten track cars. It is a choice that will very likely inspire the young car enthusiast – or perhaps even the seasoned one – to seek out more information on the Ford Anglia, Crossley or Thames. And we needn't look far. The index in the back of the book offers pertinent and exciting details about the origins, designers, or history of the unique cars mentioned. In many cases, the index also offers a snapshot biography of the writer himself, which cars he or his loved one owned or which models caught his fancy through the years.
There is no denying that Abecedarium Automobilium was written, illustrated, and inspired by a man who loves the automobile, and wishes to pass the same enthusiasm and excitement onto the next generation. While it is certainly a book for children, the content, history and level of production will inspire any car enthusiast to seek answers, delve into history, and start – or continue – on a lifelong journey of loving the car.
As O'Connell writes in his introduction, "all children need to learn the alphabet. Why shouldn't we enjoy it?" With a copy of Abecedarium Automobilium, there is no doubt that they will enjoy it – and so will you.
Author: Kevin O'Connell
Price: $25.00
Images selected from Kevin O'Connell's Website.