Not Exactly What We Had in Mind… and Not a Problem: Best Barn-Find Collector Car Tales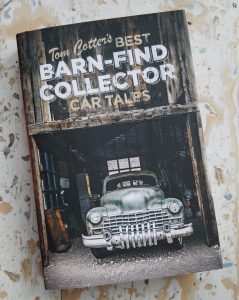 Best Barn-Find Collector Car Tales
Author: Tom Cotter
Publisher: Motor Books
Price: $30.00 / £19.99
If you're any kind of "car guy" you already know who Tom Cotter is, whether from his years in the auto racing public relations business or from his more recent string of barn-find books.  Cotter did not coin the term "barn find," but he has popularized it and in effect made a career of it, chasing down leads to acquire neglected cars of significance and sharing the stories of those cars and their discovery in several well-received books.
From The Cobra in the Barn to 50 Shades of Rust to Barn Find Road Trip to Motor City Barn Finds and more, Cotter has been a prolific writer on barn-findery as well as other automotive topics such as profiles of custom car builder Dean Jeffries and drag racer Tommy Ivo, a history of the Holman-Moody racing team and a travelogue about driving a Model T Ford coast-to-coast.
Yet, despite having known of Cotter since his days at the Charlotte Motor Speedway and having enjoyed his company at the Hemmings Concours, we confess that Tom Cotter's Best Barn-Find Collector Car Tales is the first of his books that we have read.  This, not because we were not interested, but simply because we didn't get around to it… until now.  And we were surprised by it.  Pleasantly, but surprised nonetheless.
We expected  Tom Cotter's Best Barn-Find Collector Car Tales to be tales from Cotter's personal experience.  After all, he is a passionate car-lover and dedicated barn-find hunter who has traveled, quite literally, around the world in pursuit of old cars hidden away.  But the clue to how this book differed from our expectation was found on the second page of the introduction: Cotter explains that the book is a collection of his favorite barn find stories, but not necessarily his stories.  They are the stories that he has "collected, written about, or heard over the past couple of decades."
Only a small number of the stories involve Cotter on a first-person basis.  In a generous fashion, he tells of barn-finding adventures undertaken by friends and strangers alike, ranging from exhuming vintage motorcycles in suburbia to uncovering long-lost automotive relics behind the former Iron Curtain.  And sometimes the stories stray from a strict definition of "barn find," with interesting cars discovered hidden in the brush or even in plain sight in a driveway.
The cars are just as often "everyman" cars as they are rare and exotic specimens, and typically the heart of the tale is the story accompanying the car, not just the car itself.
None of these differences from our expectations detract in any way from the enjoyment to be derived from this book.  It is written in a breezy style, and each story covers only a few pages, leaving room for more than 50 stories in all.  A small handful are written by others, and at least one was published previously.  Numerous photos of the "finds" are sprinkled throughout.
Although there are lessons in barn-finding techniques to be gleaned (such as have patience, follow every lead, wear old clothes and check for ticks), this is not a book with a serious scholarly intent.  The car hobby is supposed to be fun, and Cotter places barn-finding in that context.  It's a light read, perfect when paired with a bookmark for the throne room or the beach or the bedside.
Tom Cotter's Best Barn-Find Collector Car Tales is published by Motorbooks, an imprint of the Quarto Group, and is available through most retail and specialty booksellers.