A First Timer at the North American International Auto Show
Although those of us in the north are waiting out another long, cold winter, all is not lost in the world of car shows. We're currently in the thick of International Auto show season along with all of the great concepts and premieres they bring. I recently had a chance to attend the North American International Auto Show in Detroit. Not only was it my first time checking out this particular show, it was my first time ever in Detroit. Not that I had much of a chance to explore the city, as the show kept me busy for almost the entire day. Just to sweeten the deal, I had a new camera to take out for the first time! Let's take a look at what Detroit had to offer this year.
Not only am I a fan of car shows, I also really love a good concert. These two worlds come together on the international auto show circuit in the form of massive stages with elaborate designs and lighting systems, all intended to attract maximum amounts of attention. The end result can feel like you're stepping onto the stage at a Motley Crue show to check out the latest Alfa-Romeo. Chrysler's setup was especially impressive this year, with a light show set to music going off every 10 or 15 minutes.
Of course, what's the point of all that flash if you're not gonna bring any substance to the table? Fear not, for there were plenty of amazing cars to check out up close and personal. Let's start with some vehicles that will be hitting the road for the first time in the next year or two.
One of many cars making their world premiere in Detroit is BMW's pint-size powerhouse, the M2. It's a successor to the out-of-production 1 Series M Coupe, and promises to wring 365 horsepower out of turbo inline-6. Not only is this a great spiritual successor to the legendary 2002 Neue Klasse Bimmers of old, but the price point doesn't put it hideously out of reach for a lot of people. If I could park anything modern with a kidney-bean grill in my driveway, this would be the car.
Porsche took the wraps off the new 911 Turbo and Turbo S in Detroit, continuing a long line of upgraded 911's. The distinctive side scoops and extra vents on the rear bumper make a return, keeping some traditional 911 Turbo styling cues alive for a new generation. Performance is extremely impressive, with 60 miles an hour arriving in a scant 2.7 seconds in Turbo S guise. Naturally, that performance doesn't come cheap, with prices starting just short of $160,000.
Speaking of power, here's a car that is sure to scare quite a few passengers. This is a Force 1, built by VLF Automotive. At the helm of the company is legendary auto exec Bob Lutz, and designer Henrik Fisker. The bones of this vehicles are sourced from a Dodge Viper, with an all-carbon fiber body dropped on top and the V-10 massaged up to 745 horsepower. Oh, and it has a wine bottle holder with capacity for two bottles and integrated WiFi. Just don't make a top-speed run after you've enjoyed your in-car wine and checked your Facebook. Processing booze at 218 miles an hour is not recommended by the manufacturer.
Given the involvement of Henrik Fisker, it wasn't surprising to see a new version of the Karma at their stand as well.  No hybrid tech this time around, just pure Corvette ZR1-sourced V-8 power and a new name (Destino).
I thought this flashy Lexus may have been a concept car at first, but this is actually their production-ready LC 500. Based closely on a concept from several years ago, it is a pretty big car intended to be at the top of the Lexus product pyramid. The most impressive piece of tech from this car for me was the transmission: a 10-speed automatic, claimed to shift just as quickly as any modern semi-auto. The interior looks like one massive, curvy bit of gauge-studded leather; definitely a comfortable office in which to take care of your high-speed business.
While this particular car might not be a premiere, it is one that I was especially excited to see for the first time. It's the new Alfa Romeo Giulia sports sedan. Designed with a 50-50 weight distribution and heavy use of carbon fiber in mind, it will be the first Alfa in a while designed for big-volume sales in the States. The beautiful little 4c was a great start to getting back on their feet in America, but it's far past time to see this storied Italian marquee pick their sales up here again. Compared to rivals from BMW, Audi, Mercedes, and the like, the Giulia seems a bit more stripped-down and performance oriented. As long as there aren't further development delays, expect to see this new Alfa hit the streets this summer.
Moving on from the premieres and new cars, let's check out a few of the concepts that were on display. We'll start off with Toyota, who always seems to bring some serious oddball concepts to the party.
This is the Kikai, a car built to showcase the beauty of automotive mechanics. The idea was to strip away as much of a traditional car's body as possible, revealing artfully-designed bits of suspension, motor, and chassis. Initially premiering at the 2015 Tokyo Auto Show, it definitely gives off some Terminator vibes. With sliding doors allowing entry for the driver and a pair of passengers, this little guy is sure to offer a simple and fun driving experience with seriously head-turning looks.
Another concept from Toyotaland was this, the Scion C-HR crossover. Unlike the wacky little Kikai, this one will result in a production car, set to be unveiled in Geneva this year. Using a hybrid drivetrain and the same basic chassis from the Prius, it will now be hitting the U.S. as a Toyota thanks to the very recent demise of Scion. It's essentially a Toyota version of the Nissan Juke. Hopefully they don't dilute the concept-car weirdness too much from this, as it has a lot of presence.
Acura brought out their Precision concept, which aims to preview an overall future direction for their design language. It's a much bigger car than anything Acura currently has to offer, and borrows some cues from the NSX. Loads of creases and massive all-digital displays paint a picture of a more aggressive and tech-focused future for the brand. And once again, I really hope this car makes it to production without too much change.
Making it's debut in Detroit was this muscular pickup: the Nissan Titan Warrior concept. Echoing trucks like the Ford Raptor and Ram Power Wagon, it's a beefed-up version of the standard Titan made for playtime off-road. With a Cummins diesel pounding away under the hood, lifted suspension, oversized tires, and long-travel suspension, it's pretty close to showroom ready at this point. Whether or not that happens remains to be seen, but it's interesting to see how Japanese manufacturers have so thoroughly embraced the pickup truck market.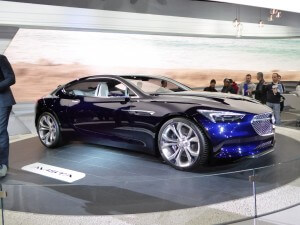 Finally, the car that seemed to be the big star of Detroit this year: Buick's Avista concept. It is one of the most beautiful new designs I've seen in the last few years, and hopefully signals a major return to prominence for a storied American brand. 3-D printing was used to manufacturer a number of parts for this car, a technique which is becoming increasingly prevalent for both full-scale manufacturing and rapid prototyping. The interior of the car is just as sleek as the outside, and keeps the driver in touch with a twin-turbo V-6 and 8-speed transmission. What's great about it is the relative lack of overly-complicated styling elements. Great job here by Buick's design team.
All the shiny, brand-new stuff is great, but a real auto show wouldn't be complete without some unique special interest vehicles. Given the prominence of Detroit for the American auto industry, there were plenty on hand to check out.
A lot of people were looking at these filthy classic cars by the entrance, and wondering "How were these allowed in?" Well, it was the end result of an epic road trip put on by the LeMay Museum. Based out of Tacoma, Washington, these cars were driven from their current home back to their original birthplace deep in the throes of winter. That is a 2,900 mile journey for three well-preserved senior citizens, and they all made it on time thanks to a very dedicated team. Gotta love when the old museum pieces make it back out on the roads where they belong.
The Dub Show Tour was in town with some very high-end customs, including this Dodge Charger with a 2-door conversion. Massive rims, a widebody kit, and completely customized interior complete the package on this car. While the styling might not mesh with everybody's personal tastes, you just have to appreciate the amount of work and attention to detail that goes into a build like this.
This '66 Caddy was just too clean not to love. Slammed, equipped with black wire wheels, and decked out with a black-and-white interior, it's like a classy suit that never goes out of style.
A handful of modern exotics were drawing a pretty huge crowd, as it's not every day you get to see a car like a Ferrari or Rolls-Royce out and about. The most unique car in the crowd was the obscure American on the far left , a Falcon F7. Making it's debut in Detroit five years ago, it is an extremely lightweight mid-engine beast. Tipping the scales at just 2,875 pounds and powered by a Corvette-sourced V-8 with Lingenfelter upgrades must make this car a scary fast road-bound missile. Up to 1,100 horsepower can be had, and only 12 F7's roll of the production lines every year.
Various defense contractors were also on hand to show some of the latest tools used by the men and women in uniform. I found this particular vehicle to be especially interesting: it's a Stryker Engineer Squad Vehicle, or ESV. Vehicles like this are absolutely critical to the support of military operations. This variant of the Stryker APC is used by combat engineers to clear paths through minefields at a rate of 8-10 miles an hour, allowing for the rest of the convoy to safely carry on their mission.
All in all, Detroit more than impressed with a variety of world premieres, flashy concepts, and a mix of classics and customs. I'll certainly by making a tradition out of this show. 

x
Images by Chris Barner