2023 Monterey Car Week and the Pebble Beach Concours d'Elegance
Illustration of the transition of Concours from carriages to automobiles: at left is a seven-window Dress Coach used on the occasion of the wedding of Napoleon III to Eugenie de Montijo on January 29, 1853, at right a 1937 Delage D8 Letourneur et Marchand Aerodynamic Coupé at Pebble Beach Concours d'Elegance 2009.
In the automotive world, terms with French origins are not as prevalent as in other fields, notably aviation, where fuselage, empennage, aileron, and others have been in common use since the birth of that industry. However, it is probably safe to say that the term Concours d'Elegance is universally recognized by anyone with an interest in the collector car segment of the automotive industry as a "contest of elegance" per its literal translation from French. Though such contests originated as competitions among wealthy aristocrats in 17th century Paris who developed and exhibited ornate horse-drawn carriages in the city's parks, the competition retains the flavor of its original intent in transitioning from the conveyances of its beginnings into stylish mechanized vehicles that are the epitome of personal ground transportation.
Today, there are many Concours d'Elegance held around the world as celebrations of automotive excellence. Among the most-recognized and respected of these is the Pebble Beach Concours d'Elegance. While the Pebble Beach Concours d'Elegance, often referred to as just Pebble Beach, is one of the top vintage and classic car shows of the year, over the years additional events have been added prior to the Concours so that it is actually the culmination of a series of automotive showcases occurring annually in August amidst the stunning scenery on the Monterey Peninsula.
The following pages contain a one-stop guide to the history and events that constitute what has come to be known as Monterey Car Week, identifying the period leading up to its climactic event, the Pebble Beach Concours d'Elegance.
Fun Facts About The Pebble Beach Concours d'Elegance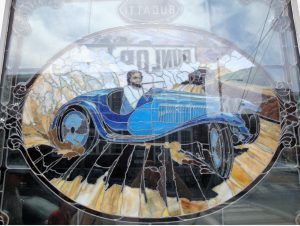 Image via Jim G.
The Pebble Beach Concours d'Elegance, the first event of its type in North America, was held in November 1950 as an afterthought to a road race.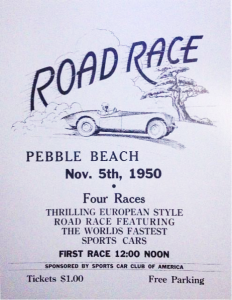 Image Via Road Scholars
Sterling Edwards of San Francisco was a member of the area's Sports Car Club of America chapter and inheritor of his family's steel-cable manufacturing company. With interests in racing and a desire to publicize a new car of his own design and manufacture (the R-26), he pitched the idea of hosting the first post-World War II road races on the West Coast to the Del Monte Properties Company, now Pebble Beach Company, through his friend and company president John B. "Jack" Morse. Morse saw this idea as another way to draw potential customers in order to fulfill his desire to sell vacant property lots and attract tourists to the Pebble Beach Lodge and its incredible 18-hole golf course. Morse was also a former Yale classmate of Sam and Cowles "Miles" Collier, two wealthy brothers who were significant contributors to the postwar revival of road racing on the East Coast. Once the decision was made to host races at Pebble Beach in 1950, the Concours was added to provide a social gathering for racers and attendees and to add a bit of style to the event.
The winner of the first Pebble Beach Concours d'Elegance was a last-minute addition to the show field.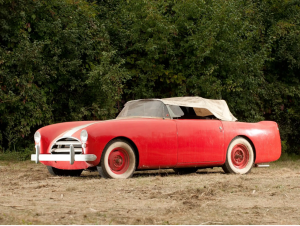 Image Via RM Sotheby's
Sterling Edwards wanted to race and sell his R-26, a sports car that he designed as both a daily driver and racer. After entering the car in the Pebble Beach race, on a whim he also entered it in the Concours for the publicity. Amazingly, the R-26 won Best of Show over 30 other cars, mostly late-model sports cars, since the focus on vintage and classic cars did not occur until the mid-1950s. However, in the racing events the R-26 did not fare as well, finishing 14th in the feature race. Because he won his class race, Edwards was awarded the first Del Monte Trophy as consolation. As a postscript, RM Auctions sold the R-26 for $143,750 in 2011 as part of the Lee Roy Hartung estate sale.
The last Pebble Beach Road Race occurred in 1956.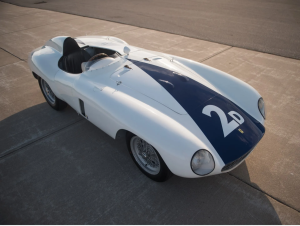 Image Via RM Sotheby's 
The initial 1.8-mile circuit expanded to 2.1 miles in the following years that was laid out on city streets through the pine forest, with other parts of the course overlooking the Pacific Ocean. It became an instant hit, initially drawing 10,000 spectators in its first year and growing to 25,000 in its remaining years. Drivers such as Phil Hill (5-time winner) and Carroll Shelby (1956 winner) enjoyed the challenge of its sharp turns and tree-lined roadways. Interestingly, both of them won at the helm of the same 1955 Ferrari 750 Monza Scaglietti Spyder illustrated above, which sold for $5,225,000 at RM Sotheby's Monterey auction in 2016. Despite these conditions, there were no serious accidents until 1956 when hot rod legend Ernie McAfee died in the crash of a Ferrari 121 LM owned by Union Oil heir William Doheny. Early in the next year arrangements were completed to develop a permanent track on land obtained from the nearby Fort Ord army base. As a result, in 1957 this facility opened as the Laguna Seca circuit.
In comparison to Pebble Beach, the oldest running Concours dates from September 1929.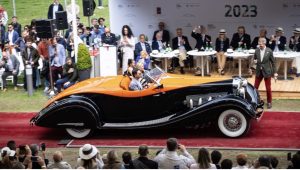 Image Via Concorso D'Eleganza Villa D'Este 
The oldest Concours is The Concorso d'Eleganza Villa d'Este that has been held annually at the Villa d'Este hotel in Cernobbio, on Lake Como in Italy. The 1935 Duesenberg SJ seen above was the 2023 winner at this event. However, the longest continually-running Concours is the Hillsborough Concours d'Elegance in California which has been held every year since 1956, although like every other event it was not held in 2020 due to the pandemic. Ignoring a disruption that was beyond its control, Hillsborough can still claim this record, as both Villa d'Este and Pebble Beach have skipped years for other reasons. In 2023 it awarded two Best Of Show trophies: a 1929 Duesenberg Model J was awarded Best of Show (below left) and a 1955 O.S.C.A Sports Racing Special (below right)was the inaugural Best of Show – Sport winner.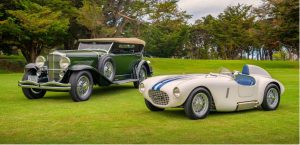 Image Via Hillsborough Concours d'Elegance 
Arguably the most famous of the many Monterey area golf courses, Pebble Beach Golf Links is closed on only one day every year — for the Concours d'Elegance.
Image Via Jay Cross 
The image above captures a gathering of Ferraris, led by a 1954 Ferrari 500 Mondial Spider Pinin Farina, on the 17th hole at the 2015 Pebble Beach Concours. In its role as the host of the Concours, the 200 or so of the world's finest collector cars competing in the event line the first and 18th fairways, as well as the 17th hole at the practice putting green. Only a prestigious event like the Pebble Beach Concours d'Elegance could close down such an iconic destination, since for many years it has been ranked by industry publications and experts as the number one public course in the country. As a result, reservations for tee times can run months in advance despite the $625.00 fee (not including fees for carts, caddies, bags, etc.).
Only one pre-World War I vehicle has ever won Best of Show at Pebble Beach.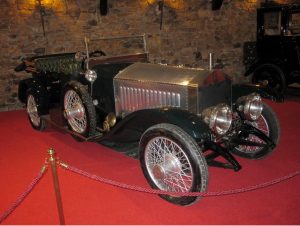 Image Via Spanish Coches
A 1913 Rolls-Royce Silver Ghost London to Edinburgh Tourer took the top prize in 1962. A similar 1913 Rolls Royce 4050 Silver Ghost Continental London Edinburgh is included above as seen in 2010 in an unidentified location.
Bugatti has garnered more Best of Show awards at Pebble Beach than any other marque.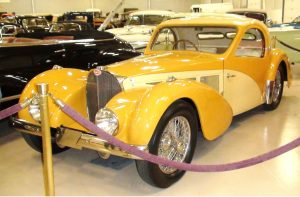 Image Via Tino 
Its nine wins span from 1956 to 2003. The example above is a 1937 Bugatti Type 57 SC Atalante carrying chassis number 57-551 that was photographed in 2010. It won Best of Show at Pebble Beach in 1976 while owned by classic car collector William Harrah of Reno, NV. It is particularly notable in that it was the last of Harrah's four Best of Show winners, following his previous wins with Bugattis in 1964 (1932 Type 50 Coupe Profile) and 1966 (Type 41 Royale Binder Coupe de Ville). The car is painted in its original Patrol Cream and Lemon Oxide colors.
The highest number of Pebble Beach Best of Show awards to one owner is six.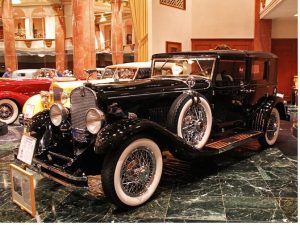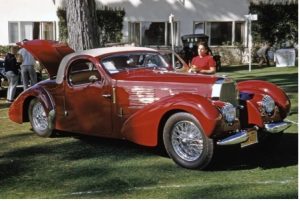 (L) 1958 Win – 1930 duPont Model G Merrimac Town Car. (R) 1959 Win – 1939 Bugatti Type 57C Gangloff Atalante Coupe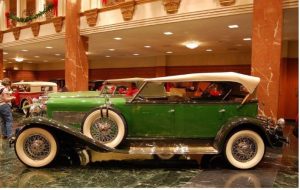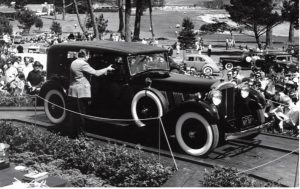 (L) 1969 Win – 1934 Duesenberg J Murphy Dual Cowl Phaeton. (R) 1970 Win – 1931 Daimler Double-Six 50 Royal Limousine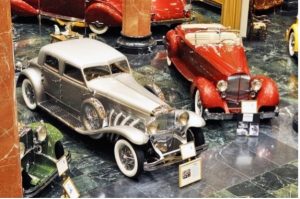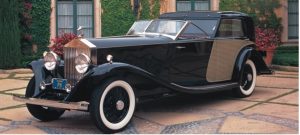 (L) 1980 Win – 1933 SJ Rollston Arlington Torpedo Sedan. (R) 1992 Win – 1929 Rolls-Royce Phantom II Brewster Town Car
Jack Boison Nethercutt (October 11, 1913 – December 6, 2004), cofounder of Merle Norman Cosmetics, won in 1958, 1959, 1969, 1970, 1980, and 1992. All photographs are from the Nethercutt Collection with the exception of the 1931 Daimler Double-Six 50 Royal Limousine which is courtesy of Pebble Beach Concours d'Elegance.
Big Three American cars have had little success at Pebble Beach.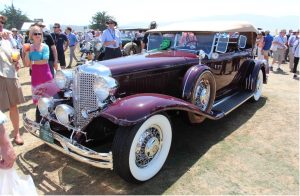 Image Via Wikimedia Commons 
This is probably not a surprise to anyone familiar with the history of the event. While Duesenberg cars have won six times (1969, 1978, 1980, 1981, 1994, and 2007) and Packard cars have won five times (1961, 1975, 1977, 2013, and 2022), Chrysler is the only Big Three manufacturer to win at Pebble Beach. Chryslers have won twice, with a 1931 CG Imperial LeBaron Dual Cowl Phaeton winning in 1979 like the example above and below a 1932 CH Imperial Custom Speeder that won in 1991.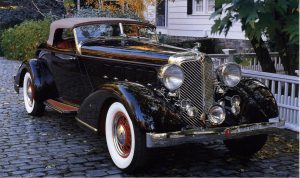 Credit: Vanderbilt Cup Races 
17-Mile Drive has always been 17 miles.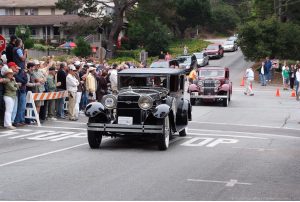 Image Via Motohide Miwa
This scenic drive through Pebble Beach is a major component of the Tour d'Elegance, a popular event during Monterey Car Week in which many of the cars in Sunday's Concours are driven on part of this route prior to the show. Pictured is a 1929 Stutz Model M LeBaron town car on the route in the 2011 edition of this event. The road opened in 1881 as a 17-mile tour around the Monterey Peninsula. At the time it started from the Hotel Del Monte (now the Pebble Beach Lodge) and circled the coastline of Pacific Grove, Pebble Beach, and Carmel before returning to Monterey. Over the years the route has undergone some changes in layout, but it remains at its original 17-mile length.
Monterey's famous Lone Cypress has been a landmark for centuries.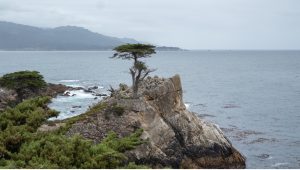 Image via Alexander Hatley
Known as Midway Point on the original 17-Mile Drive, this iconic tree is instantly recognizable through its inclusion in TV coverage of professional golf events on local courses, commercials, and other media. The Lone Cypress has also been the logo for Pebble Beach Resorts (whose Pebble Beach Golf Links is the location for the Concours d'Elegance) since its founding in 1919. Although it has been visited by travelers via 17-Mile Drive for the last 130 years, it is estimated to be at least twice as old.
American Cars Versus European Cars: An Exploration Of Value Disparity
It's not news that for quite some time European models have overwhelmingly been valued and sold at higher prices than their American contemporaries in some segments of the collector car market. In a way the winners of Best of Show at The Pebble Beach Concours d'Elegance on the following page provide tangible (and high-profile) evidence of this perspective as a predominance of European cars is readily apparent.
The difference in value and selling prices of American and European counterparts was the subject of an article in the New York Times in early July 2023. It provides a foundation for a thought-provoking discussion on this topic. Like many questions there is no single answer, as the article includes explanations from various industry professionals that offer intriguing insights.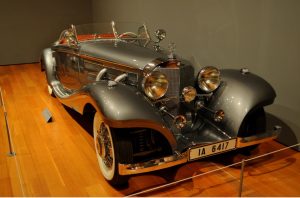 A 1937 Mercedes Benz 540K Special Roadster seen in 2010 at the High Museum is similar to one that sold for $9,905,000 at Pebble Beach in 2022. Image via Mike from Atlanta.
The article first deals with the basic argument that European cars are superior in quality. Acknowledging that all aspects of the American automobile industry experienced a decline after the 1960s, it also counters with the reminder that many American cars were renowned for style and engineering prior to the ensuing industry-wide issues. On this point the article highlights the fact that pre-World War II models from brands like Duesenberg and Cord were equipped with mechanical features and styling that were arguably on the same level as European cars.
For comparison, the article follows up with the fact that these American icons rarely sell for similar amounts to their European equivalents. Proof of this occurrence was offered from insurer Hagerty in that a 1935 Duesenberg SSJ is the only American car to make the list of the 30 most-valuable cars ever sold at auction when one example sold for $22M in 2018.
Other points for consideration provided by the polled experts cited in the article are:
Vintage American autos such as Duesenbergs are renowned and appreciated for their quality but are perceived by collectors as museum displays rather than actual drivers
Collectors pay more for vintage European cars because they drive more like current automobiles, stimulating more regular use by their owners
Certain European models may have more resources available to maintain the car in comparison to similar American models; proof offered in the greater number of facilities and experts supporting Bentleys compared to the Cord 810/812
Some collectors equate technical complexity with elegance which increases their perceived value, exemplified by recent sales by Gooding & Company of a 1964 Jaguar E-Type Roadster (by reputation a challenge to operate) for $92,400 and a 1963 Corvette convertible for $52,640
Motorsport influence; U.S.A. car makers weren't as involved in sports car and Formula 1 racing, missing the glamour and a cachet that follows with such involvement
Mass production and the push for "a car in every garage" in the U.S.A. fostered a perception that American cars are not as interesting as European cars made in smaller volumes and affordable only by the wealthy
Prestige U.S.A. brands like Pierce-Arrow and Packard ceased to exist long ago, while pedestrian Cadillacs and Lincolns produced in the 1970s and 1980s impacted the reputation of their entire lineage. European brands like Mercedes-Benz, Bentley, and Alfa Romeo still exist and continue to have name recognition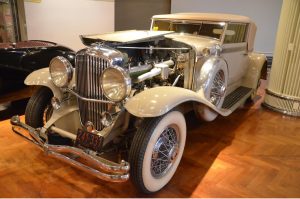 A contemporary of the Mercedes 540K is this 1931 Duesenberg J at the Ford Museum in 2016, and is similar to a Model J "Disappearing Top" convertible sold at Amelia Island in March 2023 for $4,295,000. Image Via Joe Ross.
The 30 Most Expensive Cars Sold At Auction
The series of events comprising Monterey Car Week and its capstone Pebble Beach Concours d'Elegance attract an incredible number of vintage vehicles for display and for sale in the many auctions held in the area during this time. In consideration of this last aspect, here is the list of the best of the best vehicles sold at auction categorized by sale price and compiled by Hagerty. Note that over half of the vehicles were sold during the month of August, an indicator that the sale probably occurred in an auction held during and possibly at Car Week.
| | | | | |
| --- | --- | --- | --- | --- |
| No. | Year, Make, and Model | Sale Price ($) | Auction House | Date Sold |
| 1 | 1955 Mercedes Benz 300 SLR Uhlenhaut Coupe | 142,000,000 | RM Sotheby's | 05/05/2022 |
| 2 | 1962 Ferrari 250 GTO | 48,405,000 | RM Sotheby's | 08/25/2018 |
| 3 | 1962 Ferrari 250 GTO | 38,115,000 | Bonhams | 08/14/2014 |
| 4 | 1957 Ferrari 335 S | 35,763,848 | Artcurial | 02/05/2016 |
| 5 | 1954 Mercedes-Benz W196 | 29,650,095 | Bonhams | 07/12/2013 |
| 6 | 1956 Ferrari 290 MM | 28,050,000 | RM Sotheby's | 12/10/2015 |
| 7 | 1967 Ferrari 275 GTB/4S | 27,500,000 | RM Sotheby's | 08/15/2013 |
| 8 | 1964 Ferrari 275 GTB/C | 26,400,000 | RM Sotheby's | 08/15/2014 |
| 9 | 1956 Aston Martin DBR1 | 22,550,000 | RM Sotheby's | 08/18/2017 |
| 10 | 1956 Ferrari 290 MM | 22,005,000 | RM Sotheby's | 12/08/2018 |
| 11 | 1955 Ferrari 410 Sport | 22,005,000 | RM Sotheby's | 08/20/2022 |
| 12 | 1935 Duesenberg Model SSJ | 22,000,000 | Gooding & Co. | 08/24/2018 |
| 13 | 1955 Jaguar D-Type | 21,780,000 | RM Sotheby's | 08/19/2016 |
| 14 | 1963 Aston Martin DP215 | 21,455,000 | RM Sotheby's | 08/24/2018 |
| 15 | 1995 McLaren F1 | 20,465,000 | Gooding & Co. | 08/13/2021 |
| 16 | 1994 McLaren F1 | 19,805,000 | RM Sotheby's | 08/16/2019 |
| 17 | 1939 Alfa Romeo 8C 2900 B Lungo | 19,800,000 | RM Sotheby's | 08/19/2016 |
| 18 | 1939 Alfa Romeo 8C 2900 B Touring | 18,563,605 | Artcurial | 02/05/2019 |
| 19 | 1961 Ferrari 250 California | 18,405,440 | Artcurial | 02/06/2015 |
| 20 | 1954 Ferrari 375 Plus | 18,309,613 | Bonhams | 06/27/2014 |
| 21 | 1959 Ferrari 250 California | 18,150,000 | Gooding & Co. | 08/20/2016 |
| 22 | 1962 Ferrari 250 California | 18,045,000 | Gooding & Co. | 03/03/2023 |
| 23 | 1959 Ferrari 250 California | 17,990,000 | RM Sotheby's | 12/06/2017 |
| 24 | 1964 Ferrari 250 LM | 17,600,000 | RM Sotheby's | 08/13/2015 |
| 25 | 1961 Ferrari 250 California | 17,160,000 | Gooding & Co. | 03/11/2016 |
| 26 | 1964 Ferrari 250 LM | 17,120,268 | Artcurial | 07/06/2023 |
| 27 | 1961 Ferrari 250 California | 16,830,000 | Gooding & Co. | 08/16/2015 |
| 28 | 1962 Ferrari 250 GT | 16,500,000 | Gooding & Co. | 08/15/2015 |
| 29 | 1957 Ferrari 250 TR | 16,390,000 | Gooding & Co. | 08/20/2011 |
| 30 | 1995 McLaren F1 | 15,620,000 | Bonhams | 08/18/2017 |
Source: Hagerty 
A Surprising Concours Entry And A Bright Future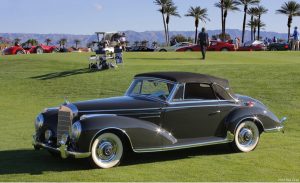 Image Via Rex Gray
Undoubtedly, many people in the car collecting hobby were probably taken aback with the news that a car restored by a group of college students will compete in this year's Pebble Beach Concours. Possible thoughts of the entry being something from the "Fast and Furious" movie franchise or the Lincoln-turned-assault vehicle in "Animal House" were quickly dispelled with the announcement that the car is a 1953 Mercedes Benz 300S Cabriolet.
The 300S was the most luxurious car in Mercedes' product line in the early 1950s. For reference, the above photograph is of a similar Mercedes-Benz 300Sc Cabriolet A of the same vintage at the 2010 Desert Classic Concours d'Elegance in Palm Springs, CA.
Possibly an additional surprise to many is that the restoration team is no ordinary group of college students. All of the more than 60 team members are in several class years at McPherson College in Kansas who matriculated in the school's Automotive Restoration Technology Program. This program was originally established in 1976 to supply a demographically aging segment of the hobby with a continuous supply of professional artisans to support the needs of collectors into the future. After almost 50 years of existence, McPherson remains as the only school to provide a bachelor's degree in Restoration Technology.
All of the team, advisers, and supporters are justifiably of the results of the immense amount of work that has gone into the restoration. To put the effort into perspective, the program's director Brian Martin said, "Imagine as if an all-state winning high school football team played a championship-caliber N.F.L. team in the Super Bowl, that's really what this is like."
To put a period on what this appearance means to the school and the program, Mr. Martin also states, "Regardless of the outcome at Pebble Beach, this project will mark a turning point in both the restoration program and McPherson College."
Best of Show Winners at the Pebble Beach Concours d'Elegance
The table below is a complete list of winners of the ultimate prize at the Pebble Beach Concours d'Elegance. A quick scan confirms some of the fun facts presented in the prior section. In addition, given the focus on vintage and classic vehicles after 1954 it is apparent that only two post-World War II cars have been Best of Show winners, respectively in 1968 and 2014.
Award Year
Vehicle Year
Make
Model
Owner
1950
1950
Edwards
R-26 Special Sport Roadster
Sterling Edwards
1951
1951
Jaguar
Mark VII Saloon
Mrs. Charles H. Hornberg, Jr.
1952
1952
Jaguar
XK120 Fixed Head Coupe
Glen Sorey
1953
1953
Austin-Healey
100 Roadster
Peter Clowes
1954
1952
Jaguar
XK120 Fixed Head Coupe
Barclay Cotter
1955
1931
Pierce-Arrow
41 LeBaron Town Car Cabriolet
Phil Hill
1956
1930
Bugatti
Type 37 Grand Prix
Dr. Milton R. Roth
1957
1937
Rolls-Royce
Phantom III Mulliner Sedanca de Ville
Frank B. Cox
1958
1930
duPont
Model G Merrimac Town Car
J. B. Nethercutt
1959
1939
Bugatti
Type 57C Gangloff Atalante Coupe
J. B. Nethercutt
1960
No Event
1961
1930
Packard
740 Custom Eight Roadster
Scott Newhall
1962
1913
Rolls-Royce
Silver Ghost London to Edinburgh Tourer
Alton H. Walker
1963
1931
Pierce-Arrow
41 LeBaron Sports Sedan
William Harrah
1964
1932
Bugatti
Type 50 Coupe Profile
William Harrah
1965
1927
Bentley
4½ Litre Vanden Plas Tourer
Christopher F. Coburn
1966
1931
Bugatti
Type 41 Royale Binder Coupe de Ville
William Harrah
1967
1937
Rolls-Royce
Phantom III Mulliner Sports Saloon
Ralph C. Shermund
1968
1964
Maserati
Mistral Coupe
Stanley W. Good, Jr
1969
1934
Duesenberg
J Murphy Dual Cowl Phaeton
J. B. Nethercutt
1970
1931
Daimler
Double-Six 50 Royal Limousine
J. B. Nethercutt
1971
1927
Mercedes-Benz
680S Gangloff Open Tourer
Owen Owens
1972
1922
Hispano-Suiza
H6B Labourdette Torpedo
Mr. & Mrs. Jules M. Heumann
1973
1939
Mercedes-Benz
540K Special Cabriolet A
Mrs. Otis Chandler
1974
1929
Rolls-Royce
Phantom I Brewster Regent Convertible Coupe
M. L. Post
1975
1934
Packard
1101 Eight Convertible Victoria
Robert Milhous
1976
1937
Bugatti
Type 57SC Atalante Coupe
William Harrah
1977
1927
Packard
343 Eight Murphy Convertible Sedan
Mr. & Mrs. Phil Hill
1978
1929
Duesenberg
J LeBaron Dual Cowl Phaeton
Peter Rosi
1979
1931
Chrysler
CG Imperial LeBaron Dual Cowl Phaeton
Mr. & Mrs. Gerry Jensen
1980
1933
Duesenberg
SJ Rollston Arlington Torpedo Sedan
J. B. Nethercutt
1981
1929
Duesenberg
J Murphy Convertible Coupe
Terry Radey
1982
1935
Mercedes-Benz
500K Special Roadster
Tom & Gerd Perkins
1983
1930
Isotta Fraschini
Tipo 8A SS Castagna Dual Cowl Tourer
Irwin Ginsberg
1984
1929
Cunningham
Series V-7 Town Car Landaulet
Mr. & Mrs. Kenneth Vaughn
1985
1939
Bugatti
Type 57 Saoutchik Cabriolet
Jack Becronis
1986
1936
Mercedes-Benz
500K Special Roadster
Arturo Keller
1987
1928
Minerva
AF Hibbard & Darrin Ostruk Berline Transformable
Thomas Lester
1988
1937
Alfa Romeo
8C 2900B Corto Touring Spider
John Mozart
1989
1922
Hispano-Suiza
H6B Labourdette Skiff
Robert L. Meyer
1990
1938
Bugatti
Type 57SC Atlantic
Ralph Lauren
1991
1932
Chrysler
CH Imperial Custom Speedster
Sam & Emily Mann
1992
1929
Rolls-Royce
Phantom II Brewster Town Car
J. B. Nethercutt
1993
1930
Mercedes-Benz
710SSK Count Trossi Sports Roadster
Ralph Lauren
1994
1933
Duesenberg
J Rollston Torpedo Convertible Victoria
Terence & Mary Beth Adderley
1995
1931
Isotta Fraschini
Tipo 8B Dansk Viggo Jensen Cabriolet de Ville
William Haines
1996
1938
Delage
D8-120 deVillars Speedster
Sam & Emily Mann
1997
1937
Talbot-Lago
T150C Figoni & Falaschi Coupe
William E. Connor II
1998
1938
Bugatti
Type 57SC Corsica Roadster
John Mozart
1999
1932
Daimler
Double-Six 40/50 Martin Walter Sports Saloon
G. Lingenbrink & Charles Bronson
2000
1937
Delahaye
135 M Figoni & Falaschi Cabriolet
Jacques & Betty Harguindeguy
2001
1930
Mercedes-Benz
700SS Erdmann & Rossi Roadster
Arturo & Deborah Keller
2002
1934
Voisin
C-15 Saliot Roadster
Sam & Emily Mann
2003
1936
Bugatti
Type 57SC Atlantic
Peter D. Williamson
2004
1938
Horch
853A Erdmann & Rossi Sport Cabriolet
Joseph Cassini III
2005
1937
Delage
D8-120 S Pourtout Aero Coupe
Sam & Emily Mann
2006
1931
Daimler
Double-Six 50 Corsica Drophead Coupe
Robert M. Lee
2007
1935
Duesenberg
SJ Mormon Meteor Special Speedster
Harry Yeaggy
2008
1938
Alfa Romeo
8C 2900B Touring Berlinetta
Jon & Mary Shirley
2009
1937
Horch
853 Voll & Ruhrbeck Sports Cabriolet
Robert M. Lee
2010
1933
Delage
D8 S deVillars Roadster
Patterson Collection
2011
1934
Voisin
C-25 Aerodyne
Peter & Merle Mullin
2012
1928
Mercedes-Benz
680S Saoutchik Torpedo
Paul & Judy Andrews
2013
1934
Packard
1108 Twelve Dietrich Convertible Victoria
Joseph and Margie Cassini III
2014
1954
Ferrari
375 MM Scaglietti Coupe
Jon Shirley
2015
1924
Isotta Fraschini
Tipo 8A Worblaufen Cabriolet
Jim Patterson
2016
1936
Lancia
Astura Pinin Farina Cabriolet
Richard Mattei
2017
1929
Mercedes-Benz
680S Barker Tourer
Bruce McCaw
2018
1937
Alfa Romeo
8C 2900B Touring Berlinetta
David & Ginny Sydorick
2019
1931
Bentley
8 Litre Gurney Nutting Sports Tourer
Michael Kadoorie
2020
No Event
2021
1938
Mercedes-Benz
540K Autobahn Kurier
Arturo & Deborah Keller
2022
1932
Duesenberg
J Figoni Sports Torpedo
Lee R. Anderson Sr.
Concours Overview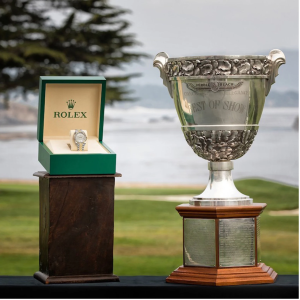 Image Via Momentum Dubai 
The Entry Process for the Pebble Beach Concours d'Elegance
Considering the high value of the vast majority of the cars that compete in such an event, and their undoubtedly very well-heeled owners, it is easy to assume that the payment of a tidy admission fee is the major item that a potential participant would need to take care of to enter the competition. Anyone in the hobby who has attended and/or participated in relatively formal shows has experienced such an occurrence. Unlike your friendly neighborhood Car Show, Cars & Coffee, Cruise Night, or other classic car gatherings, it is not just about the money to get into the Pebble Beach Concours d'Elegance. In conjunction with the grandeur and prestige of such an event, or perhaps to emphasize its importance, participants are selected to compete through a formalized and lengthy process.
The whole thing kicks off each November, when entry applications go to many annual participants with a due date at the beginning of January for all completed applications. The Concours Selection Committee reviews the material over several weeks, then meets in late February to determine which cars to invite to the contest.
Most of the applicants are notified of the committee's decision by April. One criterium in their decision that you might think would be key is that as in life experience is an advantage, so it would seem that previously successful applicants would have an edge over first-timers. Once again, the Concours application process does not follow convention. In this case, cars that have not previously been shown at the Pebble Beach Concours d'Elegance or another major Concours are given preference. Additionally, cars are usually screened out by the Concours Selection Committee for a period of ten years unless they have 1) changed ownership, and 2) are freshly restored (or they are an original preservation car).
After acceptance to the Concours there are more conditions for owners to adhere. The first is that cars cannot be entered during the month of August at any other event prior to the Concours, with the possible exception for certain cars that are participating in the Rolex Monterey Motorsports Reunion. A second condition is that Concours personnel request that they be informed before a car accepted for the Concours is shown at another venue earlier in the year. The reason? The Pebble Beach Concours d'Elegance has a strong desire to be unique. A car shown in another event may diminish its rarity by just being seen too often, which subsequently may diminish the Concours team's interest in its display at Pebble Beach.
Best of Show Criteria and Vehicles Classes For 2023
Winners of First, Second and Third in Class are selected by the Concours' Class Judges, led by the Chief Judge, based on originality, authenticity, and proper and excellent preservation or restoration. A team of Honorary Judges, headed by the Chief Honorary Judge, then approach the field with an eye on elegance.
Both Class and Honorary Judges work in tandem to review and oversee their designated classes. Eligibility to win the top award of Best of Show a car must first win its class. Once all of the Class winners are announced and reviewed, a team consisting of the following personnel casts their vote for their choice for Best of Show. The car with the most votes wins the award.
Chief Judge
Chief Honorary Judge
Each Chief Class Judge
Each Honorary Judge team leader
Selected Class Judges
Information concerning each of this year's noted featured classes is in the next section.
A 1955 Ghia-Aigle Alfa Romeo 1900CSS won a class award at the 2013 Concours as an example of a beautiful car that did not win Best of Show. Image Via Classicsworkshop
2023 Classes
A-1: Antique
A-2: Vanderbilt Cup Era Race Cars – Featured Class
B: Vintage
C-1: American Classic Open
C-2: American Classic Closed
D: Packard
E-1: Figoni Centennial Prewar – Featured Class
E-2: Figoni Centennial Postwar – Featured Class
G: Duesenberg
H: Rolls-Royce Prewar
I: Mercedes-Benz S, SS, SSK – Featured Class
J: European Classic
L-1: Prewar Preservation
L-2: Postwar Preservation
M-1: Ferrari Grand Touring
M-2: Ferrari Competition
N: Pegaso – Featured Class
O-1: Postwar Sports Racing
O-2: Postwar Touring
O-3: Postwar Luxury – Featured Class
P: Lamborghini 60th Anniversary * – Featured Class
R: McLaren 60th Anniversary – Featured Class
S: Porsche 75th Anniversary * – Featured Class
V: American Dream Cars of the 1950s – Featured Class
* a limited display of rare and unusual cars
Featured Classes in 2023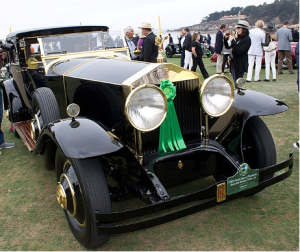 1929 Phantom I Brewster Riviera Town Car displays its ribbon as class winner in 2003. Image Via James Bond
Figoni Centennial
Joseph Figoni had been a renowned Parisian coachbuilder since starting his own company in 1923 when in 1935 he and businessman Ovidio Falaschi teamed to create Figoni et Falaschi. Figoni's legacy was built upon a design for a Delahaye Roadster at the Paris Auto Salon in 1936 and his Teardrop Coupé on a Talbot-Lago T150C-SS chassis at the 1937 New York Auto Show.
Mercedes-Benz S, SS, SSK
Mercedes-Benz S Series resulted from the merger of Daimler and Benz and their joint desire to build the most competitive race cars available. They were produced from 1927-1933, and their combination of luxury and performance makes them still highly valued by collectors today.
Pegaso
Pegaso was a Spanish company that was formed to help rebuild the country's economy after its civil war in the 1930s and the subsequent World War II. It built trucks, buses, and a small number of sports cars that included the Z-102. This car was notable in that its top speed of over 150 mph put it above the products of companies like Ferrari and Maserati and demonstrated the prowess of its industry.
Vanderbilt Cup Era Race Cars
Railroad heir William K. Vanderbilt was the sponsor of the first international races in the U.S.A. that were held from 1904-1916 in several locations but most famously on Long Island, NY. Race participants as well as other cars of the era are included in this class. During the period that the races were held the designs incorporated the beginnings of automotive technology that has progressed into today's modern machines.
Porsche 75th Anniversary
In commemoration of the genius of Ferdinand Porsche and son Ferry and the impact of their designs, there will be a display of a number of the company's most significant and unique products from 1948-1973. Particular focus will be on prototype and actual racing machines.
McFarlan
Like many early car companies The McFarlan Motor Car Company transitioned from horse-drawn carriages to automobiles. After its first car was produced in 1910, McFarlan became a well-known and very high-priced luxury brand in the U.S.A. during the 1920s. Celebrities of the time particularly enjoyed these vehicles until the company disappeared late 1920s, as did their cars; it is believed that less than two dozen McFarlans remain in existence.
Lamborghini 60th Anniversary
The ground-breaking Miura of 1966-1973 and the later Countach established Lamborghini as the first supercar manufacturer. On display will be a variety of the company's products, from classics to former show cars to special production vehicles.
McLaren 60th Anniversary
The legend of Bruce McLaren as successful driver, team owner, and car builder will be honored with a display of successful race cars that spawned Indianapolis 500 and 24 Hours of Le Mans winners, recent Formula 1 champions, and significant road cars.
Postwar Luxury
This class presents selected examples from an often-overshadowed segment in which companies such as Rolls-Royce and Bentley supplied chassis to independent coachbuilders to build luxury vehicles after World War II and through the mid-1960s.
American Dream Cars Of The 1950s
With the recovery from World War II completed and a plethora of designs from reinvigorated automobile manufacturers, there was still room for individuals who wanted something different. This class celebrates the unique, limited production, and often unconventional cars produced by Americans who often epitomized the sense of rugged individualism which has been revered in this country since its founding.
Awards and Trophies
As noted in the list below, there are many other awards besides Best of Show given to Pebble Beach participants. Special committees of Honorary Judges select Special Awards and Elegance Awards winners per the stated criteria.
Interestingly, the Concours website notes that most Special Award Trophies are perpetual and are maintained at Pebble Beach. As a result, winners receive a suitable trophy often based on the Pebble Beach Concours Trophy.
Special Awards and Established Dates
Alec Ulmann Trophy (2012)
Awarded to the car that best embodies the combination of excellence in performance and elegance in design.
Ansel Adams Award (1984)
Named for the famous photographer who was a frequent Honorary Judge at Pebble Beach, this award is given to the most desirable touring car in its era.
Art Center College of Design Award (2002)
Awarded to the car that showed the best use of new technology in its era, had groundbreaking style and engineering, and has had the greatest impact on car design today.
Briggs Cunningham Trophy (1978)
Well-known automobile creator and collector Briggs Cunningham donated this trophy to recognize the most exciting open car at the Concours.
Cars At Stanford Award (2013)
The winner of this trophy is determined to be the most technologically advanced automobile of its time on the show field by students and professors from The Center of Automotive Research at Stanford University (CARS).
Classic Car Club of America Trophy (2000)
Awarded to the most significant classic car at the show.
Chairman's Trophy (1983)
This award is for the most deserving car in the show as selected by the Chairman.
Charles A. Chayne Trophy (1978)
Named for a former General Motors Vice President of Engineering and noted supporter of the Pebble Beach Concours d'Elegance, this is another award to the car with the most advanced engineering of its era.
Dean Batchelor Trophy (1977)
In homage to the noted automotive writer and historian, this award to the most significant car associated with Hot Rod heritage was donated by Ford Motor Company.
Elegance in Motion Trophy (1988)
Recognizes the car deemed to be the most elegant participant that successfully completed the Pebble Beach Tour d'Elegance.
Enzo Ferrari Trophy (2005)
As an award to the best Ferrari in the show, the name speaks for itself. The trophy also has its own history in that it was preceded by the Hans Tanner Trophy from 1974 – 1995 and the Luigi Chinetti Trophy from 1996 – 2004.
FIVA Awards (1999)
Presented to the best preserved and regularly driven cars as determined by a special committee guided by FIVA regulations.
Gran Turismo Trophy (2008)
Awarded to the most significant car balancing both artistic beauty and performance at the highest level and most desired for inclusion in the Gran Turismo game series.
Lincoln Trophy
This award goes to the most significant Lincoln at Pebble Beach.
Lorin Tryon Trophy (1999)
Named for the long-time and dedicated Co-Chairman of the Pebble Beach Concours d'Elegance who was a significant contributor in the successful efforts to attract the most elegant cars to the event. As a result, the award recognizes an automotive enthusiast who has contributed significantly to the Pebble Beach Concours d'Elegance and the car collector world.
Lucius Beebe Trophy (1966)
Given in recognition of the Rolls-Royce considered most in tradition of Lucius Beebe, a show judge in the Concours' early years who contributed greatly to its success, and is also the first perpetual trophy established at the Concours.
Mercedes-Benz Star of Excellence Award (1987)
Donated by Mercedes-Benz and presented to the most significant example of its products in the show field.
Montagu of Beaulieu Trophy (1982)
Donated by noted English vintage car collector and hobby supporter Edward John Barrington Douglas-Scott-Montagu, more familiarly known as Lord Montagu, this award is presented to the most significant car of British origin.
Road & Track Trophy (1989)
Donated by one of the industry's leading publications and awarded to the car that the editors of that magazine would most like to drive.
The French Cup (Mid-1980s)
Awarded to the most significant car of French origin.
The Phil Hill Cup (2005)
In its original incarnation this award was called The Pebble Beach Cup and given to the winner of the Pebble Beach Road Races, which was the marquee event from which stemmed the Pebble Beach Concours d'Elegance. With the end of the road races after 1956 it transitioned to a Concours award for the most significant race car. Since 2005 it takes its name from the celebrated racer who also participated in the Pebble Beach Concours d'Elegance as a two-time winner of Best of Show as well as being a longtime judge.
Tony Hulman Trophy (1993)
Awarded to the most significant open wheel race car by the Indianapolis Motor Speedway Foundation in honor of the man who owned the iconic race track for decades.
Elegance Awards
J.B. & Dorothy Nethercutt Most Elegant Closed Car
This award given to the most elegant closed car in the show is particularly noteworthy as a recognition of excellence in that it is named for the owners who accumulated the highest number of Best of Show awards (6) at Pebble Beach.
Gwenn Graham Most Elegant Convertible
Named for one of the event's founders, this award goes to the most elegant convertible at the Concours.
Jules Heumann Most Elegant Open Car
Annually awarded to the most elegant open car in the show, competing amongst other cars of its type classified by not having side windows.
Strother Macminn Most Elegant Sports Car
This award to the to the most elegant sports car in the show field is named for a respected automotive designer, instructor, and historian who served for years as Chief Honorary Judge at this event.
Monterey Car Week Calendar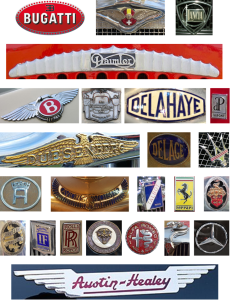 The number and variety of events leading to the capstone Concours means that there is something for fans of almost every aspect of automotive history to enjoy. The week's events are listed below for quick reference, with details available using Car Show Safari's easy-to-use Events Page. These listings are also updated when any changes occur, and are thus the go-to for confirmation of the details of the week's events. This flagship section of Car Show Safari's site also contains information on other shows around the nation that span the entire spectrum of automotive enthusiast's interests.
THURSDAY, AUGUST 10, 2023
2023 Pasadera Alumni Celebration
2:00 PM – 6:00 PM
FRIDAY, AUGUST 11, 2023
Monterey Kick Off Cruise-In
5:00 PM – 7:00 PM
SATURDAY, AUGUST 12, 2023
Monterey Pre-Reunion Day 1
7:00 AM – 5:00 PM
SUNDAY, AUGUST 13, 2023
Monterey Pre-Reunion Day 2
7:00 AM – 5:00 PM
MONDAY, AUGUST 14, 2023
Automobilia Monterey Expo Day 1
10:00 AM – 6:00 PM
Porsche Monterey Classic
4:00 PM – 8:00 PM
TUESDAY, AUGUST 15, 2023
Acura In The Park
9:00 AM – 4:00 PM
Automobilia Monterey Expo Day 2
10:00 AM – 6:00 PM
Classic Motorsports Kick-Off
2:00 PM – 6:00 PM
WEDNESDAY, AUGUST 16, 2023
Connect2Cars Automotive Enthusiast Connection
8:00 AM – 3:00 PM
The Little Car Show
12:00 PM – 5:00 PM
Bonham's Quail Lodge Auction: Preview Day
9:00 AM – 6:00 PM
RM Sotheby's Auction Preview
10:00 AM – 7:00 PM
Radius At The Monterey Jet Center Preview
9:00 AM – 4:00 PM
Motorlux
6:00 PM – 10:00 PM
Pebble Beach Motoring Classic Arrival
ETA 4:00 PM
Rolex Monterey Motorsports Reunion Day 1
8:30 AM – 6:00 PM
Automobilia Monterey Expo Day 3
10:00 AM – 4:00 PM
Pebble Beach Auctions presented by Gooding & Company Preview
10:00 AM – 6:00 PM
THURSDAY, AUGUST 17, 2023
Legends of the Autobahn
8:00 AM – 4:00 PM
Radius At The Monterey Jet Center Preview
9:00 AM – 4:00 PM
Bonham's Quail Lodge Auction: Preview Day
9:00 AM – 6:00 PM
Radius At The Monterey Jet Center Auction
4:00 PM start
Pebble Beach Tour d'Elegance
7:00 AM – 12:00 PM
Pebble Beach RetroAuto Day 1
9:00 AM – 6:00 PM
RM Sotheby's Auction Preview
10:00 AM – 4:00 PM
RM Sotheby's Auction
5:30 PM start
Prancing Ponies All Woman Car Show
11:00 AM – 3:30 PM
Rolex Monterey Motorsports Reunion Day 2
7:00 AM – 6:00 PM
Mecum Auction
8:00 AM start
Pebble Beach Auctions presented by Gooding & Company Preview
9:00 AM – 6:00 PM
Pebble Beach Classic Car Forums

An Insurance Market Discussion For Collectors

Nextgen Collecting: The Road Ahead

In Conversation With Sandra Button & Gordon Murray

Dream Rides: American Dream Cars Of The '50s

9:30 AM – 11:00 AM

11:30 AM – 1:00 PM

2:00 PM – 3:00 PM

3:30 PM – 5:00 PM

Ferrari Owners Club Concours Carmel
7:00 AM – 4:30 PM
Hot Chili Nights
6:00 PM – 9:00 PM
Concours Village
9:00 AM – 6:00 PM
FRIDAY, AUGUST 18, 2023
The Quail, A Motorsports Gathering
9:00 AM – 4:00 PM
Pacific Grove Rotary Concours Auto Rally
12:00 PM – 6:00 PM
Porsche Club of America Werks Reunion
7:00 AM – 3:00 PM
Pebble Beach RetroAuto
9:00 AM – 6:00 PM
Rolex Monterey Motorsports Reunion Day 3
8:30 AM – 6:00 PM
RM Sotheby's Auction Preview
10:00 AM – 4:00 PM
Bonham's Quail Lodge Auction
11:00 AM start
Bonham's Quail Lodge Auction: Preview Day
8:30 AM – 11:00 AM
Pebble Beach Auctions presented by Gooding & Company
9:00 AM – 9:00 PM
Mecum Auction
8:00 AM start
Pebble Beach Classic Car Forums

Tomorrow's Concours, Car Shows And Cruise Nights

The Rise Of Restomods – Have They Outgrown Their Name?

11:30 AM – 1:00 PM

4:00 PM – 5:30 PM

RM Sotheby's Auction
5:30 PM start
Pebble Beach Auctions presented by Gooding & Company
5:00 PM start
Concours Village
9:00 AM – 6:00 PM
Radius At The Monterey Jet Center Preview
9:00 AM – 1:00 PM
Radius At The Monterey Jet Center Auction
1:00 PM start
SATURDAY, AUGUST 19, 2023
Concorso Italiano
10:00 AM – 3:00 PM
Concours d'Lemons
8:00 AM – 1:00 PM
Pebble Beach Auctions presented by Gooding & Company Preview
9:00 AM – 5:00 PM
Monterey Motorsports Festival (New)
11:00 AM – 10:00 PM
Annual Ferrari Owners Club Meeting
4:00 PM – 7:00 PM
Exotics on Broadway
1:00 PM – 6:00 PM
Pebble Beach RetroAuto
9:00 AM – 6:00 PM
Rolex Monterey Motorsports Reunion Day 4
7:00 AM – 6:00 PM
Mecum Auction
8:00 AM start
RM Sotheby's Auction Preview
10:00 AM – 4:00 PM
Pebble Beach Auctions presented by Gooding & Company
11:00 AM start
Pebble Beach Classic Car Forums

The Flat-Six Revolution: A Culture Beyond Stuttgart

Spike's Car Radio Live: 2023 Pebble Beach Classic Car Forums

Twice Around The Clock: Legends Of Le Mans

Talking Classic Cars Live With Wayne Carini & Jay Ward

How To Build A Supercar In 100 Days

10:00 AM – 11:00 PM

11:30 AM – 1:00 PM

1:30 PM – 3:00 PM

3:00 PM – 4:30 PM

4:30 PM – 6:00 PM

RM Sotheby's Auction
5:30 PM start
Concours Village
9:00 AM – 6:00 PM
SUNDAY, AUGUST 20, 2023
Concours Village
8:00 AM – 6:00 PM
Corkscrew Hill Climb
7:00 AM – 5:00 PM
Pebble Beach RetroAuto
8:00 AM – 6:00 PM
Pebble Beach Concours d'Elegance
10:30 AM – 5:00 PM