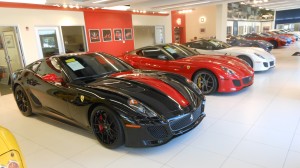 One of the ways I keep myself entertained this time of year is through classic car and sports car dealerships. It's a great way to tempt yourself towards highly irresponsible decision-making, and see some really great cars for free.
Chances are there are some undiscovered showroom gems waiting for a new owner to track them down within an hour or two of wherever you happen to be.
read more
CONTACT US | TERMS AND CONDITIONS
© 2016 CarShowSafari.com All Rights Reserved.
The contents and images on this site may not be reproduced, distributed or otherwise used,
except with the prior written permission.