5 Gifts for the Car Enthusiast Under $35
CarShowSafari.com is an Amazon Associate and earns from qualifying purchases.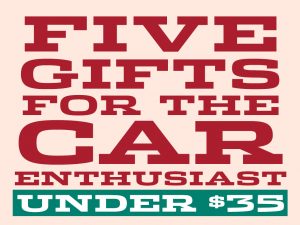 'Tis the season for gift-giving for your favorite car guy or car gal. So we have rounded up 5 cool holiday gifts for under $35 that you can get online and give remotely so you don't have to actually get within 6 feet of anyone.
1. Okay, so you wash, polish, and wax the outside of your classic… It's so gorgeous, it could appear on its own calendar. But what about the interior? Do your floors resemble the D-Train out of the Bronx? Well, have no fear! With the ThisWorx Portable Car Vacuum Cleaner you'll be free of any wet or dry messes, even liquids, cigarette ashes or pet hair, or any other nasty things that might end of on the floor of the D-Train!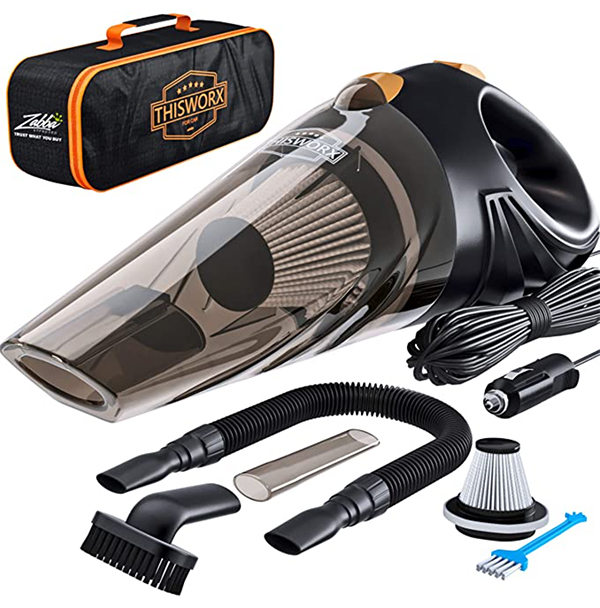 Powerful, yet tiny, this handheld vacuum weighs only 2.4 lbs but has a high power, 106W & 8.8 amps motor and metal turbine for the ultimate suction power. The 16ft power cord connects to the car's 12V lighter port, for maximum coverage. This set features 3 all-purpose nozzles, a carrying bag for easy storage, a special filter cleaning brush and a spare HEPA filter. And you can get it to match the color of your car! (as long as your car is black or white) For $34.99, you can't go wrong! Click here for more info.
2. Okay, now that you've cleaned that interior it's time to show it off! And what better way to do that than with cool interior lighting! I knew a guy who was so impressed with my interior lighting that we became best friends and our families would spend the holidays together. His wife makes an amazing spinach and cheese casserole. Life is good and it's all because of interior lighting!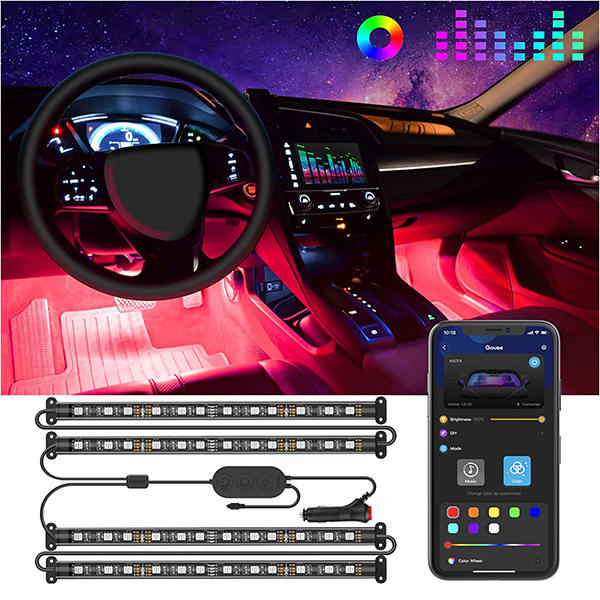 The Govee Interior Car Light System features 2 lines connecting 4 strip lights, suitable for any model cars, as well as 2 control methods: change the color, brightness, and music mode via Govee Home app and controller. It's got a music sensor with built-in mic, the strip lights change colors following the music rhythm, with multi-colors: customize your own color modes to enhancement for upgrading your car. It's a veritable disco in your car, and it's super easy to install. It's a steal at $21.99, and just think about the spinach and cheese casserole! Click here for more info.
3. So you're cruising along on a Sunday afternoon in your classic car and suddenly it leaves you stranded on the side of the road. Now you've got 10,000 tools back at your garage, but you're 40 miles from civilization, and unless you're McGuyver, you're not getting back on the road with an ice scraper and some ketchup packets. You need tools! A kit that is small, easy to store, but has the essentials. Look no further! The Cartman 122 -piece Auto Took Kit to the rescue!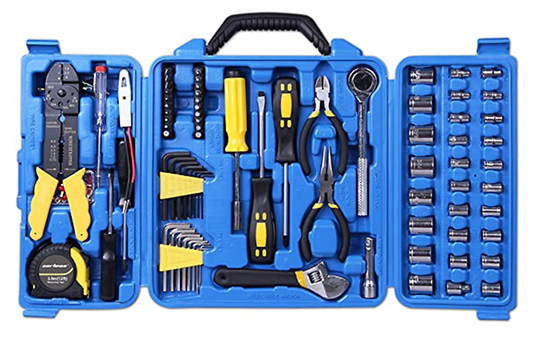 It's got the basics: 3/8 ratchet with SAE and metric sockets, extension bar, 4 screwdrivers; an adjustable wrench; a screwdriver handle with 20 bits; a needle-nose plier; a nipper plier; all the Allen wrenches you could use, and what's really handy is a voltage tester, wire cutter, and wire terminals (because it's probably the wiring). It also has a measuring tape in case you need to, you know, measure something. And it all stores cleanly in its own plastic case. You're not going to rebuild your transmission with this kit, but it might just get you home! Give your spouse this link for more info.
4. Back-up cameras are a really great new addition to modern cars, but when backing up a 19-foot land yacht at a car show, they can really be a benefit as well. There are many kinds of aftermarket back-up camera systems available, and we would recommend the wireless kind for ease of installation. But since this is a gift guide for $35 and under, we start your search with a basic wired model that got 4.5 stars on Amazon. Anyway, the Yakry (I doubt they're from Ohio) Backup Camera System seems like a good starting point and you can take it from there. (Hey it's under 32 bucks, how wrong can you go?)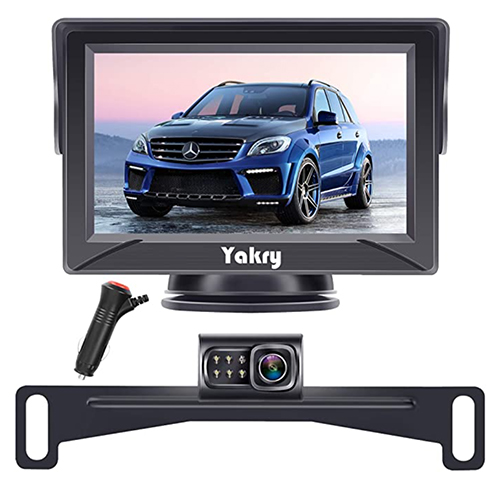 According to their listing: Very easy installation: The system is powered by connecting to reverse lights for use when a vehicle is in reverse gear. Or can be powered by directly connecting to a 12v source fuse box or cigarette lighter/power point/ignition switch for constant use. HD IP69K waterproof license plate camera with 5 LED lights.150 degree, wide viewing angle provides you larger visible area for safety. The 4.3″ monitor can be fixed on the windshield or dash. Product has a 2-year warranty and tech support is available.
If you ever drove a '59 Caddy backward at high speed through Manhattan traffic in an attempt to evade the authorities, you'll really appreciate this. Trust me, I know. Learn more here.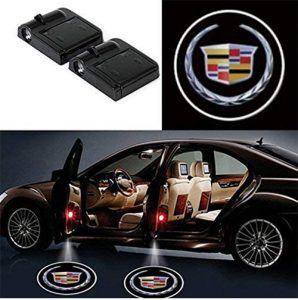 5. The last gift in our guide just falls under the category of "absolutely useless, but cool". Car door LED logo projectors shine your car's logo on the ground when you open your door. This way, you'll know what kind of car you are driving when you open the door at night, in case you forget. The Carfun LED Logo Projector lights boast "easy Installation with 3M adhesive tape: No wiring, No drilling, No punching needed, No harm to your car.
Bright and clear logo will be projected to the floor when the car door is opened, and it will be turn off automatically when door closed". Available in most auto makes/models logos, including a bat symbol, in case you drive a Batmobile. Best of all, they're cheap at around 14 bucks! Get it here.
Well, there you have it, folks! 5 gifts for the car guy or gal on your list. We can't guarantee you get an amazing spinach and cheese casserole in return, but your friends will love you for life. Happy Holidays!
-Tommy Scalera
CarShowSafari.com is an Amazon Associate and earns from qualifying purchases.