For a long, long time, American gearheads have held the tradition of hot rodding and customization close to their hearts. It's prevalent at just about any show you can attend in this country, from the smallest weekly cruise-in to the most prestigious of concours events. The trend became especially popular when servicemen returned home from duty after World War II, bringing home newly acquired technical skills and a thirst for adrenaline that your basic 1940's coupe just couldn't provide from the factory. Since then, we've never looked back, and the hobby has continuously evolved to account for the latest in styling and technology.
If there is one show you absolutely have to check out to see the best of the best in this part of the automotive world, it's the annual Detroit Autorama. A tradition since 1953, this show brings out the latest from some of the biggest names in customization. Names like Chip Foose, Ed Roth, and George Barris  have populated the show field with some absolutely wild creations. This past February, I was able to check out the latest Autorama event. The show takes up the entirety of the Cobo Center, including the basement, filling it with around 1,000 gorgeous classics, customs, and everything else you could think of. The build quality on the vehicles in attendance there was just incredible. In order to cover as much of this vast expanse of high-end customization as possible, I'll be splitting coverage of Detroit Autorama into three parts. Let's start things off with a look at some great vintage muscle, and what happens when those cars are used as a blank canvas.
We'll start off with a bit of Mopar in the form of this deep blue '66 Plymouth Belvedere. The owner of this example opted to keep things relatively stock in appearance, with the exception of some lightweight wheels and racing tires. A couple coats of deep blue give this car a great visual presence. A closer look reveals a roll cage tucked away into the interior. Under the hood of this beast lies a 526 c.u. Hemi V-8, strapped up with a pair of turbos. Believe it or not, this was pretty much the norm at Autorama for build quality.
Up next is a bit of a celebrity in the world of custom cars. Drift racing has become increasingly popular over the last decade, with more widespread TV coverage and ever-increasing crowds in attendance. One of the more popular names in the sport is Vaughan Gittin Jr., who made a name for himself driving Mustangs in a very import car-centric series. This particular car drops an old-school '69 'Stang body on a custom chassis, and is fitted with aggressive modern suspension and a brand-new 5.0 liter Coyote engine.
I hesitate to even call this car a Camaro, as it is such a radically-built ride. The owner kind of took a backwards route on customization. Most people start with a basic, street-legal ride and try to push it to the absolute limits. This guy started life as a non-street legal tube-chassis race car, and was modified to be passable in the eyes of the law for road use. Let's start with the power output: 4,000 horsepower. Yes, this is a street-legal car with 4 Bugatti Veyrons worth of power. The end goal is to hit 300 miles an hour in the standing mile, rip off a 5.5 second quarter mile pass, and then successfully drive it home. Now that's a goal worth fighting for.
One of the most iconic and collectible muscle cars is the Plymouth Barracuda, specifically third-gen examples like this. Any collector would be psyched to get their hands on a clean example. The owner of this one decided to step things up several notches. The A twin-turbo Cummins diesel  has been dropped in and tuned to pump out an earth-shaking 1,500 horsepower, 3,000 lb*ft of torque, and plenty of black smoke.
This sleek '66 Chevy Chevelle has been appropriately dubbed "Gunmetal", courtesy of a rather stealth fighter-like finish. Much of the trim and details of the body like turn signals and door handles have either been shaved off or hidden, and every part of the car has been worked over extensively.  The interior is swathed in black leather, with all-new gauges replacing the stock units. Custom milled aluminum details abound as well. Overall, it's a great modernized take on the Chevelle with 454 big-block power.
I could easily dedicate an entire article just to the Camaros that were on display in Detroit, so let's take a look at a particularly wild trio of first-gen Chevy pony cars. The stock bodies on all of these cars has been stretched, widened, lowered, lengthened, and chopped to the absolute limits.  Little to nothing is left as it came from the factory. In short, these cars are basically cartoon characters in sheet metal form. Fans flocked to wild rides like this in droves, especially the younger gearheads at the show.
The Corvette boys had plenty to say at in Detroit as well. This '62 Corvette, dubbed "Illusions", was my personal favorite of the crowd. The chassis is entirely custom-fabricated to fit the heavily-modified body, and a fuel-injected 454 has been added to the mix. Thanks to this 640-horse LSX engine and a paddle-shifted transmission, the car seems to have a great mix of old and new school technology.
Here's another example of old school sheet metal with completely modern running gear. It's a Ford Fairlane 500. The body of this car retains most of the stock trim, unlike a lot of the shaved customs of this generation that were on display. Gorgeous custom rims complement the original styling well, and a Roush-tuned engine provides all the power that a Ford fanatic could want.
I think the words "exotic" and "alien" apply equally well to this Australian Ford Falcon, which actually made the trip all the way to Detroit from Western Australia. Dubbed "XBOSS", the builders have left very few parts of this car in bare metal. Nearly every visible component that can be painted, has been to match the exterior. That hood-lifting mechanism is absolutely wild! Add this one to the list of cars I've been very fortunate to see in person.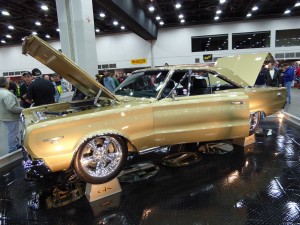 We'll come full circle here to another great piece of subtly-built Mopar muscle with a near-stock appearance, and one of the cleanest builds I've seen yet. This is a 1967 Plymouth GTX, and one of a handful of muscle cars still in the hands of their original owners. I love a car with a great story, and this is absolutely one of them. I had the opportunity to talk to owner Andy Gavula after the show, who gladly shared his story with me.
The car was purchased shortly after his high school graduation, and was well maintained in its first life on the road. Everything from first dates to taking Grandma to church happened with this daily driven monster, which came from the factory with a single barrel 440. In 1972, the car was taken off the road with just over 30,000 miles on it and stored for a while. The years went by, and when 2010 came around it was decided that the car needed to get back out there, but with a whole new look. After meeting the Legendary Motor Cars team, he knew he had the shop to get things back up and running. Subtle looks were paired with barely-streetable performance to make this an entirely new car. The old 440 was replaced with an all-aluminum 572 Hemi. A naturally-aspirated tune has output cresting the 900-horsepower mark. You would never know just how much has been done at a glance, making this one special Plymouth.
I could go on for pages about this show, and to write this article a lot of amazing cars had to be cut out. Parts 2 and 3 of my Autorama coverage will be coming soon, taking a look at some traditional hot rods and other wild rides. If you're interested in further Autorama beauties and much more, check out my page at https://fromcruise-instoconcours.tumblr.com/ for many more pictures. And of course, stay tuned in to Car Show Safari for your latest car show scheduling and news as the season kicks into high gear! 

Images by Chris Barner