Chicago International Auto Show
By Chris Coffin
The international auto show circuit has been in full swing for the last couple of months, with big shows like Detroit and Geneva grabbing a ton of headlines. While it may have been a bit more low-key on publicity, the Chicago Auto Show is another great stop for those of us looking to fill our dream garages a bit more.
You won't see a huge number of world premieres here, but you do get an absolutely massive convention hall filled to the brim with new models, concept cars, and a number of other interesting rides sprinkled in for good measure. Recently, the two Chris contributors to Car Show Safari made it to the show. Here's a look at some of the great stuff we saw that day.
Alfa Romeo Giulia Quadrifoglio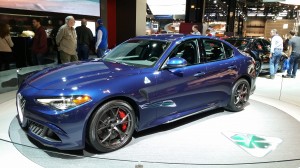 Alfa Romeo's main stage was occupied by the battering ram they plan to use to break back into the United States' incredibly competitive volume luxury mid-sized sedan market.  Against such veterans as the 3-series, A4, and C-Class, the somewhat obscure (on our shores) Italian automaker needs an atomic super weapon to even be considered a contender in that segment.
Their weapon of choice is called the Giulia.  The example showcased here is the Quadrifoglio model, which is the top of the line performance model and also explains the four-leaf clover.  I would buy this car on looks alone.  However if looks alone aren't enough to justify its predicted $70,000 starting price, perhaps the engine is.  The 505 horsepower twin-turbo 2.9L V6 is derived from the V8 that sits in the Ferrari 488GTB and can bring the car to 60m.p.h. from a standstill in 3.8 seconds.  Add to that already impressive résumé the extensive list of carbon fiber and aluminum bits and I'd say this car is a bargain at anything under six figures.
Bentley Bentayga
In the supercar section, Bentley had their newest beefcake on display.  It's called the Bentayga and it's an SUV.  While it may seem odd that Bentley has chosen to produce an SUV, it actually makes sense when you consider the sheer size of their outgoing models.  The Mulsanne has the torque to match most super duty trucks and weighs just shy of three tons.  But the weight is not what makes it special.  
What really elevates the Bentayga above typical lavishness is the optional Mulliner Tourbillon by Breitling mounted on the dash.  For those not fluent in opulence, it's a dash clock.  The case is made from solid 18 karat gold, the dials are either white or ebony black mother of pearl, and the face is studded with eight diamonds.  How much does this option cost? you ask.  Its price is on par with a new Audi R8.  This particular Breitling takes a whopping three months to make and because of the limited number of craftsman, Bentley will only be offering four Bentaygas per year with this option.
Chevy Camaro 1LE
In the self-perpetuating game of muscle car one-upmanship, which has been going steady since the mid-20th century, Chevy has their answer to the Ford Mustang GT350.  The Camaro 1LE makes its return in the sixth generation Camaro after its re-introduction on the previous model.  Where the GT350 is a completely separate model, the 1LE is a package on the Camaro SS (and now the V6 too).  
Since the 1LE is strictly a handling package, the fantastic LT1 engine remains unmodified.  Chevy is up against serious competition, what with the GT350's Voodoo engine (that's actually what it's called) and phenomenal handling.  Chevy is confident in the new 1LE, however, and after the Camaro showed its unnatural capabilities in the revived Z/28, that confidence is justified. 
If you were able to un-glue your eyes from the Ford GT and move around back towards the Ford trucks, you would have noticed this hulking F-150. And no, I'm not talking about the new Raptor.  This truck completely overshadowed the Raptor.  The pickup you see here is the result of collaboration between Shelby and Tuscany Motor Company.  Quite simply, it's called the Shelby F-150.  In typical American automotive fashion, the standard F-150 has been made ridiculous.  Besides the beefed up suspension and body panels, the 5.0L V8 gets a nifty little supercharger.  The resulting output comes in at an entirely unnecessary but incredibly awesome 700 horsepower.
Hyundai Vision G Concept
Hyundai plans to branch off the Genesis name as its own luxury brand. Hyundai (and Kia) has shown they're quite capable of producing luxurious vehicles.  The lack of a luxury name is what's holding them back.  It's the same premise that prevents a legitimate comparison of an Avalon to a 7-series.  
This new brand will of course be competing with major luxury players such as Infiniti, Lexus, and Acura. The Vision G, however, looks like it's going right for the S-Class Coupe what with its beefy coupe proportions, lush simplistic interior, and lack of b-pillars. Under its queen bed sized hood lays the same smooth and punchy 5.0L Tau V8 found in the Equus and K900. 
BMW M4 GTS Concept
At most auto shows, it's almost guaranteed BMW will have a flashy display of cars from BMW's M GmbH division.  This auto show did not disappoint in that regard.  Alongside the exciting new M2, the physics defying X6 M and the confused X4 M40i sat the M4 GTS, the spiritual successor to the E46 M3 CSL and the E90 M3 GTS.  
Well, this is just the concept, but the production model should go on sale hopefully by next summer.  I'm hoping the production model varies very little from this concept because it is visually stunning.  The bright orange accents over flat grey paint with carbon fiber trim come together beautifully.  The M4 GTS will feature some new technology such as a water injection system for cooling intake air.  This will significantly boost power from the twin turbo straight six.  It also features OLED (organic LED) taillights which are mesmerizing to look at.
Mazda MX-5 Speedster/Spyder
Mazda offered the public a glimpse at two superb concepts.  Both are based off the already superb MX-5 Miata, and appropriately named Speedster (blue) and Spyder (silver).  Both are an exercise in weight loss and impracticality, in the name of handling of course.  Neither of these concepts have side windows.  The Speedster takes the weight shaving a little more seriously as is evident by its lack of a windshield.  
The Speedster also employs the use of carbon fiber which helps bring its total weight to an almost even ton. But what about my face while I'm driving it? you reasonably ask.  Worry not; two helmets are stored right behind the headrests. The Spyder gives up a little weight loss in favor of a solid windshield. What the Spyder lacks in weight shaving (it's only eight pounds lighter than the standard MX-5) it makes up for in exotic styling. The Canvas stretched over the back doesn't make much sense but damn it looks good.  
And now it's time to pass the baton off to a second Chris for a look at the many special interest vehicles to be drooled over on the show floor.
By Chris Barner  
Thanks, other Chris! And who doesn't love to stumble on some unexpected customs and classics mixed in with the well-publicized new cars? It's a great way for brands to show off their company heritage, as well as introduce those looking for a new car to buy to some great aspects of car culture. We'll start with an amazing example of Alfa-Romeo's quirky and distinctive cars of the past.
Alfa Romeo Type 33 Stradale 
What you're looking at here is an extremely rare road-going version of a full-blown race car. This Type 33 Stradale is one of only 18 to be built in the late 1960's, and is a great early example of the mid-engine configuration that defines the supercar genre to this day. If you've made it to any of the major auto shows in the U.S. over the last couple years, there's a good chance you've been lucky enough to see this car in person. 
It's been displayed along with the 4c Spider to give attendees an idea as to where that car drew inspiration. Much like the 4C, it is extremely light, weighing in under 1,600 pounds. Matched to a diminutive V-8 with soda bottle displacement (that's 2 liters, folks), this little guy was capable of some very serious performance for the time it was made. Amazingly, the redline of this baby 8-banger is reached around 10,000 RPM's. I can only imagine how much a classic exotic like this would fetch at auction; certainly in the millions of dollars.
Radical SR3 RSX
Plenty of great cars from the past and present have evolved out of racing programs of major manufacturers. A trend that seems to have exploded in popularity more recently is that of the track day special. Purpose-built track cars like this may be built just for an elite few customers by exotic brands like Ferrari or Aston (see the FXX or Vulcan), or they may be built by small companies to be a bit more accessible. This little guy falls into the latter category.
I love the looks of these cars, which pack a lot of the basic features of high-tech Le Mans prototypes into a much easier to maintain package. The focus is on simplicity, light weight, and aerodynamics. Driving experience has been compared to that of a sports bike in some ways, and a lot of one-make race series have popped up with Radicals as the focus. This car was at Chicago Auto Show to promote Autobahn Country Club just outside of Chicago. I will continue dreaming of a membership.
Porsche 919
And while we're on the topic of vehicles for the track, let's look at one of today's most advanced race cars. This is Porsche's 919 endurance racer for the LMP-1 Hybrid class. With the introduction of hybrid racing technology into the cream of the motorsports crop, there has been a massive influx of innovation over the last few years.
For example, the internal combustion half of this car is a tiny, turbocharged V4 engine supplemented by a lithion-ion battery powered electric motor. The V-4 alone supplies roughly 500 horsepower to the back tires, with an additional 400 being sent up front by the electric system.
Exhaust from the gas engine spins a turbine, in turn charging the battery for the electric motor. Weighing in at under a ton thanks to extensive use of lightweight composites and aluminum, a 0 to 60 time of a little over two seconds is your reality as a driver. Of course, you'll have to beat out the likes of some of the best racing drivers in the world to get a seat in this.
2016 Stage II Nickey Camaro
Another stalwart of auto show special interest vehicles is the aftermarket tuner segment. Maybe the most well-known showcase of this would be SEMA in Las Vegas, or the Autorama in Detroit. Chicago brought a taste of some well-known aftermarket tuners to the masses, with a focus on tuned-up newer models. Chevy's recent redesign of the Camaro has been big news, and the aftermarket is just now starting to catch up to the newest generation.
Here in Chicago, the name Nickey is as synonymous with Chevrolet as Yenko is throughout the country. They don't have the same level of name recognition, but the cars they've built over the years deserve just as much respect. They were actually the very first people to drop a 427 into a Camaro and sell it to the public, something which would later became a very popular high-end option. This in-your-face orange is example is serial number 1 for the 6th gen Nickey Camaros. A build to Stage II specifications has left this beast with a whopping 625 naturally-aspirated horsepower, up from 455 in a stock Camaro SS. Old-school American muscle is definitely alive and thriving these days.
1990 Callaway Corvette Twin Turbo
And while we're at it, here's another example of a well-known tuner of Chevrolet. This is a 1990 Callaway Corvette Twin Turbo, one of just 58 built that year. The C4 Corvettes may not be the most well-respected or liked, and examples in decent shape can be snapped up for under ten grand. Obviously, something like this would go for just a tad more. Any Corvette customers could order this car directly through their local Chevy dealership between 1987 and 1991. The upgrade was seriously expensive, with a price tag adding nearly twenty grand onto the base price of a Corvette. Power output on this particular car was upped to 390 horsepower, which was a pretty damn impressive number for the time.
1990 Nissan Skyline GT-R Nismo
American muscle is obviously all over the place at most car shows here in the States. Much less common is something like this: the R32 Nissan Skyline. This car is an absolute legend in JDM car culture, earning the nickname of Godzilla. These cars were never made legal for American import, and have only just become legal to own here thanks to the 25-year import ban ending.
The most obvious feature of R32 Skylines is the right hand drive, requiring some serious mental adjustments for American drivers. Looking beyond that, you will notice that this is the NISMO version of the Skyline. Just 500 of these were built to meet a requirement for FIA Group A touring car racing. A snappy twin-turbo inline-6 pushes this car along more than adequately, and you are absolutely certain to turn heads anywhere you go with such an unusual vehicle. 
1993 Lincoln Town Car 
At this point, some of you may be asking yourselves why a polished ivory turd has been included in a list with such awesome cars. Well friends, this turd falls into the category of "epic sleeper". On the outside, the only tipoff as to what this car is capable of comes courtesy of those oversized wheels, tires, and brakes.
These cars came from the factory with a 4.6 V-8, with up to 210 horses and 275 lb*ft of torque available. This provides a shockingly good platform for tuning. In fact, this plain white geezer-mobile has been bumped up to a total of 700 horsepower at the rear wheels. Don't give Grandpa the keys, as he will likely turn this car into a tree-seeking missile by mistake.
Audi R8
We'll wrap things up with one of the most successful sports cars of the last couple decades, Audi's mid-engine R8. Despite the fact that these have been on sale since 2006 with the same basic design, they have retained the futuristic appeal that initially made them so popular.
Of course, the high-end tuning market has picked up on this, and taken things up to the next level. On the outside, this car has received a custom paint job, subtle body kit, not-so-subtle wing, and aftermarket rims. Improvements in the engine bay were not specified, but even in stock condition you're getting at least 414 horsepower. And of course, the trademark sideblade has been retained. 
All in all, Chicago packed a great variety of gorgeous cars into a massive convention center for this year's show. It's well worth a visit if you're in the area, as you are guaranteed to see a wide variety of shiny new toys. 

Images attributed to authors. 
For more auto writing from Chris Barner check out his blog.