August 27th: Gassers 8
Cruise down to the Zimmerman Automobile Driving Museum for our Gassers 8 Rev Fest at the ZADM happening on August 27, 2022.
Show Cars roll in at 8am for first come first serve parking. Open to All Drag Car Clubs and solo riders of the Era; please arrive together if wanting to park together.
Come and celebrate Vintage Speed and Style!
We will have a raffle, food trucks, vendors, and awards!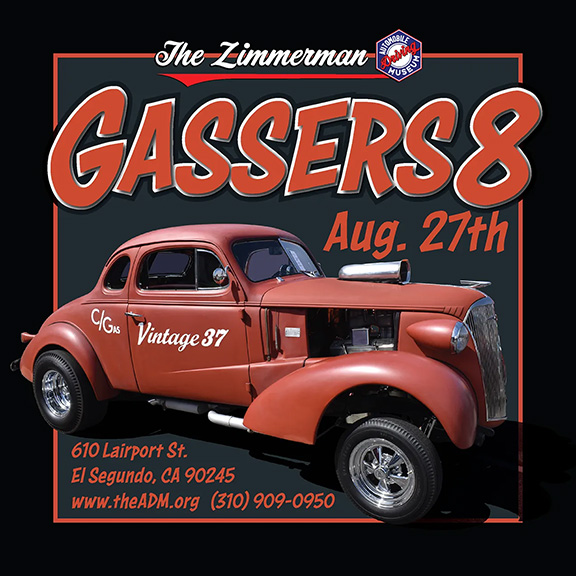 Automobile Driving Museum
ABOUT THE AUTOMOBILE DRIVING MUSEUM:
Our Mission: The Automobile Driving Museum exists to preserve automotive history, interpret the historical significance, educate our guests and provide them with the opportunity to take a ride in one of the museum's historic collector vehicles.
Welcome to the Automobile Driving Museum, one of Southern California's premier destinations for car enthusiasts! With a museum filled with a changing selection of its 130 vintage, antique, and vintage automobiles on display, museum visitors experience a wide range of vehicles from years gone by. The Museum is committed to the preservation and maintenance of these vehicles. We offer:
Rides in Museum cars on Sundays
Research Library
Museum Store
Events at the Museum
The Automobile Driving Museum (ADM) is a unique venue for auto enthusiasts. Not only is the museum filled with over 130 vintage, antique, and muscle cars; but is also the only museum that takes you for a ride in them.
The ADM is host to many events for families as well as auto enthusiasts and is a great spot for special occasions, birthday parties, and meetings.  The museum has a large ballroom and small cafe for rent. Click here for more information.
Come take a ride you'll never forget.
MUSEUM ADMISSION, HOURS AND DIRECTIONS:
Open 6 Days a Week Tuesday to Sunday
MUSEUM HOURS
Main Building
10:00 a.m.–4:00 p.m.
Rides–Sundays Only
10:00 a.m.–3:30 p.m.
ADMISSION
Admission is by donation. Fee includes admission to the Main Building and our Car Ride Program on Sundays. (Rides available to guests 10 years of age and older.)
Adults $10
Seniors (62 and older) $8
Children 10-17 $5
Children under 10 Free
Family of Four $25
Sponsors (Join Now) Free
To help cover the costs of exhibitions, we ask that you pay the full recommended amount.
The ADM is conveniently located ½ mile south of LAX in beautiful El Segundo,CA. The museum offers guests the opportunity to see the cars up close. In addition, the museum offers guided tours on the weekends and rides in their cars on Sundays.
FEATURED EVENT:
Gassers 8
Saturday, August 27th, 2022
10:00am-4:00pm

General Admission:
FREE
FOR MORE INFO & TICKETS:
Click Here
AUTOMOBILE DRIVING MUSEUM:
610 Lairport Street
El Segundo, CA 90245
Tel: (310) 909-0950
automobiledrivingmuseum.org

MORE EVENTS INFORMATION:
Click Here

CONTACT US | TERMS AND CONDITIONS
© 2016 CarShowSafari.com All Rights Reserved.
The contents and images on this site may not be reproduced, distributed or otherwise used,
except with the prior written permission.