At Indy, The Mayor is Out, Twinkletoes is In, and the Tricolor will Fly
This weekend's Indianapolis 500, the102nd running of the iconic race, has already produced its share of stories and we're still days away from the green flag.
As expected, Team Penske's four entries performed well in qualifications last weekend, earning the second (Simon Pagenaud), third (Will Power), fourth (Josef Newgarden) and eighth (Helio Castroneves) starting positions. Slightly less expected was Ed Carpenter's pole-winning run, but only because the Penske operation was so stout. Carpenter, an Indianapolis native and part of the Speedway's ownership family, has captured the top spot in qualifying on two prior occasions but has yet to find success in the race itself.
More newsworthy was that Danica Patrick, making a return to the 500 after several years in the NASCAR ranks, out-qualified not only three-time winner Castroneves, but also multi-time series champion Scott Dixon, the 2008 Indy winner. Sexist critics may scoff, but Patrick is a legitimate contender.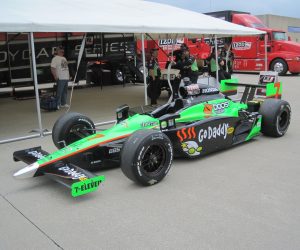 More headlines came when Brazilian drivers Tony Kanaan, a past winner, and Matheus Leist, a rookie, put A.J. Foyt's two cars in the fourth row for the start, a strong showing for a team that has, to put it politely, had its share of struggles in recent years. The 83-year-old Foyt, the first four-time winner of the 500 as a driver, remains on the scene and as feisty as ever, albeit slowed somewhat by the relentless march of time.
Alexander Rossi, who won the race in 2016 during his rookie year, has since gone on to establish himself as a solid contender throughout the series.  But his qualifying performance last weekend was noteworthy for its perilously close brush with elimination. Rossi qualified 32nd for the 33-car field.
The shock heard 'round the racing world was the actual elimination of the "Mayor of Hinchtown," the charismatic and popular Canadian driver James Hinchcliffe. Hinch, pole-winner at Indy just last year after having made nothing short of a miraculous recovery from devastating injuries suffered at the track in 2016, was "bumped" from the starting lineup when his qualifying speed did not make it into the fastest 33.
Drivers are given multiple opportunities to qualify, and "bumping" returned to the Speedway this year after several years of there being only 33 entries. While virtually everyone celebrated the return of the drama created by the process of drivers trying to "bump" their way into the race, absolutely no one expected Hinchcliffe to be one of the drivers left out when the gun sounded to end qualifications.
Pippa Mann, an Indy-only driver in the series, was also bumped, but in her case, the result was not unexpected – it is difficult to excel when doing only one race per year. She too is a popular racing personality, but the Hinchcliffe story relegated her not only to the sidelines but to the periphery. Hinchcliffe was considered to be a legitimate threat to win the race.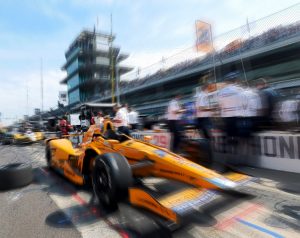 There are options for Hinchcliffe, however. His sponsors, Arrow Electronic and Honda, could "buy" his way into the race by acquiring a car already qualified by another driver. (In a bit of trivia, it is the car, not the driver, that qualifies for the race.) However, as we write this on May 23rd, it appears that such an option is not being pursued openly.
Hinchcliffe handled the immense disappointment with class and dignity, accepting that he was playing by the rules of the game and that he and his team came up short. He also put it in perspective, referencing his near-fatal 2016 crash by noting that he has suffered worse at Indianapolis than failing to qualify.
Hinchcliffe is one of two "Dancing with the Stars" veterans in Indycar racing, having finished a strong second to Olympic gymnast Laurie Hernandez in 2016. Helio Castroneves is the other one, having won the competition outright in the show's fifth season. Castroneves' racing team gave him the nickname of "Twinkletoes" for that, and Castroneves is himself an important story at Indianapolis this year.
Having won the race three times for Team Penske, Castroneves was taken out of the Indycar series for 2018 and moved to sports car racing by team owner Roger Penske. Many fans saw the move as a "demotion" for the effervescent Brazilian, but part of the deal was that he would race Indy, seeking a record-tying fourth victory. (A.J. Foyt, Rick Mears, and Al Unser, Sr., have each won the race four times.)
Should Castroneves win the race, there are some who might place an asterisk next to his four victories. In 2002, Castroneves was declared the winner when the race ended under a caution flag, a flag that waved at the precise moment that Paul Tracy was executing a pass on Castroneves for the lead. Tracy – and many others – maintain to this day that he, not Castroneves, won the race. Today Tracy is a color commentator for the Indycar series races broadcast on NBC, and while he demonstrates good humor and displays fair-minded insight, he is not about to let go of his claim.
So there is a lot going on at Indianapolis this Sunday. But, who's going to win? There is more uncertainty than usual this year, because the aerodynamic regulations for these 230-mph machines are all-new for 2018, and no one, not even the race teams themselves, knows quite what to expect. But we're going to go with a prediction based on quiet competence leading up to the race: The race will be won by a Frenchman.
Simon Pagenaud, driving for Team Penske, and Sebastien Bourdais, driving for Dale Coyne Racing, have been going about their business of preparing for the race without fanfare. Both drivers are natives of France, both are prior series champions, and both have not won the race previously. One of these men, we say, will drink the milk on Sunday.